Homes for Sale in Waterloo Ontario
Looking for a house to buy in Waterloo? You're in luck, because we have the best selection of houses for sale in Waterloo, Ontario. Whether you're a first-time homebuyer or you're looking for your forever home, we have something for everyone. Our listings are constantly updated, so be sure to check back often to see the newest properties that come up for sale. Give us a call today and let us help you find your dream home!
Waterloo Real Estate
September 21, 2023
Search Waterloo by Home Style / Type

Real Estate For Sale in Waterloo, Ontario
The average home prices of Waterloo are currently sitting at about $300k lower than that of Toronto, which is about 100km away.
Overall, the average asking price of homes for sale in Waterloo is down 2.8% in October 2022 on a year-over-year basis. The median asking price for detached houses is currently $1.1M, whereas the median asking price for townhouses is $725k and $530k for condos.
Waterloo, Ontario Overview
Part of the Tri-cities in the heart of southwestern Ontario, Waterloo is a thriving city of 113,000 with a developed urban centre. It is the smallest city in the Regional Municipality of Waterloo, adjacent to the larger city of Kitchener.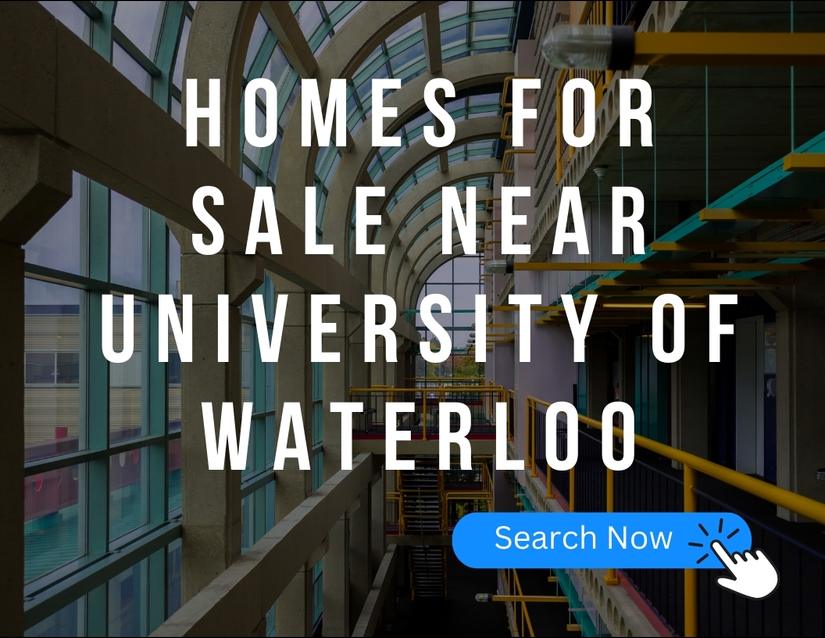 Ranked by MoneySense magazine as one of Canada's best places to live, the city is teeming with character, with a mix of urban pockets built-up from different villages and towns throughout. The overall effect is a solid urban core with the character of a series of smaller towns and boroughs, making it a popular and affordable alternative to Toronto.
Of the Tri-cities, Waterloo is most famous for its two world-class universities: The University of Waterloo and Wilfrid Laurier University. In addition, it is home to the renowned Perimeter Institute and a growing high-tech corridor.
Living in Waterloo, Ontario
Waterloo is filled with things to do with its mix of vibrant urban life. There's a fantastic diversity of restaurants, a thriving art scene with galleries, book shops, an independent theatre, and museums, plus some good farmer's markets.
In the centre of town is the newly renovated Uptown Waterloo, a thriving community with award-winning contemporary architecture and lots of interesting shops and eateries. This makes it an ideal place for students and young professionals who want to live in a vibrant urban environment with plenty of amenities.
The area's biggest draw is Oktoberfest, which since 1969 has grown to be the biggest such event outside of Germany proper. Other annual events include the Kitchener Blues Fest, Kitchener-Waterloo Multicultural Festival, and Kultrun World Music Festival.
For nature lovers, the beautiful Grand River flows through the city, with countless parks and trails around it. The wildlife is teeming with fish, birds, and myriad varieties of plant life. Adjacent to the river is Waterloo Park, which has a petting zoo, with many sports fields and an outdoor theatre for family movie night!
Around the sprawling yet intriguing tech-driven university campuses, a thriving tech sector has been built-up in the city, with companies like Google, Shopify, and many cyber-security companies taking up residence.
Waterloo Community Highlights
Second largest Oktoberfest in the world, full of beer, sausage, and great fun!
Two great universities bring a vibrant student life to the city.
Newly revitalized Uptown with lots of shopping and restaurants.
The gorgeous Grand River runs through the city, with many parks around its banks.
Waterloo Park has a petting zoo, outdoor movie theatre, and more!
Waterloo Area Schools
Waterloo schools are ranked highly in the province, with these five coming out on top in the area.