Houses for Sale in Ingersoll Ontario
Take a look at these beautiful homes for sale in Ingersoll, Ontario! If you're interested in any of them just click the "Request More Information" button when viewing details and we'll provide disclosure information or past sales history for each listing.
Recently Listed Real Estate in Ingersoll, Ontario
September 22, 2023
What's Your Ingersoll Home Worth?
Find your home or condo's value in today's market, for FREE!
Find Out Now

Real Estate For Sale in Ingersoll, Ontario
The Real Estate market is small in Ingersoll but can move quickly, with charming houses sometimes selling within a month on the market.
The benchmark price for single-family homes in the Woodstock-Ingersoll area is up 5.6% annually in August 2022, at $698,000. For townhouses, that number is $547,700, a much more substantial 31.6% increase year-over-year.
Only on rare occasions does a heritage home go up for sale, most houses on the Ingersoll market being detached single-family units or townhouses.
Ingersoll, Ontario Overview
A town of just 12,000 people, the cozy nook of Ingersoll is famous for its beautiful main street and the stunning Elm Hurst Inn & Spa landmark. At one moment in time, it was the "Cheese Capital" of Oxford County in the 1860s through to the end of the century.
Founded in 1793 by the Ingersoll family, the town was originally called Oxford-on-the-Thames for its location on the Thames River. It now reaches an area of 13 square kilometers and has seen slow by steady growth in the past few decades. Between 2011 and 2016, Ingersoll's population increased by 5%, from 12,146 to 12,757.
Just a quick exit off the 401, the town of Ingersoll has plenty to offer both visitors and residents. Within Southwestern Ontario, it's about 40 kilometers east of London and 132 kilometers west of Mississauga. The closest larger town is Woodstock (20 kilometers), while Kitchener and Hamilton are also within 100 km. Thus, you have access to a few larger cities in the nearby area while getting to live a small-town life.
Living in Ingersoll, Ontario
Ingersoll started life as a small farming community and expanded into a thriving industrial town. Its primary industries now include one of Canada's eight largest auto assembly plants, GM's CAMI Assembly Plant.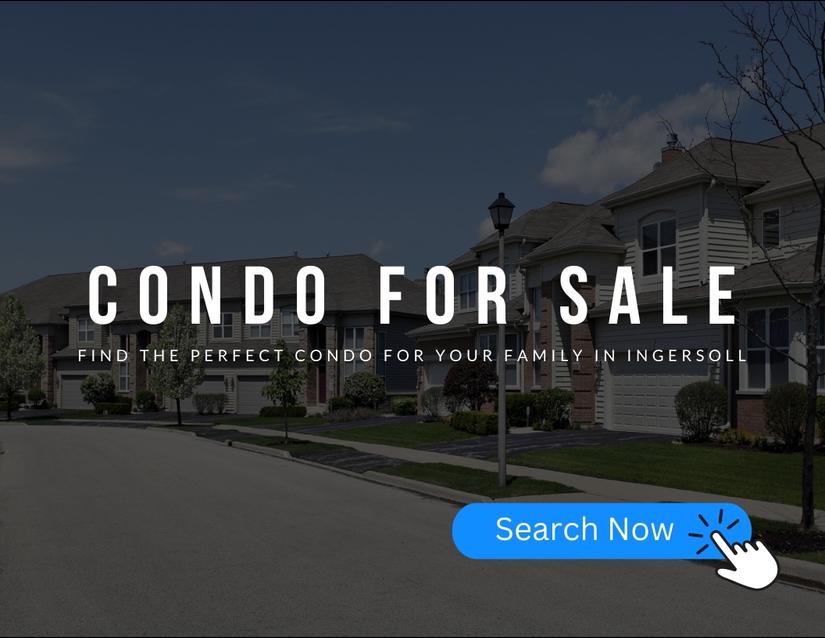 In 1866, the James Harris Cheese Factory produced a giant cheese wheel weighing 7,300 pounds (or 3,311kg) which was even exhibited at the New York State Fair. This kickstarted the industrious reputation of the town, with everything from farm equipment to pork-packing beginning to get established. While the original "Mammoth Cheese" is long gone, a replica lives on in the Ingersoll Cheese & Agriculture Museum in its honor.
Take in the fresh air of Ingersoll with its active tradition of yearly festivals and extra-curriculars. The Fusion program provides everything from music, art, and cooking classes to folks aged 10-18, as well as services like a recording studio and gym.
Over by the spacious Victoria Park with its playground and splash pad, you can find the Victoria Park Community Centre, which has an indoor pool, runs a preschool and summer camp, and offers a variety of seasonal activities.
Ingersoll Community Highlights
Beautiful town with quiet, picturesque surroundings and highway 401 connections to nearby bigger cities.
A visit to the Elm Hurst Inn & Spa is well worth the trip. The beautiful manor once belonged to the owner of the famous cheese factory.
Local Fusion program provides classes of various kinds to young people 10-18 years old.
Victoria Park Community Centre and nearby park provides plenty of recreational opportunities.
One of Canada's eight largest auto plants provides jobs for the town.
Ingersoll Area Schools
There are four elementary schools and one high school in the region.
Search Ingersoll by Property Type