Top Neighbourhoods in Markham Ontario
Posted by ViewHomes.ca Team on Wednesday, February 1, 2023 at 3:30 PM
By ViewHomes.ca Team / February 1, 2023
Comment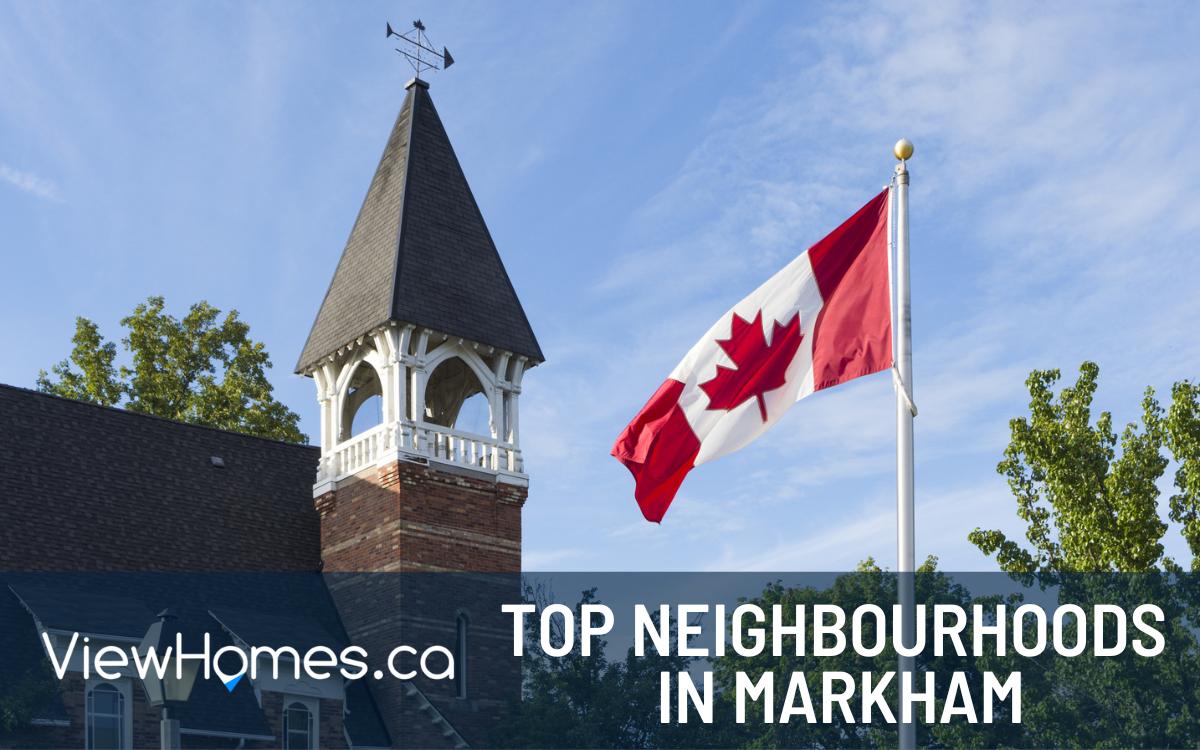 It's no secret that Markham is home to many great, family-oriented neighbourhoods, filled with historic homes, luxurious new builds and everything in between. It's the perfect combination of convenience, suburban living, and charm, with easy access to the city of Toronto.
As experts in Ontario real estate for over three decades, we know exactly where to find the best neighbourhoods in Markham. As the Greater Toronto Area's fourth largest city, and one of Ontario's fastest growing communities, this city contains some of the best places to live in the GTA for thousands who call it home. If you're looking to do the same, read on as we show you the best residential areas of Markham, Ontario.
Neighbourhood Table of Contents
Angus Glen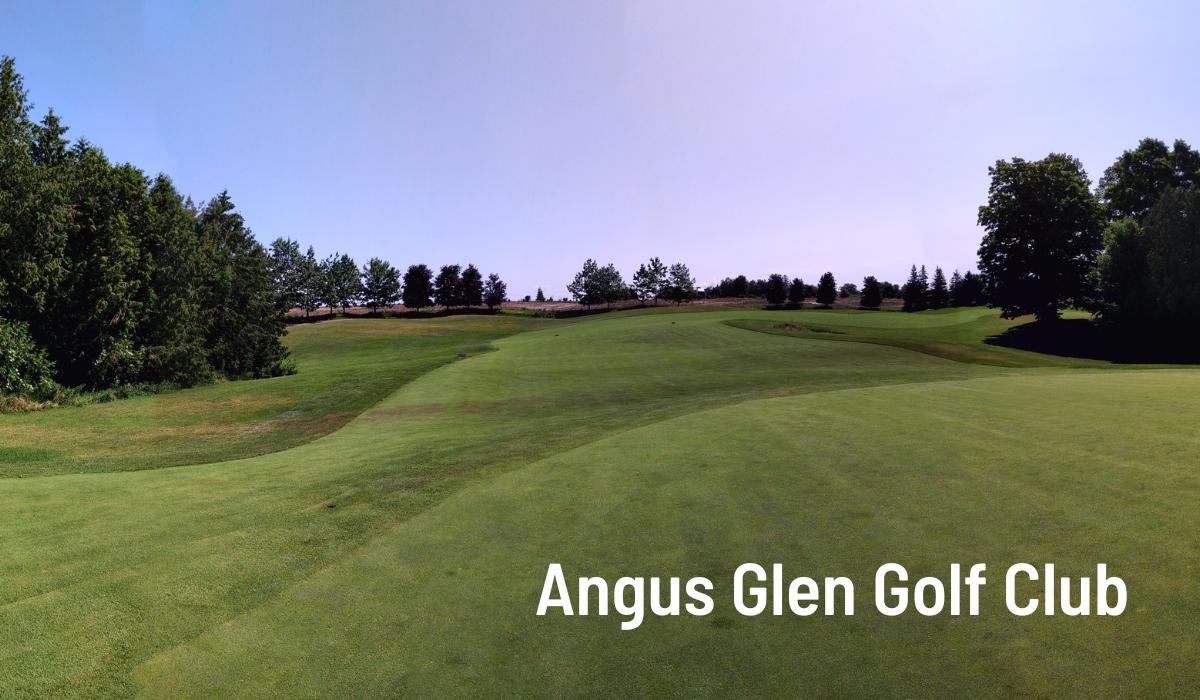 Located in the north end of Markham, the neighbourhood of Angus Glen is known for its beautifully manicured homes and narrow streets. The homes in this neighbourhood are a mix of heritage homes combined with newer single-detached homes and townhouses. Many of the homes here are beautifully maintained, with picturesque brick and cladding exteriors and well-kept front lawns.
There is an abundance of green space in Angus Glen, between the expansive Angus Glen Golf Club that runs both north and south of Major Mackenzie Drive, and the neighbourhood parks and playgrounds for the many families who call this place home.
The large, multipurpose Angus Glen Community Centre provides the community with excellent sports facilities, arenas, a pool, and more. The commercial areas surrounding Major Mackenzie and Kennedy, and 16th Ave and Kennedy provide residents with grocery and pharmacy needs, as well as a few restaurants.
Angus Glen is a very family-friendly neighbourhood in Markham, providing quiet streets and spacious homes. While there is only one school within the community, Angus Glen Montessori, there are two nearby elementary schools and one high school in Berczy Village on the east side of Kennedy Road. If you're looking for a home in Markham to settle down in comfort and convenience, Angus Glen is a great place to begin your search.
Most recent MLS® listings in Angus Glen.
View Homes in Angus Glen
See detailed information & photos.
View Homes for Sale
Cornell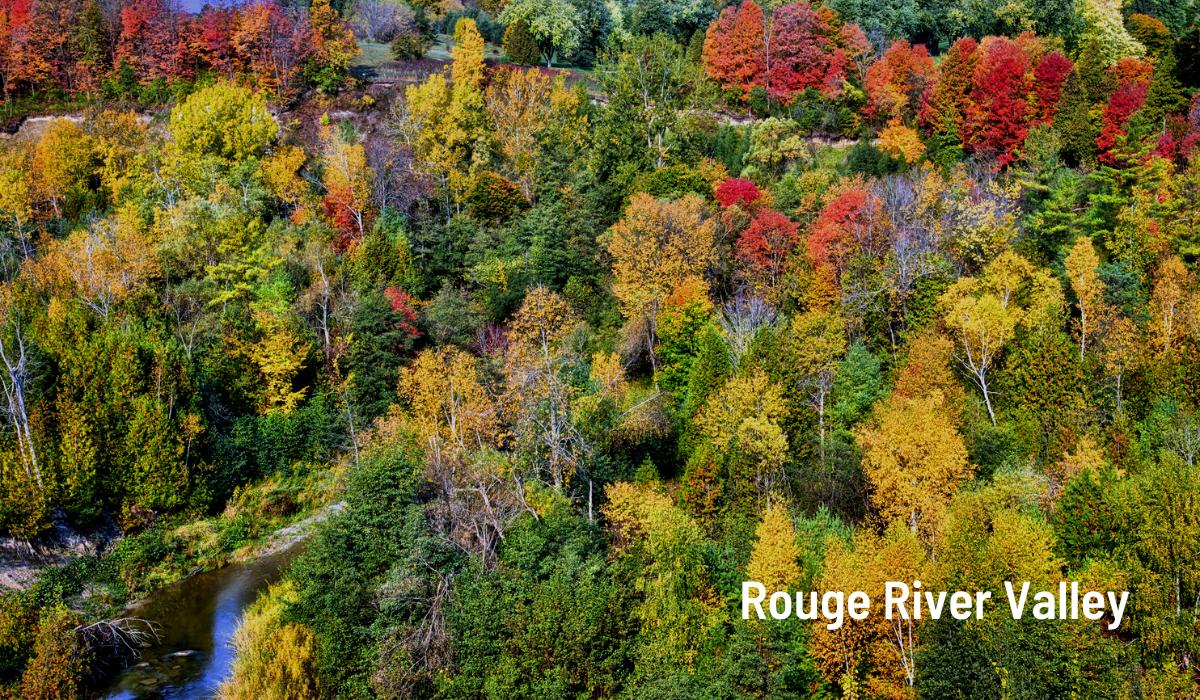 Cornell is a neighbourhood in northeast Markham that began its development in 1999 as the GTA's first community designed with New Urbanism principles. This means the neighbourhood was developed with human needs at top of mind, making community resources, shops and parks within walkable distance of every home.
Cornell is located within the confines of Ninth Line on the west, the 407 on the south, Donald Cousens Pkwy on the east, and Major Mackenzie on the north. It's situated next to the beautiful Rouge River Valley and open farmland - a rare sight in the GTA.
Style of homes vary, but many are single-family homes with detached garages and lane driveways. Many of the garages also include an upper-level apartment or coach house.
The main commercial area surrounds Bur Oak Ave, which is where you will find Cornell Community Centre, a large recreation and community centre. Residents enjoy the many parks scattered throughout the neighbourhood, and families have access to three excellent elementary schools and one high school in the neighbourhood.
Whether you're a family or an individual looking to move to Cornell, you can look forward to a strong sense of community in this part of Markham, with many community events and organizations to bring its residents together.
Most recent MLS® listings in Cornell.
View Homes in Cornell
See detailed information & photos.
View Homes for Sale
Greensborough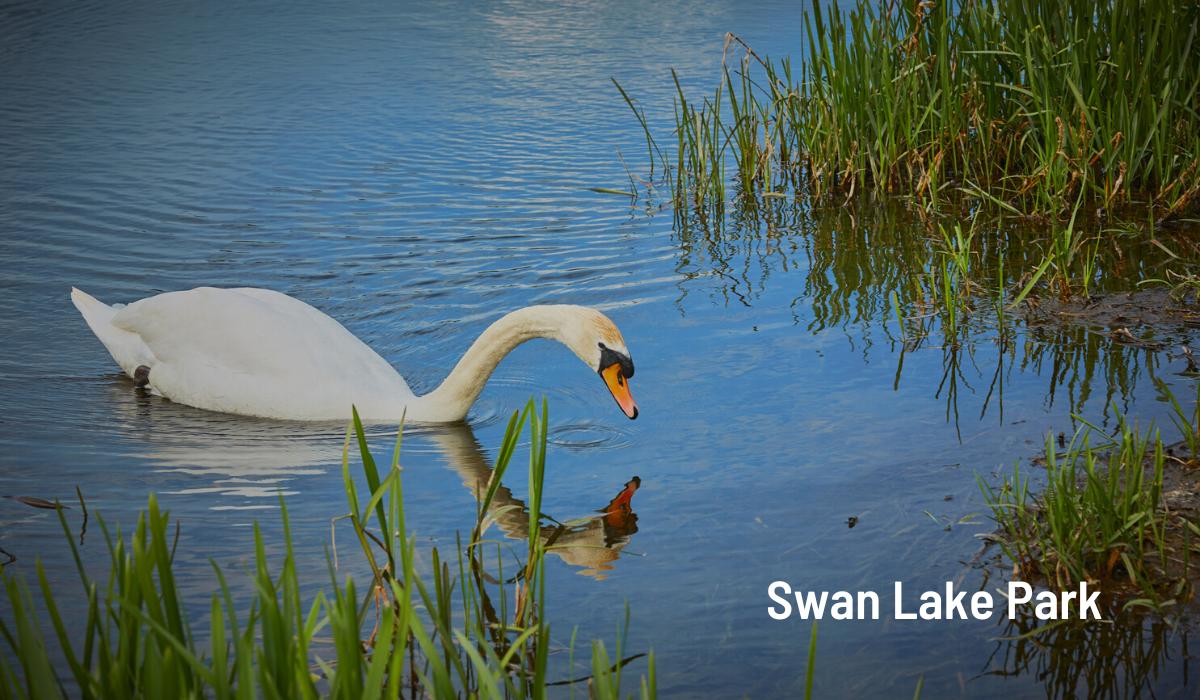 Greensborough is a quiet and family-friendly neighbourhood in northeast Markham. This neighbourhood was developed starting in 2005, with the plan of combining low and medium-density residential areas with commercial areas to create a desirable urban atmosphere for all residents.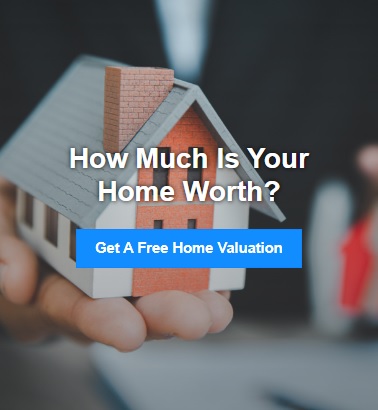 Bordered by Little Rouge Creek to the east and farmland to the north and east, Greensborough is quite appealing for city residents who want the feel of being close to rural land. Houses in Greensborough range from low-rise condos to townhouses to spacious single detached homes. Many have been built to match the heritage feel of the historic Markham village.
The main commercial areas in Greensborough are concentrated along Markham Road and 16th Ave, with a few additional shops along Bur Oak Ave. It's easy to get around the neighbourhood by foot or bike, using pedestrian pathways and bicycle lanes. Public transit is also convenient, with access to bus routes and the Mount Joy GO Station.
Mount Joy Community Centre is one of the community's main resources, featuring an arena and soccer fields. Families also have access to three elementary schools and one high school in the neighbourhood.
Greensborough is an excellent area of Markham for families who are looking for more space but still want to be close enough to city amenities.
Most recent MLS® listings in Greensborough.
View Homes in Greensborough
See detailed information & photos.
View Homes for Sale
Markham Village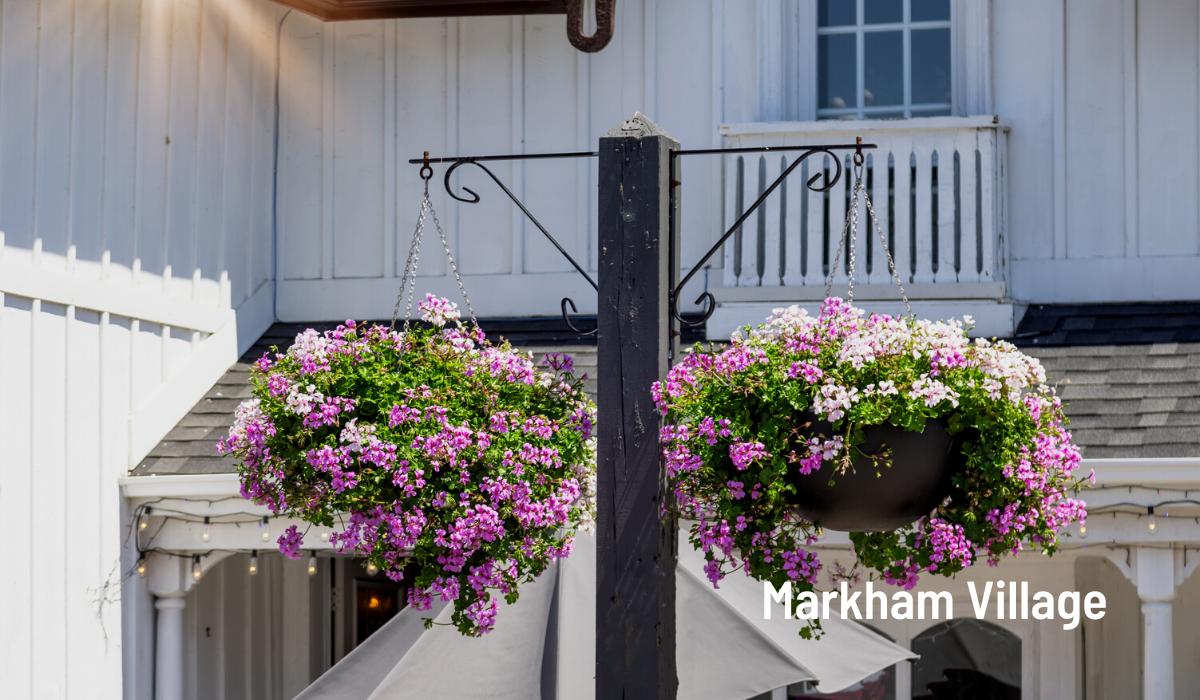 Markham Village includes the original village that sparked the development of the city we now know today. It's an interesting mix of historic homes and newer construction in a vibrant neighbourhood located roughly between Markham Road and Ninth Line.
Markham Road is the central commercial area of this neighbourhood, as it morphs into the historic Main Street in Markham Village, lined with independent shops, restaurants, and businesses that create a welcoming small-town vibe.
This neighbourhood dates back to 1790, evident in the many century homes still standing today. Homes in the village vary from beautiful heritage homes to more modern builds. Lots are generally large, sitting on tree-lined residential streets.
Many of the homes built in the mid-late century are back split, side split or bungalow style, and it's increasingly common to see many of the older homes being torn down and rebuilt into larger, more luxurious houses. As this neighbourhood offers much in the way of convenience and charm, many residents prefer to renovate or rebuild rather than move out.
The Markham Village GO Station is located just off Main Street, making it easy for commuters to get around the GTA. The 407 and Highway 7 are also close by. Residents enjoy easy access to nearby amenities along Main Street as well as various parks scattered throughout the neighbourhood.
Families in Markham Village attend three elementary schools and one high school, with various other schools in the surrounding neighbourhoods. If you're looking to move to one of the most coveted Markham neighbourhoods, known for convenience, character and community, then Markham Village is right up your alley.
Most recent MLS® listings in Markham Village.
View Homes in Markham Village
See detailed information & photos.
View Homes for Sale
Raymerville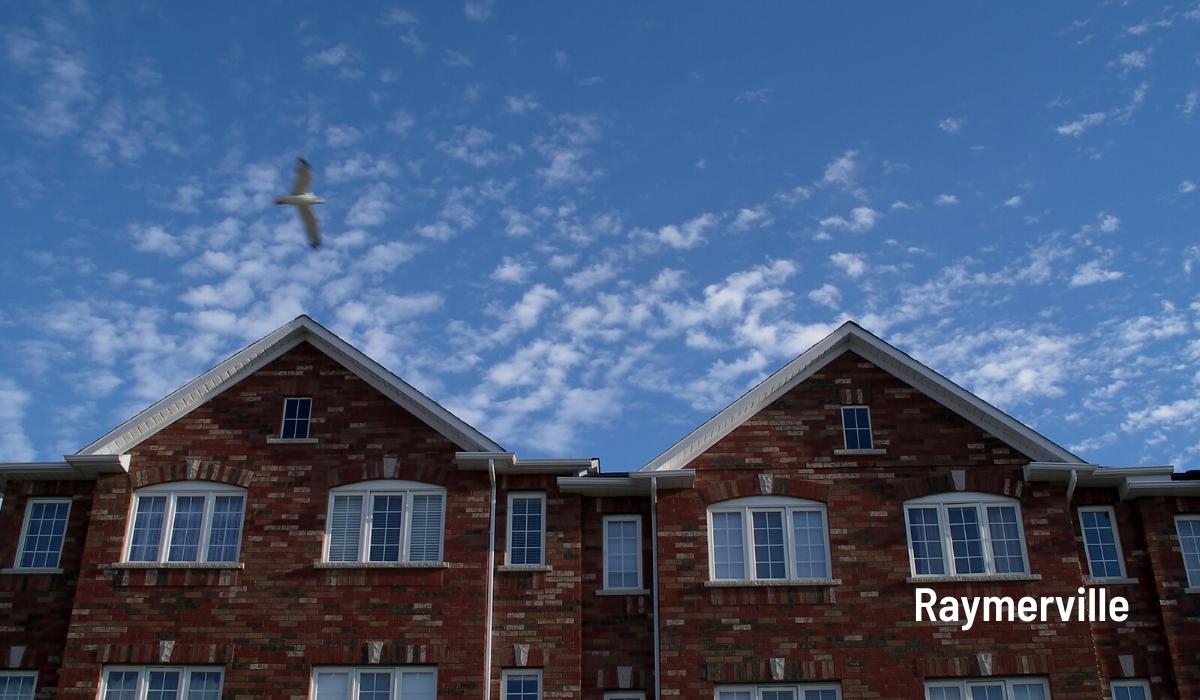 Raymerville is a family-oriented residential community that includes homes located on and around Raymerville Drive, between McCowan Road and Main Street Markham, just west of Markham Old Village. Development in this part of the city dates back to the 1980s, and most of the homes are single-family detached houses with garages. There are also some townhomes, primarily around the edges of the neighbourhood. Most residents of Raymerville own their own homes.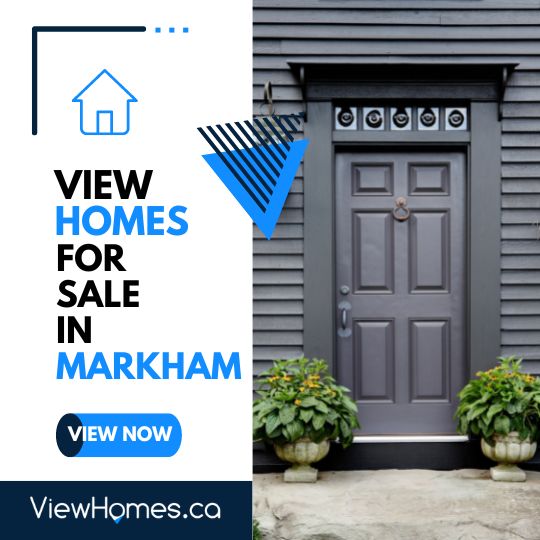 There is an incredible amount of green space in Raymerville, including wooded parks with trails and natural rivers, open sports fields, and playgrounds. The Markham Centennial Community Centre is located on the south end of the community, providing access to lots of recreational and community spaces. There's also an excellent elementary school and high school servicing this neighbourhood, both of which rank near the top of all schools in Ontario.
The Markham GO Station is located on the east end of Raymerville, providing connection to the rest of the GTA. And with the commercial areas at Markham Road and 16th Ave, and McCowan and Bullock Drive, residents don't have to go far for most of their daily needs. Markville Mall is also just southwest of the neighbourhood.
Raymerville is a great family-oriented community with much to offer in the way of convenience, recreation and family life. If you're looking for an established, safe community that's still near plenty of amenities, Raymerville is definitely worth considering.
Most recent MLS® listings in Raymerville.
View Homes in Raymerville
See detailed information & photos.
View Homes for Sale
German Mills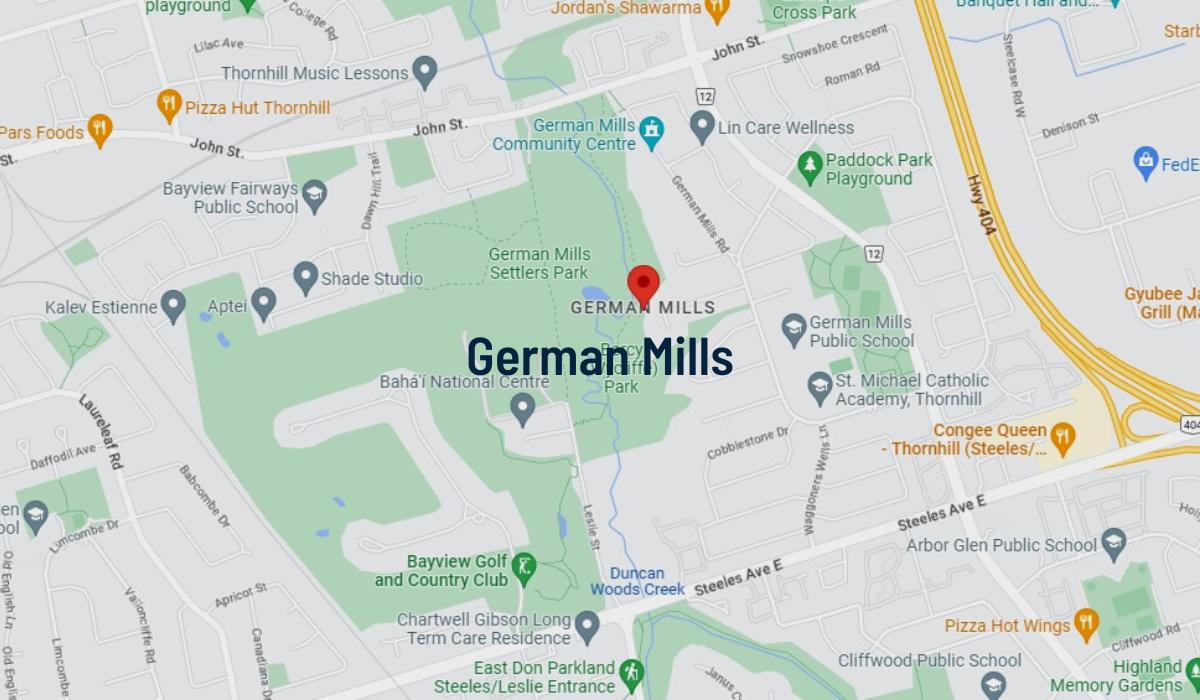 In the southwest corner of Markham is the historic neighbourhood of German Mills. This community has been part of the city since its earliest founding, having been established by William Berczy back in 1794. The area has maintained some of its historic charm to this day, with preserved historic buildings found in German Mills Settler's Park along the Don River Valley.
Most of the housing in German Mills consists of detached single-family homes with front garages, which are excellent starter homes for first-time buyers in the city. Certain roads also offer a variety of townhomes and condos, as well as some larger single-family homes.
Residents of German Mills enjoy easy access to amenities along Steeles, Bayview, and John Streets that mark out the boundaries of this neighbourhood (along with the 404 to the east).
The Bayview Golf and Country Club is a popular attraction for Markham residents, along with the forested trails of German Mills Meadow and Natural Habitat. There is one elementary school, while high school students will commute to schools in neighbouring communities.
German Mills is an ideal neighbourhood for first-time home buyers looking for a quiet, historic community with access to lots of natural areas along the Don River.
Most recent MLS® listings in German Mills.
View Homes in German Mills
See detailed information & photos.
View Homes for Sale
Berczy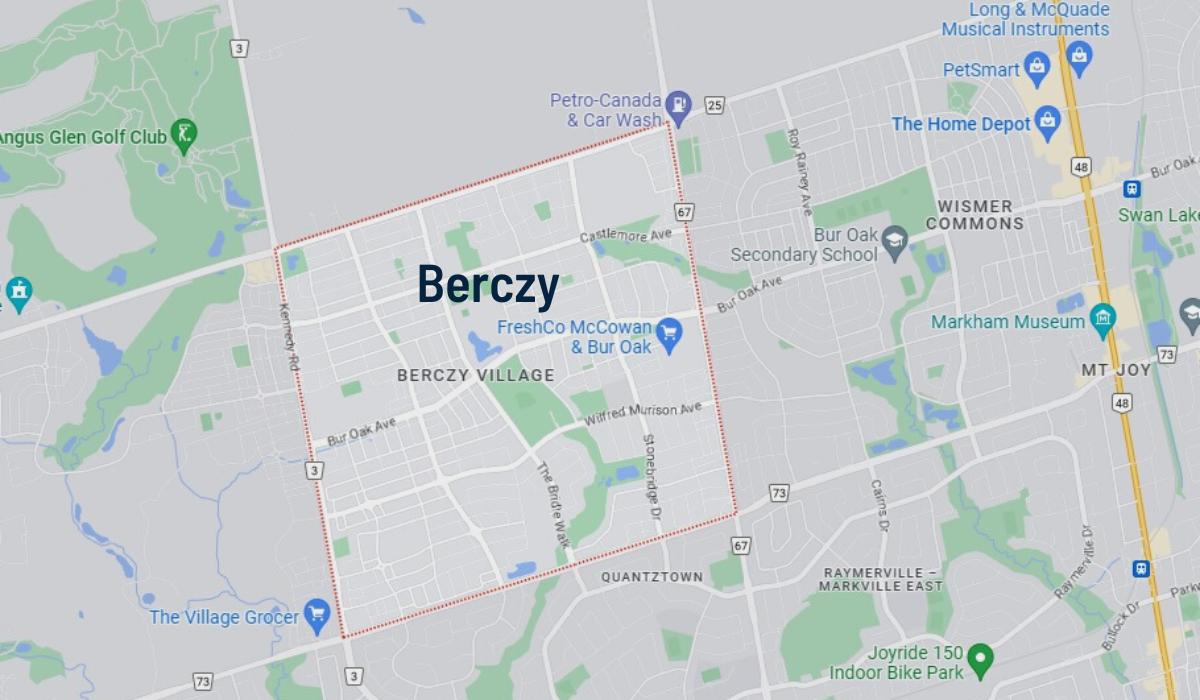 Berczy is a neighborhood in north Markham that's nestled between 16th Ave and Major MacKenzie, and Kennedy Road and McCowan. It's a great part of the city for families and first-time home buyers, largely due to its variety of housing options.
Housing ranges from condos and townhouses to semi-detached and detached homes. Berczy's diversity of housing follows suit with its reputation for being safe and welcoming.
While this Markham neighbourhood is one of the oldest, dating back to the founding of the settlement by William Berczy himself, most of the homes were built after the year 2000. Houses in Berczy tend to have great curb appeal, with charming traditional features like front porches, dormers, and red brick exteriors.
Residents of Berczy live in close proximity to commercial centres on both the east and west ends of Bur Oak Ave - the main artery through the neighbourhood - as well as at the major intersections that run along both Kennedy and McCowan.
North of Berczy is undeveloped land, and just off to the west in the community of Angus Glen is the renowned Angus Glen Golf Club.
There are many parks throughout the residential streets of Berczy, including the large Berczy Park, which has a playground, splash pad, skateboard park, soccer fields, and wide, grassy fields. Families have access to four elementary schools and one high school within the community, as well as various others in neighbouring parts of the city.
Known as being a part of the city that is affordable, safe and welcoming, Berczy is easily one of the best neighbourhoods in Markham.
Most recent MLS® listings in Berczy.
View Homes in Berczy
See detailed information & photos.
View Homes for Sale
Bayview Glen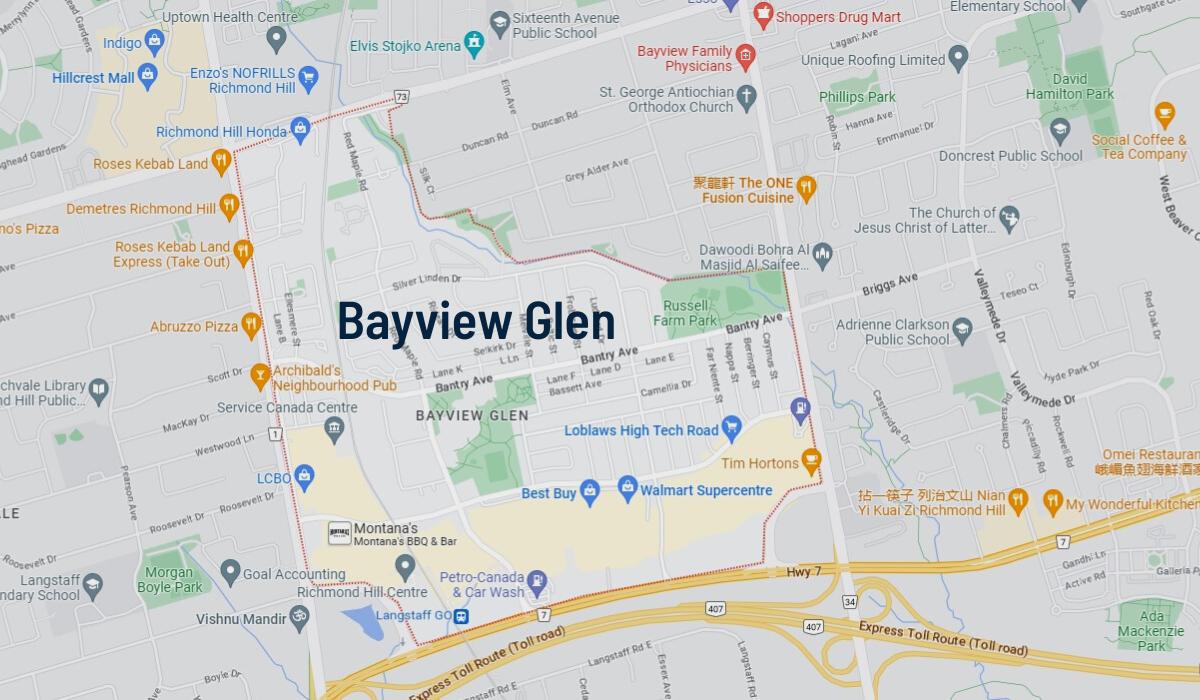 One of the top upscale neighbourhoods in Markham is Bayview Glen, located in west Markham. Tucked away in the northeast corner of Bayview Ave and Steeles, this community boasts wide, winding streets lined with large, posh houses. There are no sidewalks in this part of the city, and the wide lots and mature trees complement the elaborate homes built in Colonial and Tudor revival styles.
Bayview Glen homes are either detached homes or condos, most of which were built when the area developed between the 1960s-80s. Many of these older homes are also being torn down and rebuilt into impressive, custom homes.
Residents of Bayview Glen have access to excellent schools, including two elementary and two independent schools. Nearby neighbourhoods are home to well-respected high schools. For recreation, residents are close to Bayview Glen Golf Club and the Thornhill Community Centre, which includes a gym, ice rink, library, community space, and more.
Bayview Glen is an incomparably luxurious part of Markham, nestled right on the northern edge of the City of Toronto. If you're looking to move to one of the most impressive neighbourhoods in Markham, you'd do well to begin your search in Bayview Glen.
Most recent MLS® listings in Bayview Glen.
View Homes in Bayview Glen
See detailed information & photos.
View Homes for Sale
Conclusion: Top Neighbourhoods in Markham, Ontario
Markham is one of the fastest-growing cities in the GTA for good reason. It's located just north of the City of Toronto and along convenient public transit lines and some of the GTA's biggest highways. Many of Markham's neighbourhoods are convenient, comfortable, and family-oriented.
If you're looking to buy a home in Markham, start browsing through each of these top neighbourhoods to see what catches your eye, and join the thousands of new residents that are excited to call Markham home each year.
Any questions about Neighbourhoods in Markham?