Ontario, Canada | The Ultimate Guide to Living in or Moving to Ontario
Posted by ViewHomes.ca Team on Wednesday, March 29, 2023 at 8:33:53 AM
By ViewHomes.ca Team / March 29, 2023
Comment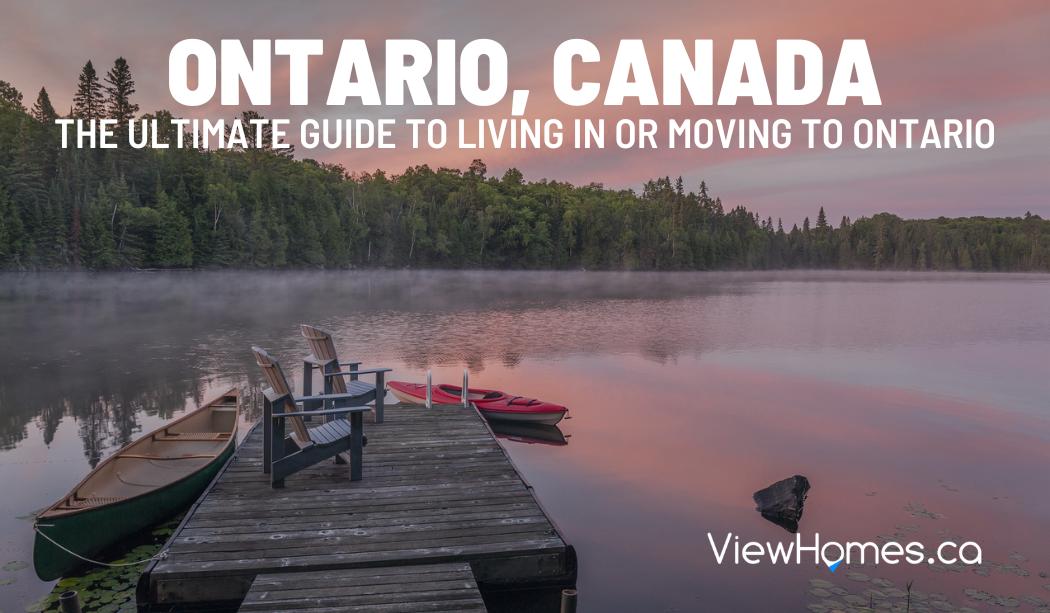 The Canadian Province of Ontario is home to the nation's capital, Ottawa and the country's most populous city: Toronto. The millions of people that call Ontario home enjoy access to diverse industries, stellar public and post-secondary education options and some of the most beautiful sites in the country. Whether you are drawn to Ontario for work or school, this guide will help you learn everything you need to know about this province and its most popular cities before making the big move.

Where is Ontario in Canada?
Ontario is Canada's second-largest province and also its most populous with a population of 13,448,494 people according to the 2016 census. Ontario's capital, Toronto, is the province's most populated city with 2,731,571 people and many, many more living in the Greater Toronto and Hamilton Area that surrounds the major urban centre. Canada's capital, Ottawa is another of Ontario's most populous cities with 934,243 total residents.
Ontario is located in east-central Canada between the Provinces of Québec to the east and Manitoba to the west. The large body of water north of Ontario is called the Hudson Bay and its southernmost point is called James Bay. Both are considered to be divisions of the Arctic Ocean. Ontario's southern border is shared with the United States. Minnesota, Michigan, Ohio, Pennsylvania and New York are all directly south of Ontario and often share a border connection. All of Ontario is in the Eastern Standard Time Zone (EST) which is the same time as the east coast of the United States.

Geography of Ontario, Canada
Ontario is commonly divided into two major regions: Northern Ontario and Southern Ontario. Northern Ontario is more sparsely populated. It features a much colder, average climate and fewer large cities. The Northern Ontario cities with the highest populations include Greater Sudbury, Thunder Bay and Sault Ste. Marie. Much of Northern Ontario's climate is considered to be Subarctic which means long, cold winters with the possibility for a cool to warm range in the summertime.
Southern Ontario is the more densely populated of the two regions. It is often further divided into Eastern Ontario, the Golden Horseshoe and Southwestern Ontario. Much of this region is influenced by the Great Lakes (from east to west): Lake Superior, Lake Michigan, Lake Huron, Lake Erie and Lake Ontario. An iconic feature of living in this region of Ontario is lake-effect snow which results in higher amounts of snowfall in the cities around the Great Lakes. Toronto and Ottawa are the largest cities in Southern Ontario, but outside of the Greater Toronto and Hamilton Area, Kitchener-Waterloo, London and St. Catharines are some of the bigger mid-sized cities in Ontario. The climate in southern Ontario is warmer on average with increased rainfall and snowfall, but warmer and more humid summers.

Overview of Ontario, Canada
Before the arrival of French and British settlers, the area that would be called Ontario was originally inhabited by indigenous groups. Contact with European explorers began with expeditions by Étienne Brûlé and Samuel de Champlain for France and Henry Hudson for England in the early 1600s. Settlers would establish fur trading outposts, but the competing interests of the English and French would result in several disputes throughout the 17th century.
In 1791, the Constitutional Act established Upper Canada. This region is what is roughly known today as Southern Ontario. The British North American Act in 1867 formally established Canada with Ottawa as the national capital. The City of Toronto was named the capital of the newly formed Province of Ontario as well.
At the provincial level, the head of the Ontario government is the Premier. The Premier is the leader of the political party that wins in a provincial election. There are four main provincial parties in Ontario: the Green Party of Ontario, the Ontario Liberal Party, the Ontario New Democratic Party and the Progressive Conservative Party of Ontario. The Ontario government buildings and provincial ministries are located in Toronto. Because the capital of Canada is also in Ontario, Federal Government buildings and ministries are located in Ottawa.
In Canada, the Provincial Government is responsible for education, provincial law, healthcare and hospitals, provincial taxation, the control of public lands and natural resources and driving regulations. Ontario is further divided into counties, cities, towns and municipalities. Municipalities in Ontario are administered by a Municipal Government which usually consists of a mayor and a council. It is responsible for roads, waste management, public safety, city recreation and transit services.

Living in Ontario, Canada
Living in Ontario can vary greatly depending on where you decide to call home. An overview of the Province's impressive industries, education and transportation infrastructure can help you decide if Ontario is the right place for you and your family.
Jobs and Industry in Ontario
The overall main industries in Ontario are manufacturing, agriculture and the services industry. The Province's natural resources are also considered among its strongest industries: forestry and mining nickel and platinum-group metals. Manufacturing in Ontario is mainly in the automotive sector. Other key sectors include manufacturing for communications technologies, biotech, pharmaceuticals and medical devices. Outside of the urban centres, much of Ontario is still high quality farmland. Farms in Ontario are responsible for a range of produce including fruits, vegetables, poultry, hog, dairy and beef cattle. The services industry employs 79% of the province's population and accounts for the majority of Ontario's economy. This broad category includes Ontario's business and financial sectors, technical services and arts and culture.
Do I need to know French?
French is one of Canada's official languages and having a working knowledge of French is an asset in just about every field. English is Ontario's official language and many areas of the province offer services in both languages. Knowing French is a lot more important in the nation's capital, Ottawa. Ottawa has a higher French-speaking population and many federal government jobs require knowledge of both official languages. That being said, there are still many jobs in Ontario that don't require you to know both languages.
Education in Ontario
The Ministry of Education, part of the Ontario Provincial Government is responsible for overseeing education in the province. They regulate the publicly funded school boards in a city or municipality and can make curriculum-wide decisions. Province-wide EQAO (Education Quality and Accountability Office) tests are administered to all students in board schools. The tests measure Grade 3 and Grade 6 Reading, Writing and Math; Grade 9 Math as well as the Ontario Secondary School Literacy Test. Ontario also has several options for private schools in various cities that are funded by student tuition instead.
There are many post-secondary institutions in Ontario and many of them boast the best reputations in the country. According to Maclean's 2021 ranking by reputation, the University of Waterloo (Kitchener-Waterloo), McMaster (Hamilton), Queen's University (Kingston) and Western University (London) all made the top-ten in a nation-wide list with the University of Toronto earning the top spot in all categories. There are 24 public colleges in Ontario. Four of those colleges are located in Toronto: Centennial College, George Brown College, Humber College and Seneca College. Two of the total are French-speaking: Collège Boréal in Sudbury and Collège La Cité in Ottawa. The remaining 18 colleges are located in most mid-sized cities in Ontario. Prospective students can apply to Ontario universities through the Ontario University Application Centre (OUAC) and to college through the Ontario College Application Application Service (OCAS).

Transportation in Ontario, Canada
It is easy to get from one place to another in Ontario thanks to an excellent network of roads, rail and flights. The Province of Ontario is connected by a series of major highways. The 400-series highways are wide roads designed to accommodate heavy traffic at high speeds. This includes the Queen Elizabeth Way (QEW) which connects Toronto with the Niagara Region and the border with the United States in Buffalo, New York. Many of the 400-series highways are connected to Toronto and an integral part of commuting throughout the Greater Toronto and Hamilton area.
Since the arrival of the Grand Trunk Railway in the pre-Confederation period, the cities of Ontario and beyond have been connected by important railways. Today, passenger cars are largely operated by Via Rail. Trains run along the Québec City-Windsor Corridor between Québec, through southern Ontario and ending in Windsor; The Canadian, a transcontinental route between Toronto and Vancouver, British Columbia and the Sudbury-White River route which runs through Northern Ontario. Ontario railways remain an important method of moving freight across the province. GO Transit operates commuter trains throughout the Greater Toronto and Hamilton Area and some of the larger Ontario cities have a light rail option in their public transit profile.
Ontario is home to two large international airports: the Toronto Pearson International Airport in Mississauga and the Ottawa Macdonald-Cartier International Airport. Other International Airports in Ontario include the John C. Munro Hamilton International Airport in Hamilton, the London International Airport in London and the Thunder Bay International Airport in Thunder Bay.
Public transportation varies by city in Ontario. Most mid-sized cities at least operate a public transit bus program to help residents get around. Kitchener, Ontario has a light rail option to get commuters quickly between downtown Kitchener and Waterloo. Ottawa, Ontario's OC Transpo operates bus routes and the O-Train light rail which services the city two lines. Toronto has the most robust transit system. In addition to the GO Transit buses and trains that connect the Greater Toronto and Hamilton area, the City of Toronto operates buses, streetcars and a large subway system to move residents, commuters and visitors efficiently around the city.
Things to do in Ontario
Several famous Canadian attractions can be found in Ontario and living in the province means being even closer to them. Here are just a few must-see locales in some of the most popular Ontario areas: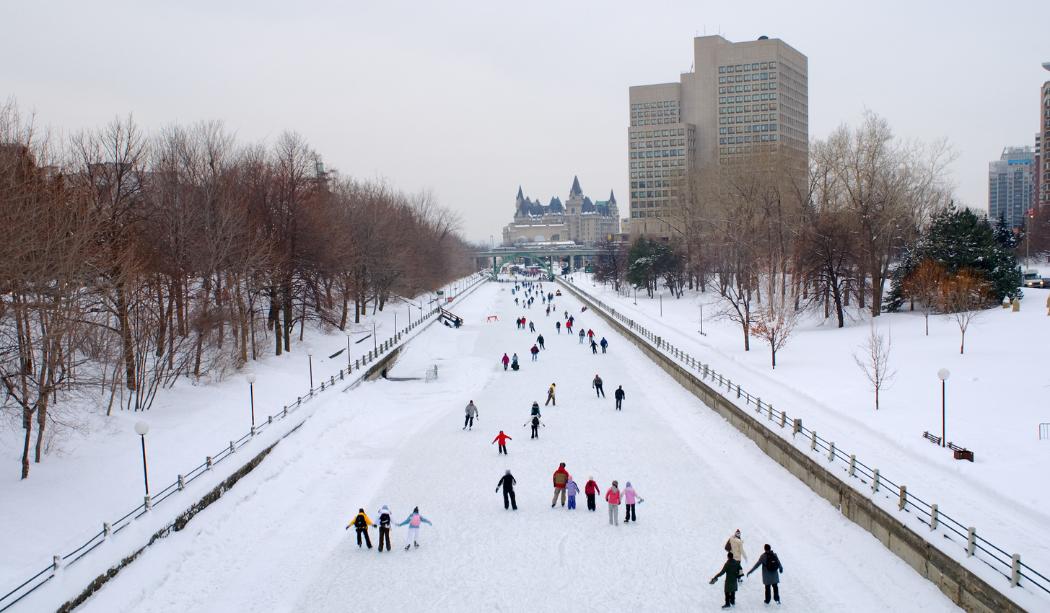 Ottawa, Ontario: the Rideau Canal
The Rideau Canal winds through Ottawa, connecting the nation's capital to Lake Ontario and the Saint Lawrence River. In the winter, freezing transforms the canal into the world's largest skating rink. Every year, hundreds of thousands of Ottawa residents and seasonal visitors strap into their skates and make the scenic tour of this iconic Canadian locale. In 2007, Rideau Canal was recognized as a UNESCO World Heritage Site.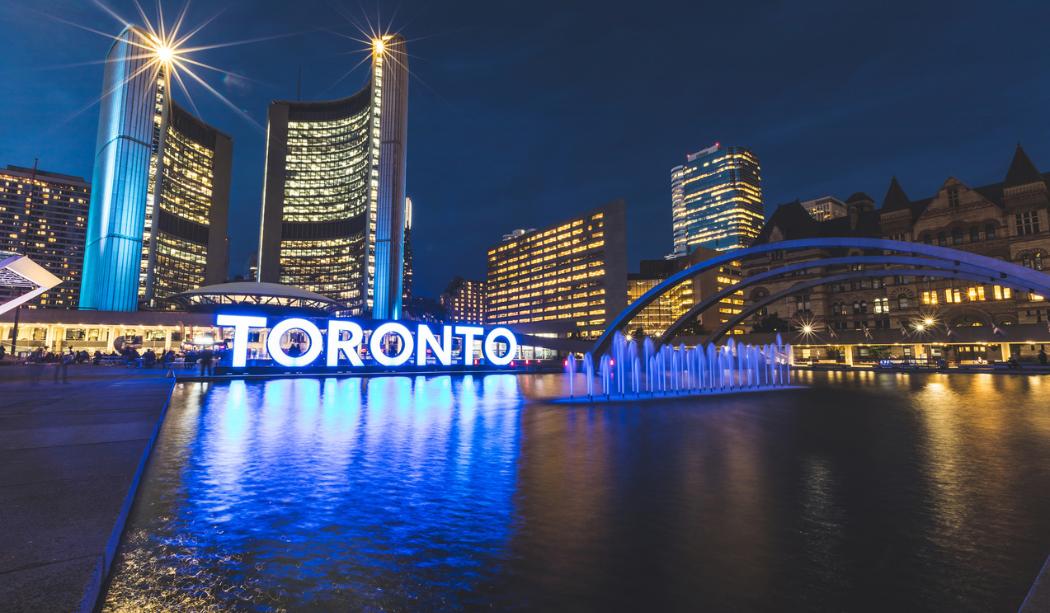 Take a Day-Trip to Toronto
Even if you don't live in the Greater Toronto and Hamilton Area, the massive City of Toronto is definitely worth seeing. Attractions include the CN Tower, Ripley's Aquarium of Canada, the Royal Ontario Museum (ROM), the Hockey Hall of Fame, the Art Gallery of Ontario (AGO) and the Casa Loma historic castle. If you are more interested in shopping, Toronto boasts the Toronto Eaton Centre on Yonge Street alongside thousands of options for specialty shopping and dining.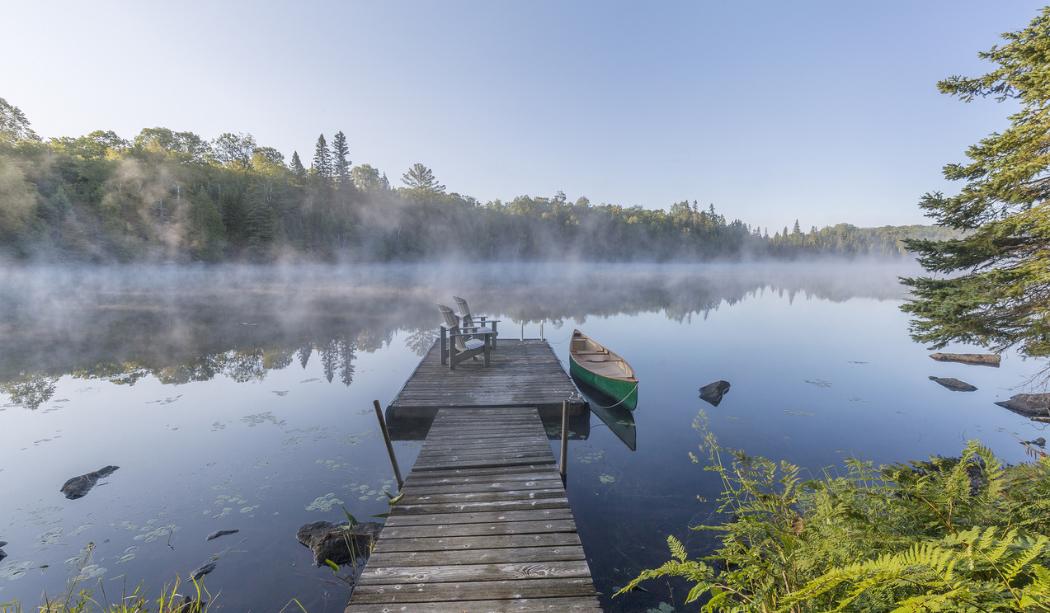 Explore the Muskoka Region
No matter the season, the Muskoka Region is Ontario's outdoor paradise and Algonquin Park is the region's pride. Located on the Georgian Bay in Southern Ontario, the Muskoka Region offers all-season camping and outdoor activities. In the summer, visitors can enjoy hiking, cycling and ATV trails as well as water activities like boating and tubing on the Georgian Bay. In the wintertime, walking trails become perfect for skating or cross-country skiing. Other popular winter activities include dog sledding and ice fishing.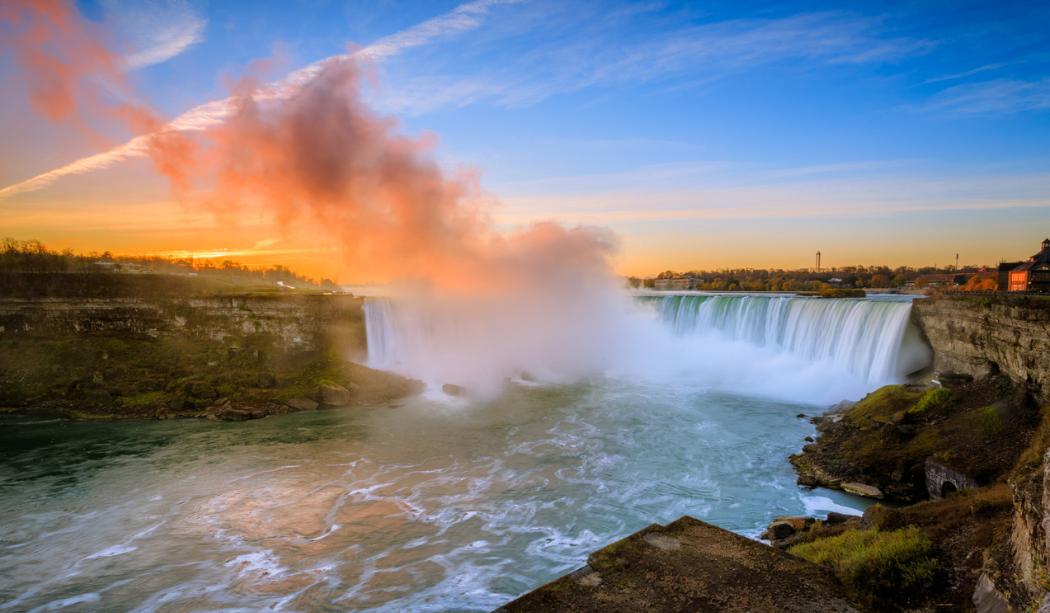 See Niagara Falls
The Canadian section of Niagara Falls is located in the Niagara Region south of lake Ontario. The Canadian side gives visitors access to the largest of the three waterfalls: Horseshoe Falls. The City of Niagara Falls is also a large tourist area that has developed around the natural marvel. Attractions in the city include high towers and boat tours to better see the falls, museums, popular indoor water parks, casinos and theatres.
Where to Live in Ontario, Canada
From Canada's biggest urban centre in Toronto to smaller, rural municipalities, cities in Ontario are extremely varied. Depending on what you are looking for and why you are moving to Ontario, factors like size, transportation and education are all things to consider before making that move. Here are the profiles of five distinct cities in Ontario to get an idea of what big city life, mid-sized city life and living in a small town can look like: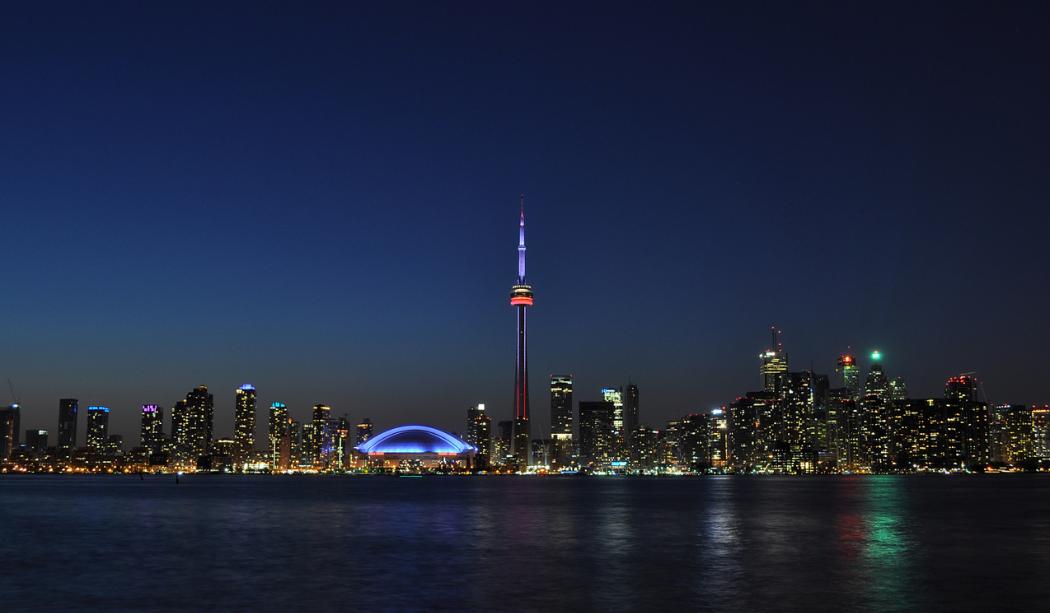 Toronto, Ontario
Quick Facts:
● Location: Southern Ontario (Golden Horseshoe), western end of Lake Ontario
● Population: 2,731,571 people (2016 census)
● Transportation: TTC operated streetcars, busses, subway and GO Transit commuter buses and trains.
● Known For: The CN Tower, Toronto Maple Leafs, Toronto Raptors and Toronto Blue Jays
It doesn't get bigger than Toronto. Toronto has the highest population of any city in Canada which is even higher if you include their total census metropolitan area of Brampton and Mississauga bringing the total up to 5,928,040 people. Toronto is the economic heart of the Golden Horseshoe region and the province. Living in Toronto is convenient, but costly, so many who work in the city choose to live outside of it and commute.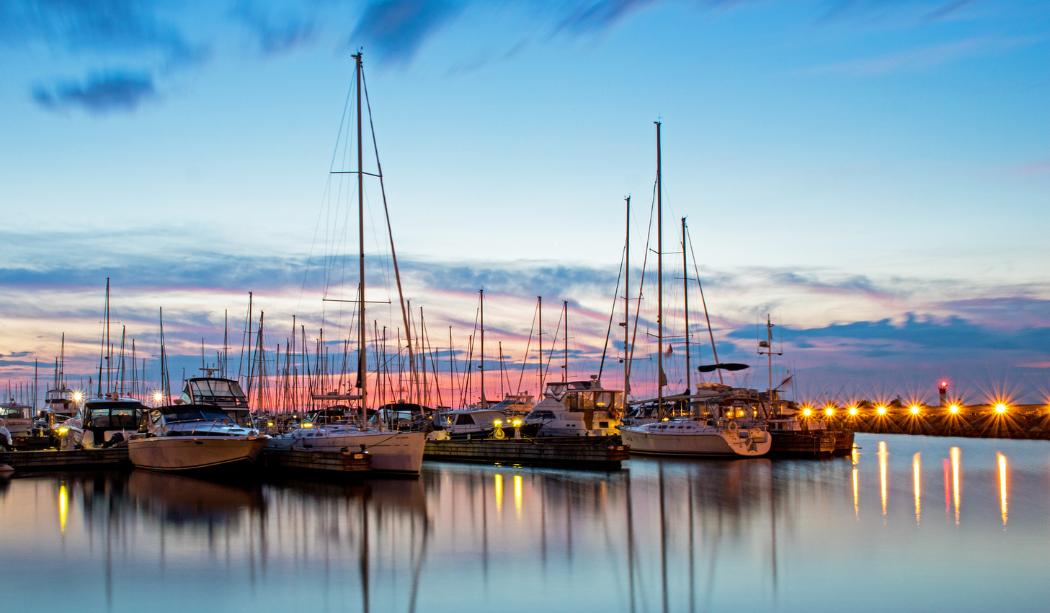 Oakville, Ontario
Quick Facts:
● Location: Southern Ontario (Greater Toronto Area), Halton Region
● Population: 193,832 people (2016 census)
● Transportation: Oakville Transit operates buses, Oakville is included in several GO bus and train routes
● Known For: Sheridan College's well-regarded arts and culture programs
With a distance of less than 40km from Toronto, Oakville is a popular example of a bedroom community. Oakville is connected to Toronto by the Queen Elizabeth Way and the 403 highway as well as GO bus routes and the GO train route. In recent years, real estate prices in Oakville have been rising quickly. For those who work in Toronto, it remains a more affordable nearby city to buy a house with some property.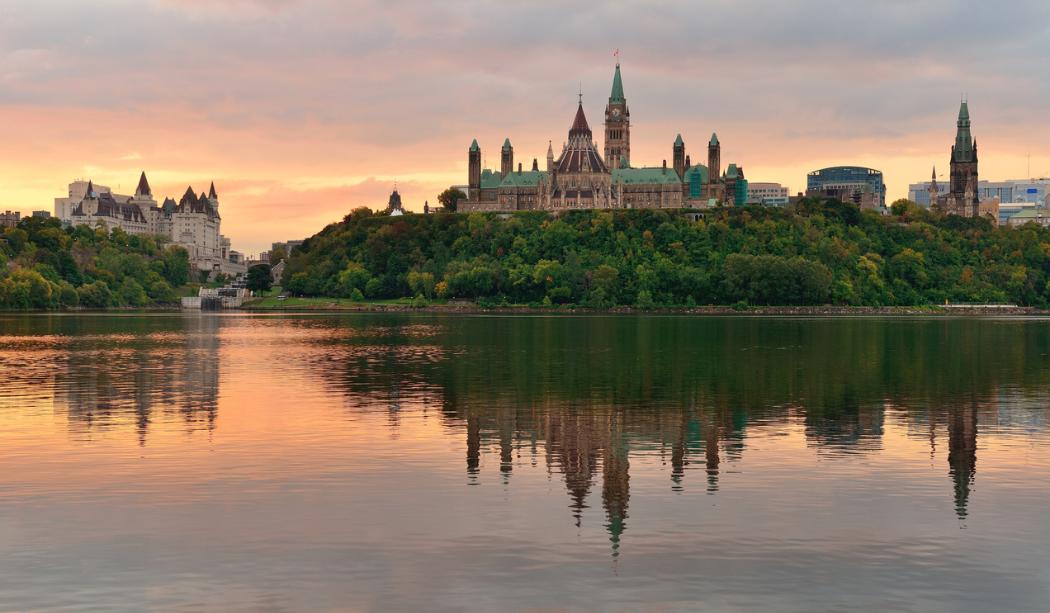 Ottawa, Ontario
Quick Facts:
● Location: Southeastern Ontario
● Population: 934,243 people (2016 census)
● Transportation: OC Transpo operates bus routes and the O-train light rail.
● Known For: Rideau Canal, Parliament Hill and ByWard Market.
Ottawa is another of Ontario's major cities. Located on the border with Québec and the site of the Federal Government, Ottawa has a very high French-speaking population. Ottawa is also a large, lively city with plenty of opportunities for enriching research as the home of several universities, colleges and nine national museums.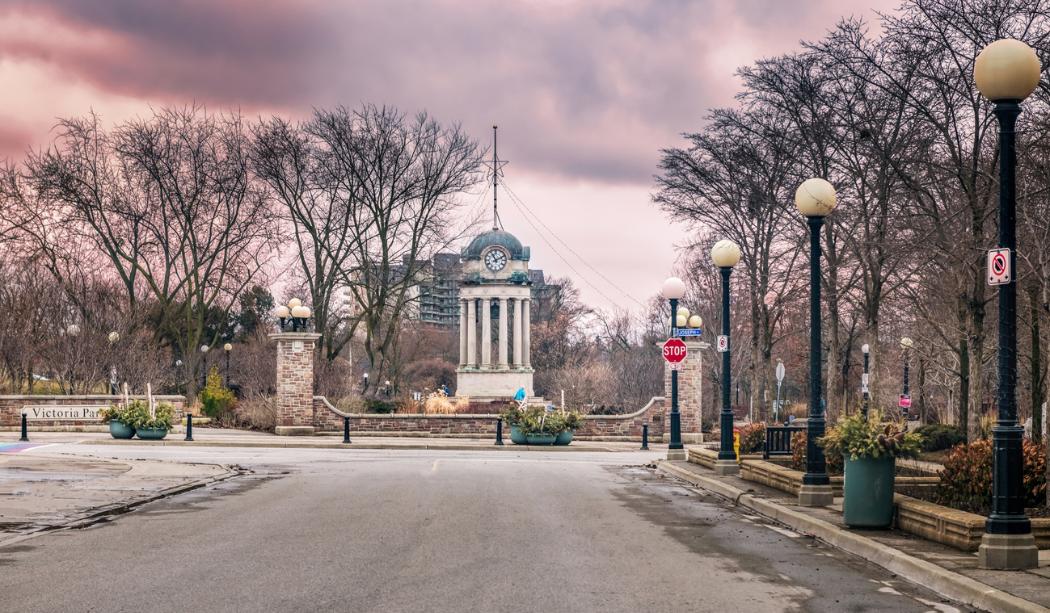 Kitchener, Ontario
Quick Facts:
● Location: Southern Ontario, Regional Municipality of Waterloo
● Population: 233,222 people (2016 census)
● Transportation: Grand River Transit operates buses and the ION light rail between Kitchener and Waterloo
● Known For: Google and Blackberry offices, Kitchener Market
Kitchener is an excellent blend of thriving tech industry, a popular university destination and a growing mid-sized Ontario city. Kitchener is often considered together with Waterloo and Cambridge. They form the Tri-Cities together and share many services and attractions. Kitchener is known as the largest of the three with a bustling downtown and beautiful natural areas and parks.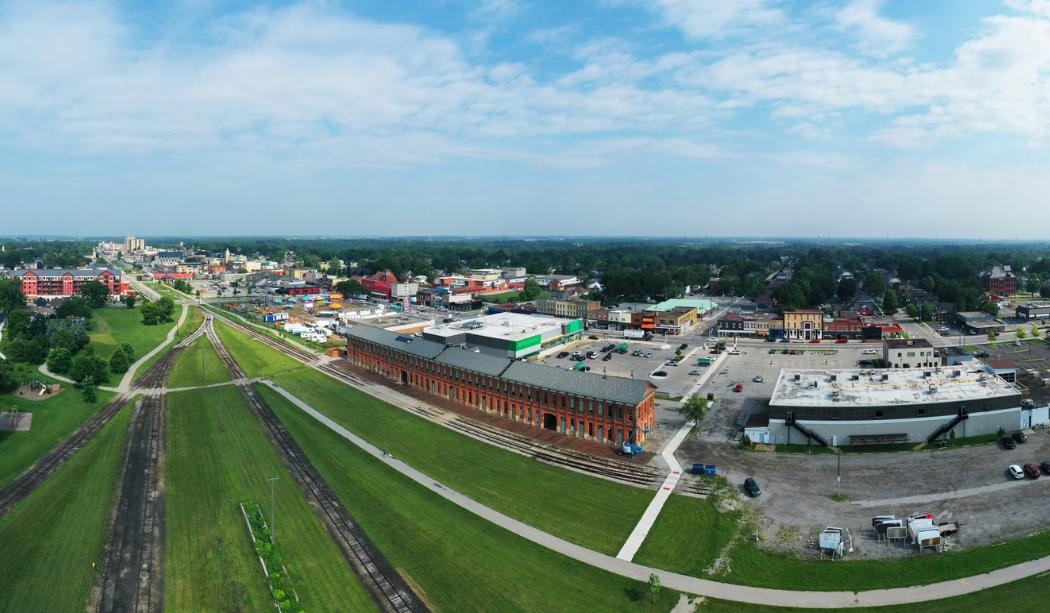 St. Thomas, Ontario
Quick Facts:
● Location: Southwestern Ontario, Elgin County
● Population: 38,909 people (2016 census)
● Transportation: Railway City Transit operates city buses.
● Known For: a life-size memorial statue of Jumbo the Elephant
St. Thomas is an example of what a smaller city looks like in Ontario. St. Thomas is located about 30 minutes south of London, Ontario. Much of St. Thomas' development and expansion arrived along with the railway in the 19th century and the city became an important junction. These days, St. Thomas' major industry is auto manufacturing, but some famous architecture about town has been used in several recent filming projects.

What to do Before Moving to Ontario
When moving to a new province, there can be a lot to remember. The most important things to remember are to get enrolled in Ontario's health coverage, OHIP and to begin the process of switching your driver's license.
In order to be covered by the Ontario Health Insurance Plan, you need a valid Ontario health card. To qualify for an Ontario health card, you must be physically present in Ontario for at least 153 days of the first 183 days after you began living in Ontario. Residents must apply for OHIP coverage in person by visiting their nearest ServiceOntario centre with valid identification documents. Anyone older than 16 years old is required to have a health card with a photograph and signature and must apply in person as well.
Ontario has its own driver's license. You can continue to use your original license for 60 days after moving, but after that point, you will need an Ontario Driver's License which can be exchanged through a process that involves taking an eye test and bringing accepted identity documents and your original license. New drivers in Ontario must be at least 16 years old, pass an eye test and pass a written test on road signs and regulations in order to start the process of getting a beginner's license. To switch your license or to apply for your first license, visit the nearest DriveTest centre or ServiceOntario Bay and College in downtown Toronto.