The Best Neighbourhoods in Waterloo, Ontario
Posted by Kurtis Forster on Monday, November 21, 2022 at 1:50:13 PM
By Kurtis Forster / November 21, 2022
Comment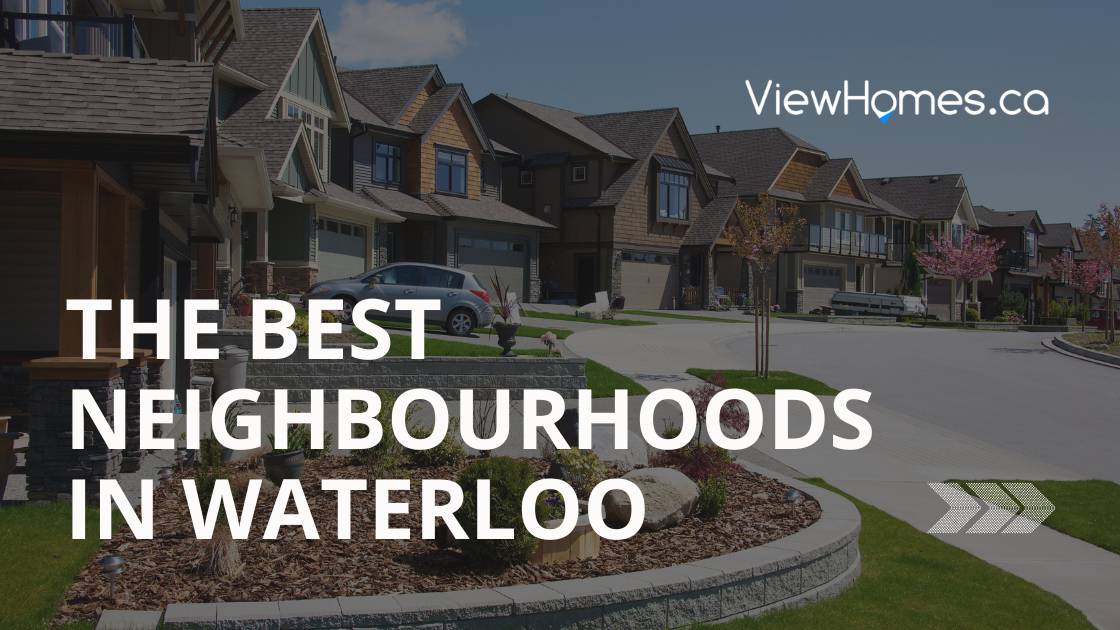 Whether this is your first time living in Waterloo or you are looking for a change of scenery, finding the right neighbourhood is the key to making the city your dream destination. Waterloo, Ontario is a mid-sized city in southwestern Ontario with a population of over 100,000 according to the 2016 census. With its fantastic post-secondary schools, rich history and thriving tech industry, Waterloo is one of the most popular cities in southwestern Ontario outside of the Greater Toronto Area. Compared to house prices in the GTA, Waterloo's market is affordable and more friendly to first-time home buyers, so it's no wonder that real estate in the city is heating up! If you are looking for your perfect neighbourhood, then consider this list of select few offerings from all around Waterloo.
The Best Neighbourhood for an Easy Commute
When planning a move, you might be scoping the area and looking for all of the nearest bus stops and highways to carefully plan a path to work. Finding a home with a great commute means less time in transit and more time enjoying that home with your family and with company! Waterloo is a very interconnected city, so whether you need to get through the city, find highway access or want to be within walking distance from the transit station, there are plenty of great options in Waterloo.
Lincoln Heights: The Best Neighbourhood for Highway Access
Find your Dream Home in Lincoln Heights >>>
The expressway, also known as the Conestoga Parkway, is one of the most important roads in the city for commuters. It runs north and south through eastern Waterloo and connects with Kitchener and beyond to the 401 Highway southeast of the neighbouring city. If you need highway access, then living close to an entrance to the expressway should be a high priority in order to cut down that commute time. One great option for this is a little neighbourhood called Lincoln Village. This central Waterloo neighbourhood is located just west of the expressway and north of Uptown Waterloo. It is a residential neighbourhood with most detached, older homes. There are lots of great places to connect with the community in Lincoln Heights including the Moses Springer Community Centre, riverside trails and several large parks in and around the neighbourhood. Most importantly, there is access to the expressway in both the northeastern corner and southeastern corner of the neighbourhood.
Eastbridge: The Best Neighbourhood for Rapid Transit
Find your Dream Home in Eastbridge >>>
Waterloo is one of a few mid-sized cities in southwestern Ontario that has made the leap into rapid transit. In Waterloo, this quick form of public transportation, called the ION light rail, cuts down significantly on your travel time if you rely on public transit to get around the city. This means exciting things for commuters that want a fast and affordable way to get between several key stops in Waterloo and nearby Kitchener. The route currently services important hubs like Downtown Kitchener, the universities and Conestoga Mall in Waterloo through the convenient scheduling of Grand River Transit. If that sounds impressive, Grand River Transit plans to expand the ION light rail network to connect Kitchener and Waterloo with the third of the tri-cities: Cambridge for even greater accessibility.
For rapid-transit users, nothing beats the convenience of the Eastbridge neighbourhood which allows residents to reach the Conestoga ION station with just a few minutes of walking, so you won't even have to worry about finding a parking spot! The Eastbridge area is a mostly residential suburb developed about 25 years ago. Houses here are primarily detached properties and make for excellent family homes with lots of nearby parks. Other perks of the neighbourhood include being close to the Conestoga Mall, various golf courses north of Waterloo and, for drivers, also being close to the expressway.
The Best Neighbourhood for Families
If you are house-hunting with a family in mind, then there are few important considerations to watch out for in Waterloo. While there are a lot of factors that make a great family neighbourhood like nearby parks, great schools and opportunities for activities, finding the right balance for your family and budget is at the heart of any decision. With so many great choices in Waterloo, we've narrowed down two excellent family neighbourhoods with several important qualities for a growing family.
Eastbridge
Find your Dream Home in Eastbridge >>>
Eastbridge is back! This neighbourhood has the honour of topping our list in two categories which makes it extra special! This neighbourhood in the northeastern corner of Waterloo earned a lot of points with us because of how close it is to the expressway and the Conestoga light rail station. All of these factors and more tie into it being a fantastic family neighbourhood as well.
Families in Eastbridge get all the convenient perks for commuters alongside some lovely features for kids and family activities. This neighbourhood—and especially the eastern end—is made up of quiet, residential streets connected by parks, trails and some of the best ranked schools in the city of Waterloo. Among those favourably ranked schools are several of the city's top-ten schools: Millen Woods Public School, Lester B Pearson Public School and St. Luke Catholic Elementary School all boast high scores on the most recent round of testing as well as a legacy of good scores over the last four years of testing. Eastbridge is also a stellar choice if you are looking for a nearby French language school since the also well-regarded École Élémentaire Catholique Mère-Élisabeth-Bruyere is located less than a 10-minute drive from Eastbridge on the southwestern side of the expressway.
Laurelwood
Laurelwood is another great neighbourhood that wins top accolades in two categories. For this section, Laurelwood shines because of its excellent selection of schools and places to enjoy the great outdoors with your family. As we will see later, fans of nature will also have a hard time finding a better area than Laurelwood.
This west-end Waterloo neighbourhood is located south of the Laurel Creek Conservation Area and northwest of the Beechwood area. Between the neighbourhood parks and trails and the outdoor activities available in the Laurel Creek Conservation area, there is no shortage of places for kids to be healthy and active outside. Another reason why Laurelwood is a great family neighbourhood is because like Eastbridge, it is also home to many of the top ranking elementary schools in Waterloo. This includes Laurelwood Public School, the highest ranked elementary school in the most recent year of provincial testing. That's not all, the scores at other Laurelwood elementary schools, Abraham Erb Public School and St. Nicholas Catholic Elementary School are also among the highest in the city. Since convenience is also key for the ideal family neighbourhood, Laurelwood's location on the west side of Waterloo puts it close to shopping and dining along Erbsville Road, the Ira Needles Boulevard and the popular Boardwalk shopping area.
What's Your Waterloo Home Worth?
Find your home or condo's value in today's market, for FREE!
Find Out Now
The Best Neighbourhood for Students
Waterloo is known as the home of three of the best post-secondary options in southwestern Ontario. Whether you are planning your first year or looking to move off-campus, living close to school is often the most convenient option for students. Based on whether you are attending one of the universities or Conestoga College, here are two popular choices to consider:
University : Best for University of Waterloo and Wilfrid Laurier University Students
Find your Dream Home in University >>>
Both the University of Waterloo and Wilfrid Laurier University are located in the heart of the city with a bustling educational and social scene in the areas around the schools. If you want to live close to the school and other students, then consider looking for a place to live in the University neighbourhood.
University has a mix of homes, condos and apartments. The majority of properties are available for rent and there is a high population of students. Living in the University neighbourhood means being close to the campus as well as the many places to eat out around it. With University being in central Waterloo, it is also a short transit ride away from the shopping and dining excellence of Uptown Waterloo as well as the many attractions of Waterloo Park.
Glenridge : Best for Conestoga College Students
While the Waterloo campus of Conestoga College isn't located too far east from University, living in the Glenridge neighbourhood, just west of the expressway, is a great way to be close to the college. The area is pretty suburban with a mix of homes, condos and low-rise apartment buildings and is quieter than living in the heart of University. Glenridge is close to the expressway and to some shopping and dining opportunities along King Street, giving it a different vibe than a typical student area.
The Best Neighbourhood for Nature Lovers: Laurelwood
If you want to live in Waterloo, but not to give up having nature at your doorstep, then consider exploring the Laurelwood neighbourhood for more than just its amazing school selection. Laurelwood is a western neighbourhood in Waterloo with all the makings of the perfect place for a nature lover to call home. Its high-ranking schools make it a great choice for families as well!
Laurelwood is right on the other side of Laurelwood Drive from the Laurel Creek Conservation Area. As a wealth of natural beauty, the conservation area is home to interconnected trails, stunning views and the Laurel Creek Reservoir. With accommodations for canoeing, kayaking, sailing, fishing, hiking, cycling, swimming, picnicking and camping (from May to mid-October), Laurel Creek is one of the best places in Waterloo for all manner of outdoor activities. While many of these are fun family outings, anyone can appreciate the convenience of basically having the conservation area in their backyard. Laurelwood is quiet and residential with a lot of two-storey detached family homes. There are a few crescents with townhouse options as well throughout the neighbourhood. For fans of parks and trails that weave through a neighbourhood, Laurelwood will bring your evening walks to a new level.
The Best Neighbourhood for History: Uptown Waterloo
On top of being one of the most convenient areas of the city, Uptown Waterloo is also one of the city's most historic areas. Between the nearby restaurants, shops and businesses in the commercial heart of the city, most activities and amenities will be right outside your door. With service from Grand River Transit buses and the speedy ION light rail, it is also a great area for access to public transit. Being able to get around so quickly leaves plenty of time to soak up the scenery and history of this area of Waterloo.
Uptown Waterloo is dense and pretty commercial with options for apartments, condos and the rarer, older character property hidden gem. With a mix of modern and classic facades across businesses and apartments, the city's architectural history is on full display in the Uptown Waterloo area. Another historic boon of the area is just how close it is to Waterloo Park. This large park is home to two landmarks of the city's earliest history: a replica of the Abraham Grist Mill, Waterloo's first mill, and the Waterloo Park Log School House from 1820. The Log House is a designated heritage site as well as the oldest standing school In the city! This massive and beautiful park has other attractions like a splash pad, skate park and a free admission farmstead with plenty of animals.
The Best Neighbourhood for New Homes: Vista Hills
Buying a new home means modern features, new appliances and can often spare you the cost of updates and renovations. If you are looking for new construction in Waterloo, then take a look at the recent development in Vista Hills. This up-and-coming area is located on Waterloo's western boundary. It is immediately west of the Laurelwood area and is home to about 40km of trails. Not only are the single family detached homes and townhouses some of the most modern in Waterloo, this area is home to the Vista Hills Public School which opened its doors to neighbourhood families in 2016.
In this category, the heart of the city earns a special mention for those looking for a new apartment or condo space in the commercial core of Waterloo. There are always new unit developments in the core to keep an eye on as well!
Waterloo is one of the best cities in Ontario to be looking for a new home. Between the employment opportunities shared among Waterloo, Kitchener and Cambridge, amazing schools for children and post-secondary students alike and the various activities around the city, Waterloo has so much for anyone to be excited about. If you think Waterloo is the place for you and you want to learn more about the city, read our Guides below for more information!