The Best Neighbourhoods in Niagara Falls, Ontario
Posted by Kurtis Forster on Tuesday, August 2, 2022 at 10:23 AM
By Kurtis Forster / August 2, 2022
Comment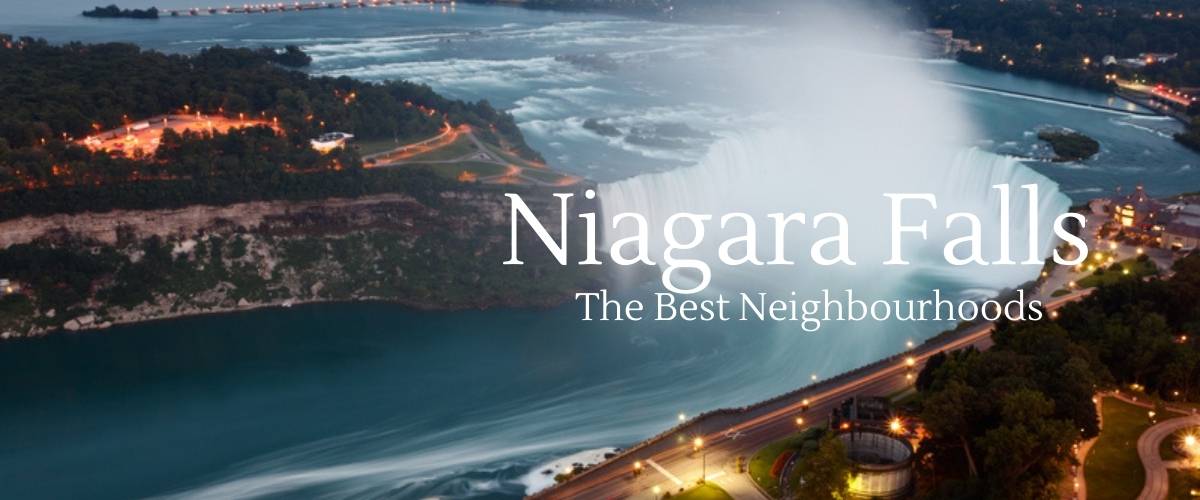 Niagara Falls, Ontario may be the must-see on the world's bucket list, but that does not mean it is a big city. With only 87,000 residents that call Niagara Falls home, it definitely has a small town feel to it. The area's plethora of parks, gardens, and natural features lend to its innate suburban vibe, while still providing all the amenities and benefits of city life—plus so much more. It is the perfect spot to put down roots in a place that has it all, including quintessential small town charm.
Finding the right neighbourhood for your needs and your price range is of utmost priority when you're moving to a new location. It's a challenging and often unnerving decision, because you want to make the right choice. We'll try to take the stress out of that decision making for you by showcasing different neighbourhoods in Niagara Falls and pointing out the respective merits of each. So sit back and get your pencil ready, we're going to dive into the best neighbourhoods in Niagara Falls, Ontario.
The Best Niagara Falls Neighbourhoods for Families

If you have young children, teenagers, or you're just starting a family, you want to find the best family oriented neighbourhood in Niagara Falls, Ontario. A wholesome, child friendly neighbourhood in which to bring your kids up is a must, and we'll explore the aspects that comprise such a neighbourhood that should be included on your list.

Straddling both north and south sides of Lundy's Lane, Beaverdams is an established neighbourhood of newer homes, perfect for raising a family. Consisting of single family dwellings, condos, and co-op housing, Beaverdams has plenty to offer in Niagara Falls' south end. With quiet streets, the leisurely atmosphere of this milieu provides easy access to both Catholic and public elementary (5) and secondary schools (2) for your children's needs and your peace of mind. About a dozen parks and green spaces dot the landscape throughout the neighbourhood, providing ample areas for the kids to play, get up a game of touch football with the guys, or take a stroll with the dog. Shopping is conveniently located within the locale, including Canada One Outlets—nothing like back to school shopping done right a couple blocks from your door! Commutability is readily accessible with Lundy's Lane dividing the neighbourhood and the Queen Elizabeth Way adjacent to it with on and off ramps at hand. Family oriented and family friendly, Beaverdams is the perfect neck of the woods to raise your youngsters in Niagara Falls.
View Homes for Sale in Beaverdams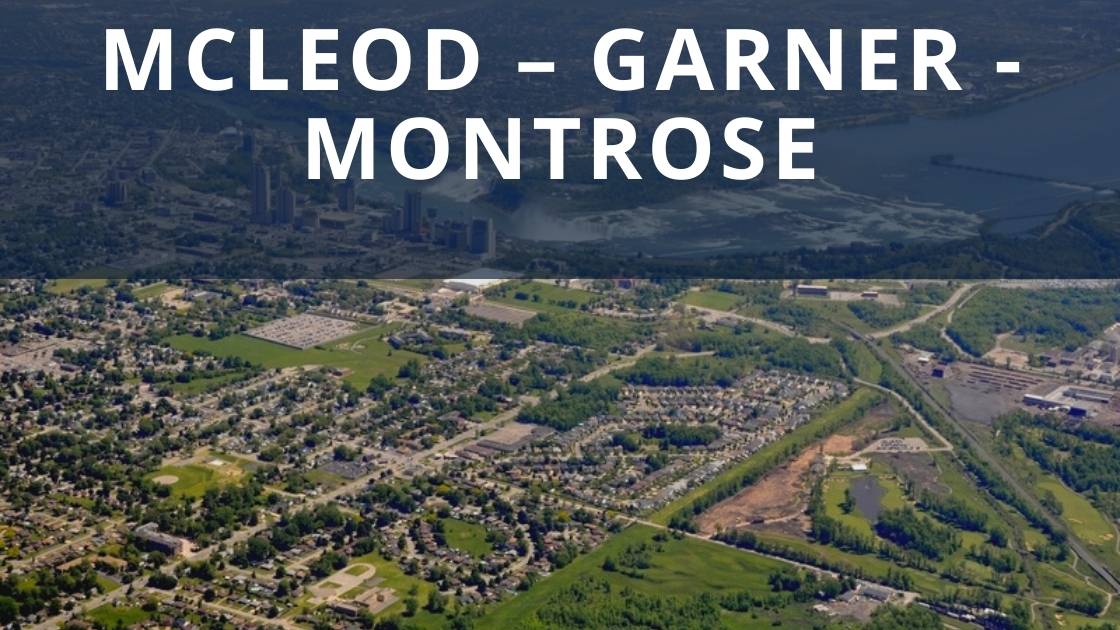 Next stop, the new area north of the Grand Niagara Golf Club, sandwiched between Garner Road and Montrose Road, with McLeod Road bordering the north. This new and developing subdivision is a great addition to Niagara Fall's residential scene. With forestland, creeks, trails, and pathways, this family centered neighbourhood is the perfect place for everything family. Sidewalks, crosswalks, and speed bumps compose the quiet streets making this super safe for your little ones. Future site for ultra chic Marbella Condominium is right along Kalar Road. Dentists, hair salons, retail, and eateries are not far away, mostly bordering McLeod Road. Schools are over in the adjacent neighbourhood of Beaverdams, but not far enough away to discount this gem of a subdivision as your new digs. Adjoined homes as well as detached compose this neighbourhood, giving you ample variety to choose from. Commuting routes are close at hand, with the Queen Elizabeth Way accessible directly from McLeod Road. Also conveniently located in the northeast corner of this development is Niagara Square, housing numerous stores, a cinema, banks, restaurants, and a brand new Costco, for all your shopping needs. There is no better place to put down your roots than in this new family oriented neighbourhood of McLeod – Garner – and Montrose!
View Homes for Sale in Mcleod, Garner and Montrose
The Best Niagara Falls Neighbourhoods for Commuters

Commuting is not a problem no matter where you live in Niagara Falls. With the Queen Elizabeth Way and three bridges to cross into the States, commuting is a breeze. That being said, certain areas and neighbourhoods are prime when it comes to travel time and access points. We'll take a look at the best neighbourhoods for commuters here.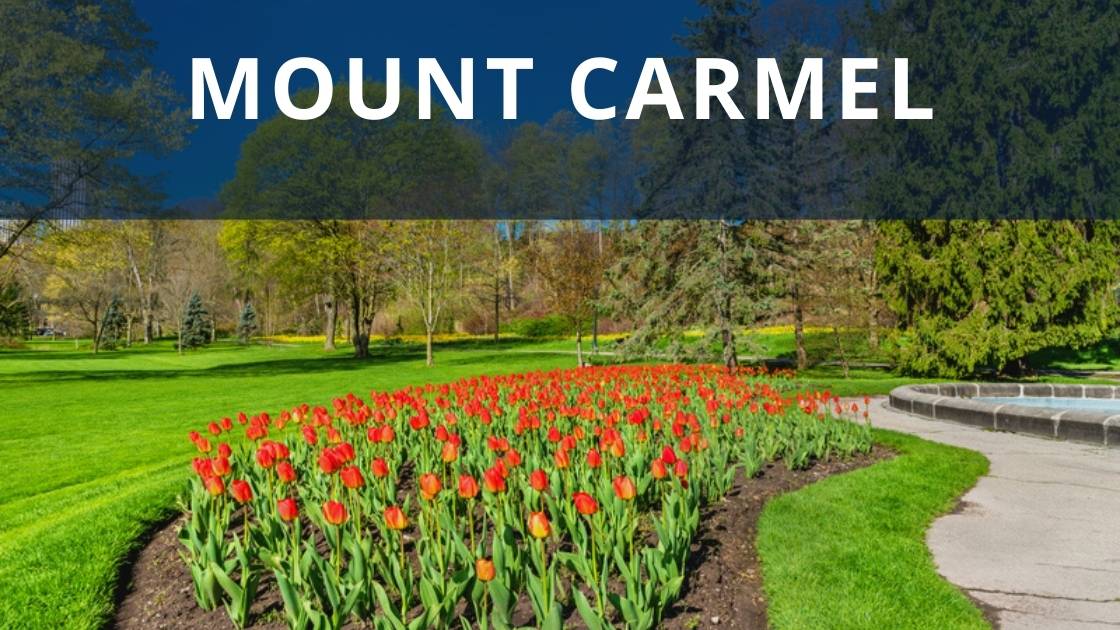 Tucked away in the northwest end of Niagara Falls is the beautiful subdivision of Mount Carmel. This chic neighbourhood comprised mainly of approximately 20 year old homes offers stunning ravine views and secluded lots. Newer condos and townhouses have joined the community making smaller dwellings available in the area. Shriner's Creek and Shriner's Woodlot Park create natural displays and separations producing a more native atmosphere within this neck of the woods. Expansive parks are enclosed within the neighbourhood, and a variety of stores directly adjacent, including grocery and banking, make Mount Carmel a perfect subdivision to call home. Located by the junction of the Queen Elizabeth Way and Thorold Stone Road, Mount Carmel is a prime area to settle for commuters. Shopping, dining, and entertainment are within minutes of home. With the exception of St Vincent De Paul Catholic Elementary School, schools are a little further away from this neighbourhood, but still within reach. With the world at your doorstep, yet secluded from the hustle and bustle in a thriving suburb, this neighbourhood is the ideal spot to put out your welcome mat. Come see what Mount Carmel has to offer you.
---
Close to the Queen Elizabeth Way and other highways in and out of the city, Drummond also has ten bus lines serving the neighbourhood. With single detached homes and condos to choose from, this convenient quarter of Niagara Falls meets the needs of a wide variety of home seekers. While close to commute routes for convenience, it is actually a quiet, serene suburb with a placid ambience.
Three elementary and one secondary school are within walking distance of virtually every home. Upwards of 20 parks are sporadically placed throughout the district for all your family's leisure desires. And shopping is smooth sailing. Want to pick up your groceries on foot? No problem! Both stores and restaurants are easily accessible within Drummond's perimeter. It's the heart and soul of Niagara Falls without being downtown. Set up shop in this becoming setting. You will not be disappointed. Drummond delivers!
The Best Niagara Falls Neighbourhoods for Views and Scenery
With so many parks, gardens, and green spaces, not to mention the stunning vistas along the Niagara River gorge and the Falls themselves, Niagara Falls has a surplus of scenery and sweeping scapes to wow the longest resident with every new glance. With a natural world wonder in your backyard, there is never a shortage of scenery! Neighbourhoods adjacent to the Niagara River undoubtedly offer the most stunning panoramas. Let's explore some of the best neighbourhoods in Niagara Falls when it comes to charm and scope.

The small hamlet of Chippawa is both quiet and olde town appealing. Delightfully sequestered in the southern end of Niagara Falls, Chippawa offers an exquisiteness like no other. Boasting some of Niagara Falls' choicest waterfront residences, this picturesque neighbourhood is prime real estate for its views and scenery. Straddling the Chippawa River where it flows to the Niagara River, this small community within the city is an absolute gem, founded way back in 1885. The former home to award winning film producer, James Cameron of Titanic and Avatar fame, Chippawa truly is a small town within Niagara Falls' city limits.
With the waterfront of both rivers, four parks, two expansive golf courses, retail, grocery, and dining options, as well as its own main street, Chippawa is a self sufficient community. Riverview Public School and Sacred Heart Catholic Elementary School complete the locale. High schools are located in adjacent neighbourhoods. Within walking distance of the famous Horseshoe Falls a mere two kilometers away, Chippawa offers you everything you could want in a neighbourhood—from condominiums to luxury homes. Be sure to explore this hidden jewel which could quite possibly be crowned the best neighbourhood in Niagara Falls, Ontario.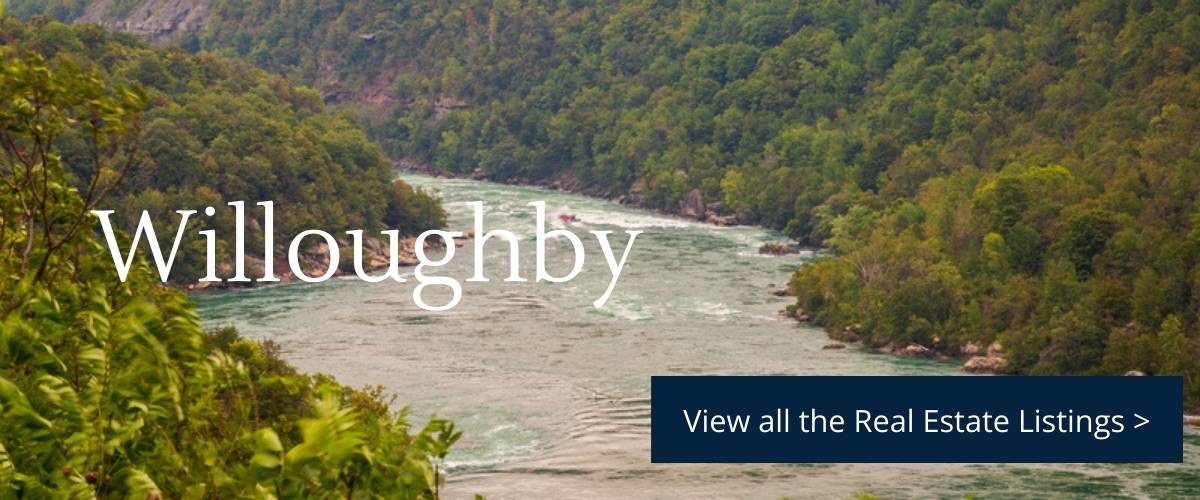 In the southernmost region of Niagara Falls, the small community of Willoughby is just south of the urban cityscape and offers a picturesque, highly desired rural neighbourhood. Take a few more minutes of a commute to enjoy the relaxed atmosphere, the picture postcard scenery, and the breath of fresh air on the way home. Located just south of Chippawa and the twin golf courses, Legends on the Niagara Golf Course and Usshur's Creek Course, Willoughby sits overlooking the Niagara River. Bus services are provided by schools in the surrounding neighbourhoods of Chippawa and Beaverdams. Offering upscale living at its finest, with expansive lots and progressive architecture and exquisite views, Willoughby is easily Niagara Fall's best kept secret! Avery Boulevard and Miller Road provide prime properties and homes with wooded areas surrounding. Properties and dwellings along this quiet section of the Niagara Parkway, as well as Service Road 21 that runs adjacent, offer stunning views of the Niagara River and the States beyond. These estates present the best of both worlds—city conveniences, rural serenity, and lookout worthy views right from the comfort of your front porch. It's a small slice of paradise! What more could you possibly ask for? This luxury neighbourhood in Niagara Falls has your name on it!
The Best Niagara Falls Neighbourhoods for Stylish Homes
Because of the allurement of its picturesque landscapes and world wide magnetism, not to mention its innate enchantment, there are a number of luxury neighbourhoods in Niagara Falls, Ontario. From elegant homes on expansive lots to quaint and mature residences, Niagara Falls has something for everyone's tastes.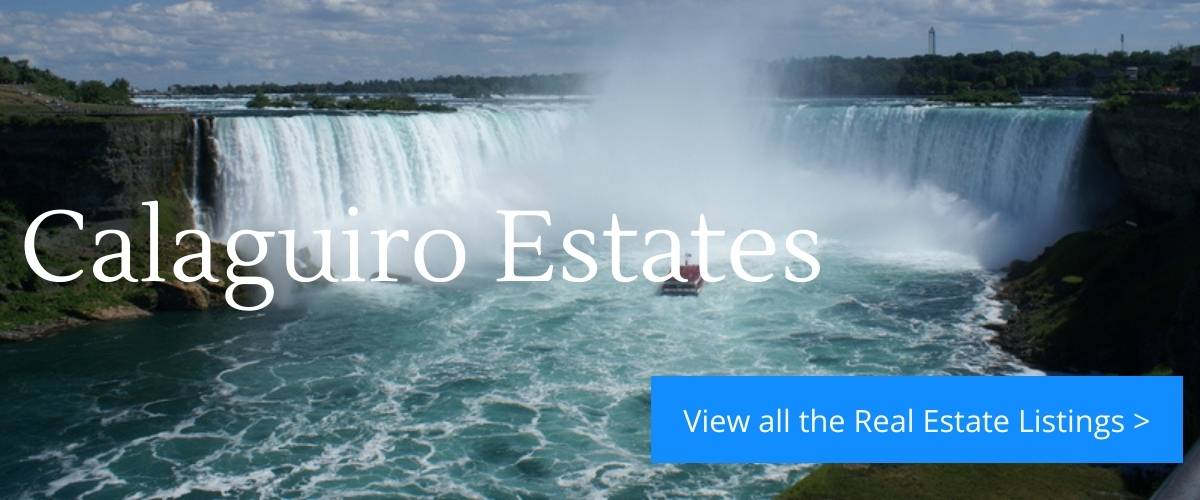 In the coveted area of Niagara north, Calaguiro Estates boasts expansive fertile lots with palatial domiciles lining quiet streets. The neighbourhood exudes regality. Scrupulously kept yards, an abundance of trees and varied shrubbery, surrounded by parkland, golf courses, and trails, Calaguiro Estates is 'the' luxury neighbourhood in Niagara Falls. Highly esteemed, these ten year and younger homes of this neighbourhood fly off the market at record speed—but with good reason.
Sandwiched in a secluded area between the General Brock Parkway (405) and the Queen Elizabeth Way, Calaguiro Estates is just minutes from commuting the major routes in or out of the city. Located right adjacent to the Estates are two convenient stops for all your fresh fruit needs—the Fruit Stand and Strawberry & Fruit Farm provide endless local deliciousness right at your doorstep. Various schools, both public and Catholic, are just a short distance away. For modern luxury living at its finest, Calaguiro Estates is your first and final stop.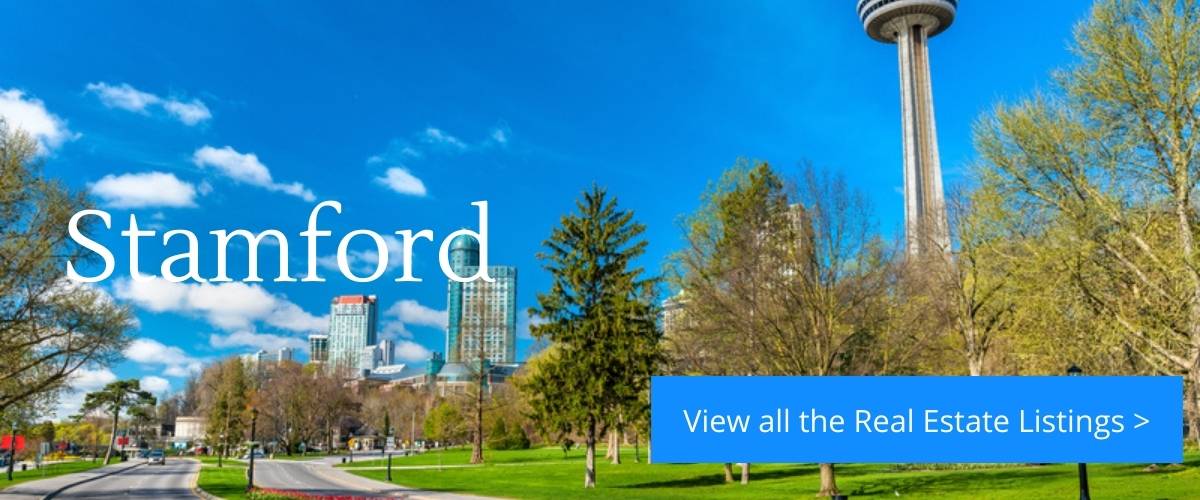 Stamford was the first settlement in the area to be renamed to the current 'Niagara Falls.' Homes here were predominately built in the 60s to 80s, but don't let that detract you; instead view it as its prime feature and calling card. With its mature setting and featured Edwardian architecture, this neighbourhood is not only 'original,' but also upper class in distinction. Townhouses also are an option within the locale. Stamford is quite honestly a community within the city community. Small town feeling at its finest is Stamford in the heart of Niagara Falls.
Several parks are enclosed within the area. Four elementary schools and three high schools are also readily accessible within the neighbourhood, including Prince Philip French Immersion Public School, Martha Cullimore Public School, and Orchard Park Public School. No need to go outside of the neighbourhood for your shopping needs; banking, groceries, retail, and restaurants are all housed within Stamford. Historic Stamford is the perfect setting for all your needs!
In spite of being a smaller sized city, Niagara Falls delivers big time! Niagara Falls' sweeping vistas, convenience, expediency, and variegation, furnish the idyllic place to put down your roots. No matter your needs or desires when it comes to choosing where to live, the best neighbourhood in Niagara Falls for you is simply awaiting your arrival. With a city that provides all you could wish for, what are you waiting for?! Welcome home!
Check our blog, "Moving to Niagara Falls? The Ultimate Guide to Living in Niagara Falls, Ontario." And also make sure to view our guide for more details regarding "Living in Niagara Falls, Ontario." For a list of activities and events, see "Things To Do in Niagara Falls, Ontario." For your family needs, peruse our school guides: "The Best Elementary Schools in Niagara Falls, Ontario" and "The Best High Schools in Niagara Falls, Ontario." When you're moving to Niagara Falls, you want to know and enjoy every detail it has to offer!