The Best High Schools in Milton, Ontario
Posted by Kurtis Forster on Monday, August 3, 2020 at 11:26 AM
By Kurtis Forster / August 3, 2020
Comment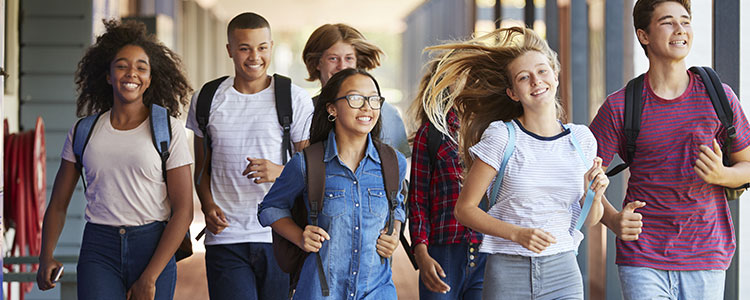 High School is an important time in a student's academic journey. Through school programming students are exposed to many different courses, connections, and activities that can help plan their future. There are 4 Secondary Schools in Milton, Ontario and each one has a diverse portfolio of perks and opportunities. This guide will highlight the programs, extra-curricular activities, and provincial scores that set each school apart so that you can make the best decision for your family.
Milton, Ontario is a town in the Regional Municipality of Halton. It is located between Mississauga and Hamilton with Oakville to the south. As a growing town in the Greater Toronto Area, Milton benefits from convenient access to the 401 and a stop on the GO Train. In addition to being popular with commuters, residents also enjoy direct access to nature as most of Milton's west side borders the stunning views of the Niagara Escarpment.
St. Francis Xavier Catholic Secondary School
St. Francis Xavier was built in 2013 as Jean Vanier Catholic Secondary School, but was renamed in 2020. St. Francis Xavier is the newest high school to serve the Milton area. This Halton Catholic District School Board high school is located just south of Willmott and its boundaries include the areas of South and West Milton. This generally includes the newer neighbourhoods of Beaty, Coates, Willmott, Scott, and Harrison as well as expanded boundaries into rural Milton.
In the last 5 years of provincial testing, St. Francis Xavier scored an average of 7.0 out of 10 on the Fraser Institute ranking system. The school had a 85% pass rate on its Literacy Test and an average Level 3 grade on its (Academic Stream) EQAO tests for the 2019 year. Overall, the vast majority of standardized test scores demonstrated that the students of St. Francis Xavier performed above the provincial standard.
Also View: The Best Elementary Schools in Milton
Test scores aside, what does this secondary school offer students on an individual and personal level? St. Francis Xavier presents students with the option to pursue Specialist High Skills Majors (SHSM) instead of the usual College/University/Workplace pathways. SHSMs present students with a unique opportunity to focus their later years of study on a specific sector. The program offers a more experiential approach to learning. Through co-operative education, work experience, and certification training, students build a portfolio of specialized experience while still providing an avenue to post-secondary education. St. Francis Xavier offers the SHSM in Information & Communications Technology and Fitness and Sports Leadership.
Students with all manner of interests and talents can find an activity at St. Francis Xavier to fill their extra-curricular time. From Art Club, Board Game Club, Model UN and Debate Team, to the Theatre Knights, there are all manner of clubs and teams to get involved in. As for sports teams, the Knights compete in Football, Basketball, Volleyball, Swimming, Hockey, Rugby, Soccer, Lacrosse, Tennis, and many more!
View All Homes For Sale Near St. Francis Xavier Catholic Secondary School >>>
Bishop P.F. Reding Catholic Secondary School
Founded in 1986, Bishop Reding is the older of Milton's two Catholic High Schools. Bishop Reding is a Halton Catholic District School Board secondary school found in the northeastern neighbourhood of Dempsey. The school boundaries cover the older neighbourhoods of Milton, those east of Duncan Lane and north of Derry Road. In addition to the neighbourhoods of Old Milton, Dorset Park, Dempsey, Timberlea, and Clarke. Bishop Reding also takes students from the eastern rural areas around Milton.
Fraser Institute has given the school an average ranking of 7.8 out of 10 for the last 5 years of provincial test scores. On the most recent of those tests, Bishop Reding secured a 86% pass rate on the Grade 10 Literacy Test and an average Level 3 score on the Grade 9 Math EQAO (Academic Stream). But provincial testing can only reveal so much, it's the unique programming that really makes a school stand out from the pack.
Students at Bishop Reding have the choice of three special programs when they are choosing their courses, Advanced Placement (AP), Ontario Youth Apprenticeship Programs (OYAP), or a Specialist High Skills Major (SHSM). AP courses include options in the fields of math, history, and science and potentially lead to early college or university credits. Bishop Reding also offers the year-long OYAP in the areas of Child Youth Worker, Hairstylist, Early Childhood Educator, and Electrical which provide students with on-the-job experience and the opportunity to get their Level 1 Apprenticeship. At Bishop Reding, students can pursue a SHSM in Construction, Information & Communications Technology, Transportation, and Business.
Maybe your looking for: The Best Neighbourhoods in Milton
Outside of academics, students have access to many sports teams and other clubs both before and after school. In sports, Bishop Reding is represented in Golf, Football, Volleyball, Basketball, Curling, Swimming, Hockey, Softball, Soccer, Badminton, Rugby, and Track and Field. Other activities include Choir, Weight Training, Student Council, Tech Crew, School Newspaper, and the School Play.
View All Homes For Sale Near Bishop Reding Catholic Secondary School >>>
Craig Kielburger Secondary School
Craig Kielburger S.S. opened in 2012 as the newest Halton District School Board secondary school. In 2018, the high school received an expansion that increased the number of classrooms and lab space. The school is located south of Beaty and has boundaries that cover the newer east side of Milton. More specifically, public school students from Dorset Park, Timberlea, Coates, Dempsey, Clarke, Beaty, and much of southern and eastern rural Milton attend Craig Kielburger for Grades 9 to 12.
The Fraser Institute school ranking system gave Craig Kielburger an average of 7.2 out of 10 for the last 5 years of test scores. Most recently, Craig Kielburger achieved a 75% pass rate on the Literacy Test and average of Level 3 on the EQAO (Academic Stream).
Craig Kielburger S.S. really shines in its variety of academic programs. It is the only high school in Milton to offer the International Baccalaureate (IB) Program. The IB program is a globally-recognized model that prioritizes an international and inter-cultural education. Because the program is unique to Craig Kielburger, students from all over Milton are accepted into the program provided they are responsible for their own transportation. Craig Kielburger also offers a range of special education options outside of the traditional streams. Students looking for a more hands-on or technical approach can consider the SHSM program offerings or OYAP. Craig Kielburger students have access to the breadth of OYAP options across the four sectors, Construction, Industrial, Power, and Service.
Why Milton? View This THE ULTIMATE GUIDE TO LIVING IN MILTON

Since opening, Craig Kielburger S.S. has enjoyed its fair share of extracurricular accolades. Their Track and Field Team, Wrestling Team, and Vocal group "Neon" are all decorated with victories and medals of recognition. Other sports teams include Badminton, Basketball, Football, Hockey, Soccer, Volleyball, and many more. Students seeking social clubs can find options like Band, Coding, Gaming, Art, Photography, Choir, and Yearbook.
View All Homes For Sale Near Craig Kielburger Secondary School >>>
Milton District High School
Milton District High School was the first secondary school to service the Town of Milton. The building was built in the 1960s and offered programming to the old core of Milton. To this day, the school's boundaries cover Old Milton, Bronte Meadows, Willmott, Harrison, Scott, and much of rural Milton. In the special case of Milton High School's Advanced Placement Program, any Grade 8 student in Milton can apply to attend this secondary school.
In provincial testing, Milton District High School sports one of the best averages in the area and the highest most recent scores. Over the last 5 years, Fraser Institute has given them an average rank of 7.4 out of 10. Their 2019 rank of 7.7 marking them as the best in town and within the top 100 in the region. That most recent average includes a 90% pass rate on the Literacy Test and an average EQAO grading of Level 3 (Academic Stream).
Maybe you want a Luxury Home? View Milton Luxury Homes for Sale
Milton High School offers programs opportunities for all kinds of learners. For students looking to potentially earn some early college or university credits, the Advanced Placement courses are a great option. For those looking for experiential learning and to try their hand at a potential career, the SHSM programs fill that need. Milton high School offers a SHSM in Construction, Engineerings/Robotics, Health & Wellness, Music & Audio Production, Social Justice, and Transportation. Additionally, a French Immersion program is offered at Milton High School which includes French language learning, physical education, geography, drama, history, and anthropology courses in French. Students in French Immersion can take the DELF exam in Grade 12 as well.
The great academic programs at Milton High are further enhanced by access to so many fantastic extra-curricular activities. Sports teams under the Mustang banner include Badminton, Baseball, Basketball, Curling, Football, Hockey, Rugby, and Soccer. Fitness clubs can be a great way to stay active or supplement season sports teams. Options at Milton High school include a CrossFit and Yoga. Artistic students can partake in Funk, Jazz, or Concert band as well as many drama and theatre opportunities. There are many more clubs to explore including specific social and hobby clubs for all interests and various Leadership clubs.
View All Homes For Sale Near Milton District High School >>>
Out of the 4 secondary schools in Milton, Ontario, the best one is one that meets the needs and goals of your student and family. All of the high schools in Milton service a wide boundary, each including several of the best neighbourhoods. The schools that offer specialty programs will often accept students from all areas of Milton to make the decision even easier. For more information about the best neighbourhoods in Milton, take a look at our Neighbourhood Guide. If you want more general information about Milton, consider our Guide to Living in Milton, Ontario.