Vaughan Neighbourhoods | The Best 8 Neighbourhoods in Vaughan, Ontario
Posted by ViewHomes.ca Team on Thursday, September 7, 2023 at 8:01:32 AM
By ViewHomes.ca Team / September 7, 2023
Comment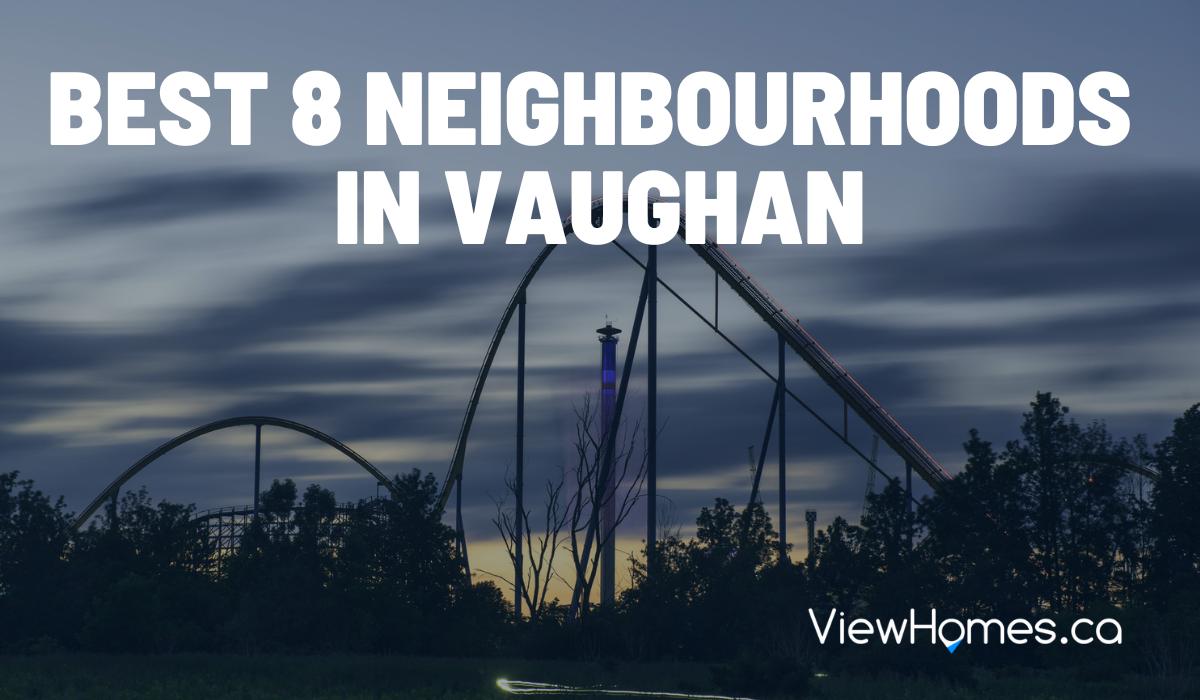 Welcome to Vaughan, a vibrant city in the Greater Toronto Area, where the allure of urban living harmoniously intertwines with the serenity of suburban charm. As we delve into the intricacies of Vaughan's various neighbourhoods, each one unveils its unique character, stories, and offerings.
From historic enclaves to contemporary hubs, Vaughan's diverse landscape presents a mosaic of cultures, lifestyles, and amenities that cater to a wide spectrum of residents. Join us on a journey through the heart of Vaughan's communities, where we'll uncover the tapestry of neighbourhoods that together create the captivating fabric of this thriving city.
1. Brownridge
Nestled in the east end of Vaughan, Brownridge stands as a vibrant, culturally diverse community that seamlessly blends historical charm with modern convenience. It's a neighbourhood with a strong sense of community while offering its residents a mix of outdoor recreation, shopping, and dining experiences.
Brownridge is known for its rich cultural diversity, with a significant Jewish population making it their home. This community, situated close to Toronto's border, attracts diverse residents, from young professionals to families and retirees. The historical narrative of Vaughan is etched into Brownridge's streets. First Nations Peoples once inhabited the area, but over the centuries, immigrants from various backgrounds, including German, British, and French, contributed to the area's growth and identity.
A convenient commute awaits, with Union Station just about 40 minutes away by car and a little over an hour by public transit, offering accessibility for both driving enthusiasts and those who prefer the city's transit network. Expect larger detached homes catering to various family sizes and preferences, representing the neighbourhood's established and mature character. Beyond the residential allure, Brownridge boasts several local shopping malls and excellent TTC bus connectivity, simplifying the daily routines of its residents.
Despite being urbanized, there are still a number of green spaces in the area. The neighbourhood is thoughtfully designed to provide both modern conveniences and natural beauty. Brownridge's residents' larger detached homes echo the neighbourhood's mature character. While most were built during the 1990s, the western part of the area, around Bathurst Street, offers more modernized residences.
However, Brownridge doesn't fall short in terms of entertainment. From local theatre experiences at the City Playhouse Theatre to diverse shopping destinations like Promenade Mall, residents have many choices to indulge their interests. The mall, featuring over 150 stores, provides both mainstream and premium brands, ensuring every shopping desire is met.
The neighbourhood's culinary scene is equally diverse, catering to various tastes. From traditional Persian cuisine at Deedar Persian Restaurant to family-owned Han Oak Japanese restaurant, Brownridge boasts an array of dining options. Furthermore, the area's parks, such as Wade Gate Park, offer lush green spaces for relaxation and outdoor activities.
Local Attractions
City Playhouse Theatre
Promenade Mall
Deedar Persian Restaurant
Han Oak Japanese restaurant
Wade Gate Park
Recently Listed in Brownridge
View Homes in Brownridge
See detailed information & photos.
View Homes for Sale
---
2. Lakeview Estates
Nestled within the heart of Vaughan, Lakeview Estates offers a serene oasis in the heart of the GTA. The area prides itself on its accessibility to abundant essential services. There are general and specialty grocery stores within walking distance, and dining out or grabbing a cup of coffee is easy. Families especially will appreciate the proximity of the area's many primary schools and daycares.
The charm of Lakeview Estates lies in its unhurried pace and serene atmosphere. There are parks around nearly every corner, inviting residents to unwind in green spaces, while the peaceful streets contribute to a quieter ambiance. While the neighbourhood is generally tranquil, you may hear occasional noise near the railway line.
Lakeview Estates provides various transportation options, catering to the preferences of its residents. Whether you choose to walk, bike, or take advantage of the efficient public transit system, getting around is a breeze. The pedestrian-friendly streets make daily errands easily achievable by foot, while the well-connected biking infrastructure makes for an eco-friendly mode of transportation. While many opt for cars as their primary mode of transportation, the area is also serviced by several nearby bus lines.
The housing landscape of Lakeview Estates is diverse, catering to various preferences and needs. Single detached homes dominate the scene, constituting much of the housing stock. Large apartment buildings and townhouses also contribute to the neighbourhood's housing options. The area's construction peak occurred between 1980 and 1990, resulting in homes with a certain timeless quality. With primarily four or more-bedroom and three-bedroom homes, Lakeview Estates is suitable for growing families and those seeking spacious living spaces.
Local Attractions
Sarah and Chaim Neuberger Holocaust Education Centre
Mel Lastman Square
Dufferin Corners
York Mills Centre
Antosha Café and Pastry Shop
Recently Listed in Lakeview Estates
View Homes in Lakeview Estates
See detailed information & photos.
View Homes for Sale
---
3. Patterson
Patterson is a neighbourhood within Vaughan with a rich history dating back to the Huron-Wendat Peoples and European settlement in 1792. The 1960s brought a wave of immigrants, Vaughan reached Township incorporation in 1850, and became the City of Vaughan in 1991.
Culture thrives in Patterson, with the City Playhouse Theatre offering a night out to remember. This versatile venue hosts captivating live performances and can even be rented for unique productions. The nearby intersection of Major Mackenzie Drive and Dufferin Street offers an LCBO, banks, and convenience stores. Finally, the renowned Vaughan Mills beckons for an expansive shopping experience, boasting high-end outlet stores, entertainment attractions, and a diverse retail landscape.
In terms of real estate, Patterson showcases a family-friendly environment characterized by a variety of housing options. Detached houses comprise a significant portion, accounting for 59% of the residential landscape. However, the many townhomes and semi-detached houses still cater to different resident preferences.
Nature thrives in Patterson, exemplified by the MacMillan Nature Reserve and Sugarbush Heritage Park. First, MacMillan Nature Reserve provides a protected space for wildlife and a network of hiking trails. But in addition, the serene Sugarbush Heritage Park offers plenty of picturesque spots for picnics and leisurely strolls, surrounded by stunning community gardens. Finally, the historic Baker's Woods offers a glimpse into pioneer times, and their tree havens, with maple trees within that have stood for over two centuries.
South of Dufferin Street, the North Thornhill Community Centre presents an array of amenities for fitness enthusiasts. Eagles Nest Golf Course is a golfer's haven, offering challenging terrain and scenic backdrops. Canada's Wonderland is just a short drive away for family-friendly recreation, providing roller-coasters, water parks, and live entertainment.
Patterson's strategic location grants residents easy access to nearby communities such as Richmond Hill, Markham, Brampton, and Toronto. The Maple GO Station connects to Toronto's core and northern destinations, while the Vaughan Metropolitan Centre offers a swift TTC subway ride downtown. Highways 400 and 407 provide efficient routes across the GTA, with approximately 40 minutes to downtown Toronto.
Local Attractions
MacMillan Nature Reserve
Sugarbush Heritage Park
Halibut House Fish & Chips
Odd Burger
Chocolats Favoris
Eagle's Nest Golf Course
Recently Listed in Patterson
View Homes in Patterson
See detailed information & photos.
View Homes for Sale
---
4. Vellore Village
Vellore Village's roots trace back to the 1820s when Toronto extended Weston Road into Vaughan. The construction of the MacMillan Yard, Canada's second-largest railway yard, transformed Vaughan's landscape, setting the stage for the neighborhood's growth.
Vellore Village's strategic location offers convenient access to major roadways for driving and public transit. To drive to downtown Toronto, you just ride south on Weston Road, which leads to Highway 400 and 407, connecting to the Don Valley Parkway. As an alternative, public transit offers a bus ride to Pioneer Village Station, giving you simple subway access to Toronto's core.
For reptile enthusiasts, Vellore Village is just a short drive from Vaughan's Reptilia Zoo, Canada's premier reptile facility. Reptilia offers self-guided and private tours, live shows, camps, and interactive demonstrations, making it a unique attraction. Then, nearby you've got Canada's Wonderland, which is always a solid day trip destination for roller-coaster aficionados and family outings.
Vellore Village boasts many architectural gems reflecting its historical legacy. The Vellore Schoolhouse is a Victorian-style one-room schoolhouse with a brick facade and a wooden bell tower. It is a testament to the past, housing photographs, maps, and antique furniture. Then. there's the old Vaughan Township Hall on Weston Road, which showcases Classical Regency architecture, characterized by a gabled roof and grand columns at the entrance.
The convenience of Vellore Village is further enhanced by Vaughan Mills being closeby, a famous outlet mall housing a huge number of retailers. Vellore Village embraces green spaces, with Vellore Woods Park featuring multiple bodies of water, playgrounds, and walking paths. Matthew Park, with its running track, baseball diamond, tennis courts, and a playground. And finally, Vellore Hall Park offers some lovely forest trails and a playground, emanating a tranquil ambiance.
Lastly, there's also the Vellore Village Community Centre, equipped with a lap pool, water slide, fitness studios, and more, serving as a recreation hub.
Local Attractions
Vellore Schoolhouse
The Old Vaughan Township Hall
Vaughan's Reptilia Zoo
Vaughan Mills
Pho Weston
Sal's Caribbean Grill House
Recently Listed in Vellore Village
View Homes in Vellore Village
See detailed information & photos.
View Homes for Sale
---
5. Maple
Maple, a vibrant community within Vaughan, stands as a testament to diversity and inclusivity. Popular among families with teens, young adults, middle-aged individuals, and those in their 50s, Maple's consistent population growth reflects its appeal across various age groups. As a high-growth suburban hub, it flourished around the former village of Maple, centered at the intersection of Major Mackenzie Drive and Keele Street.
The foundations of Maple trace back to its founding families, the Nobles and the Ruperts. The Nobles, settling around Major Mackenzie Drive and Keele Street, named Noble's Corner in 1852 after its first postmaster, Joseph Noble. The town's name later shifted to Rupertsville, influenced by the esteemed Dr. Rupert, whose contribution to the community was revered. Maple's rich history unfolds through waves of settlement, from German Lutherans in the 18th century to British immigrants in 1825. Historic churches like St. Andrew's Presbyterian and Maple United Church date back to the 19th century.
Of course, the most iconic part of the neighbourhood is Canada's Wonderland, which opened its gates in 1981, becoming the immediate centerpiece of excitement in the neighbourhood. Embracing its residential character, Maple boasts an array of parks that offer green spaces for relaxation and recreation.
Maple has a great record with exceptional elementary and secondary schools. The educational landscape features many special programs, including French Immersion, Fine Arts, International Baccalaureate, and Advanced Placement. With 8 public schools, 10 Catholic schools, and 1 private institution, Maple caters to many different learning needs.

Local Attractions
Canada's Wonderland
The Maple Community Centre
Mackenzie Glen District Park
Kortright Centre for Conservation
Recently Listed in Maple
View Homes in Maple
See detailed information & photos.
View Homes for Sale
---
6. Islington Woods
Islington Woods offers a unique blend of serenity and accessibility that suits the modern lifestyle. Cars are the preferred mode of transportation, with ample parking options available. While public transit options are somewhat limited, a few bus lines weave through the area, making local commuting feasible. Additionally, cycling enthusiasts will appreciate the extensive cycling infrastructure of the area. However, daily errands on foot may pose a challenge due to the neighbourhood's layout.
Procuring daily essentials varies among residents. While some can conveniently reach the nearest grocery store on foot, others may rely on vehicles for shopping. Various restaurants and cafes dot the landscape, catering to culinary cravings. Families with young children will find solace in the proximity of daycares and primary schools, fostering a family-friendly environment. However, access to high schools might require a more extended walk.
Islington Woods exudes an aura of tranquility, making it an idyllic spot for those seeking a peaceful abode. The neighbourhood's serene streets and relaxed atmosphere offer a respite from the hustle and bustle of city life. Parks are within easy reach, enriching residents' lives with green spaces like Doctors Mclean District Park and Woodbridge Highland Park.
Islington Woods showcases an array of architectural styles, with most structures built between 1980 and 2000. Single detached homes and townhouses dominate the housing landscape, appealing to homeowners who seek spacious and comfortable living. Ownership is predominant, with around 95% of units occupied by homeowners. Islington Woods presents a noteworthy selection for those pursuing larger residences with four or more bedrooms.
Local Attractions
Doctors Mclean District Park
Woodbridge Highland Park
LEGOLAND Discovery Centre Toronto
Al Palladini Community Centre
Vaughan Mills Mall
Recently Listed in Islington Woods
View Homes in Islington Woods
See detailed information & photos.
View Homes for Sale
---
7. Beverley Glen
Steeped in history, Beverley Glen's roots reach back to the 1800s, when immigrants from Pennsylvania, Britain, and France began to settle the community, establishing a robust settlemen by 1840. Vaughan's post-World War II economic prosperity led to its incorporation as a town in 1971 and city status in 1991. This historical evolution is evident through scattered 19th-century landmarks, like The Doctor's House and Vellore Township Hall, preserving the legacy of the past.
The neighbourhood's architecture shows off its worldly vibe, blending high-rise apartments, detached homes, and townhouses of various styles. The allure of large apartment buildings, constituting about 45% of residences, resonates with renters. Some older homes stand as testaments to the 1980s and 1990s, adorned with distinctive architectural nuances.
Cultural enthusiasts can find themselves at home in Beverley Glen, where local theater thrives. The City Playhouse Theatre offers a 386-seat venue for captivating performances and community productions, which have become a hit all across the GTA and Ontario.
Then, shopping is also a delight in Beverley Glen, with its various shopping centers scattered throughout the area. From Walmart to artisanal markets, residents can indulge in retail therapy the way they like best. Of these, the Promenade Mall stands out, offering a modern shopping experience with mainstream and premium brands.
Beverley Glen boasts abundant community parks, making nature a constant companion. These green spaces foster outdoor enjoyment from Beverley Glen Park to Thornhill Green Park. Concord/Thornhill Regional Park has diverse amenities, including sports facilities, playgrounds, and splash pads.
The Rosemont Community Centre and Park cater to fitness enthusiasts, offering indoor ice skating, gymnasiums, and fitness rooms. The presence of local golf courses like Thornhill Golf and Country Club and Uplands Golf and Country Club elevates leisurely pursuits for the community's residents.
Convenient highway access through Highway 407 and Highway 7 connects Beverley Glen to the outlying regions. Then, Viva rapid transit ensures seamless journeys to Toronto, Peel, and Vaughan destinations, with the Promenade bus terminal serving as a pivotal hub for transit options.
Local Attractions
The Doctor's House
Vellore Township Hall
City Playhouse Theatre
Promenade Mall
A Yiddishe Mame
Copper Branch
Recently Listed in Beverley Glen
View Homes in Beverley Glen
See detailed information & photos.
View Homes for Sale
---
8. Sonoma Heights
Found in the embrace of the Humber River's branches, Sonoma Heights is a family-oriented little haven. Bordering pristine parkland, including Boyd Conservation Park and the Kortright Centre for Conservation, this picturesque neighbourhood invites nature lovers. Just minutes away, the McMichael Gallery awaits in Kleinburg, offering artistic inspiration, while the Vaughan Mills Shopping Mall beckons with retail delights. Its commuter highways effortlessly connect you to the GTA's urban pulse.
Exuding traditional elegance, Sonoma Heights homes feature brick exteriors, a testament to their 1990s and early 2000s construction. A delightful mix of detached, semi-detached houses, and townhomes adorn the landscape. Detached homes often boast four bedrooms and double car garages, while semi-detached homes and townhomes, with laneway-accessed garages, offer a cozy charm.
Recreation finds its zenith at the Sonoma Heights District Park, graced with a 2.6-kilometer paved trail perfect for leisurely strolls. Here, you'll uncover a symphony of amenities, from sports fields and a skateboard park to children's playgrounds and a refreshing splash pad.
Sonoma Heights, a part of Woodbridge and Vaughan's tapestry, has burgeoned in the past two decades. Encompassing a serene suburban ambiance, it's a sanctuary of winding streets and minimal commercial presence. While Rutherford Road offers some shopping options, more extensive retail hubs thrive near Highway 400.
Public transportation takes a backseat in a predominantly car-centric community, and only a handful of residents walk or bike to work. Commuting is chiefly through cars, facilitated by the easy access to major thoroughfares like Highway 407, Highway 400, and more.
The Sonoma Heights Community Park offers an array of outdoor activities, from baseball to soccer, with well-equipped facilities. The Al Palladini Community Centre caters to indoor pursuits with a heated pool, cycling studio, and indoor track. The nearby Maple Community Centre boasts a swimming pool, fitness center, and unique offerings like an outdoor hockey rink and bowling alley.
Nature aficionados can revel in the McMichael Canadian Art Collection nearby Kleinburg, a sprawling gallery enveloped 40 acres of lush forest. For shopping enthusiasts, the Vaughan Mills Outlet Mall promises a retail haven.
For residents, owning a car is often the most practical mode of transport. However, York Region Transit runs buses along Islington Avenue and Rutherford Road, offering connectivity to surrounding areas. With easy access to Highway 407, Highway 400, Highway 27, and Major MacKenzie Road West, navigating to the neighbouring communities is easy enough.
Local Attractions
Boyd Conservation Park
Sonoma Heights District Park
The Al Palladini Community Centre
McMichael Canadian Art Collection
Vaughan Mills Outlet Mall
Recently Listed in Sonoma Heights
View Homes in Sonoma Heights
See detailed information & photos.
View Homes for Sale
---
Do you have questions about Vaughan Real Estate?