Mississauga Neighbourhoods | The Best 7 Neighbourhoods in Mississauga, ON to call home!
Posted by ViewHomes.ca Team on Tuesday, September 5, 2023 at 2:31:50 PM
By ViewHomes.ca Team / September 5, 2023
Comment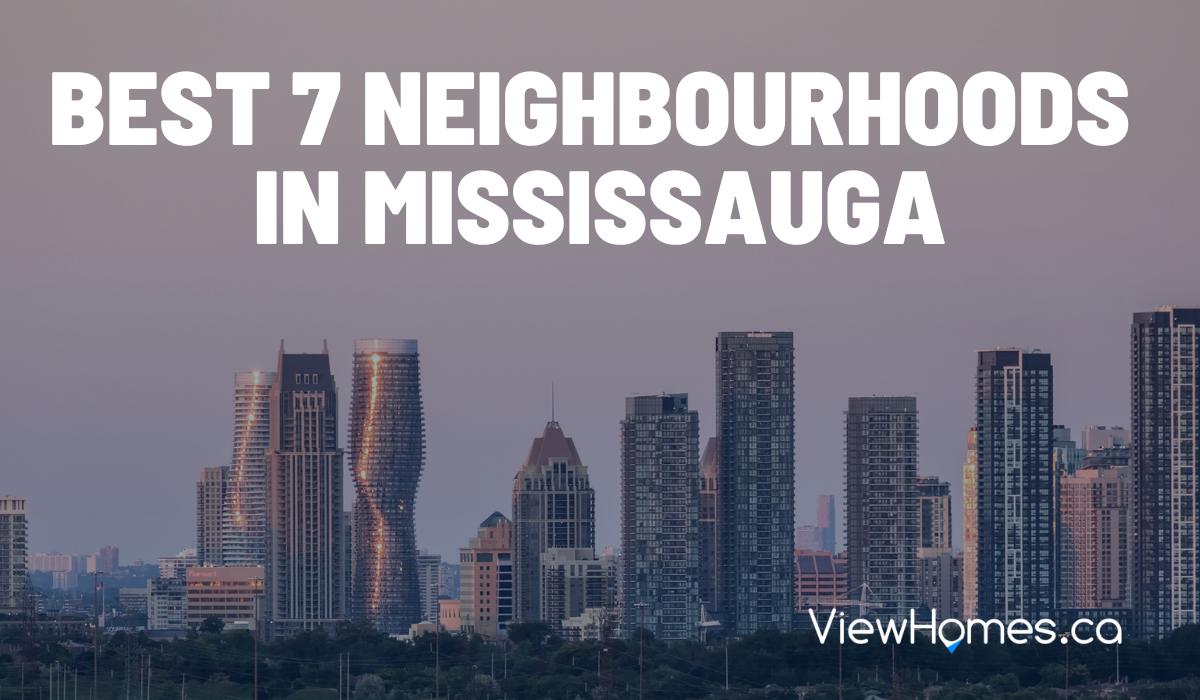 Choosing the perfect place to call home can be a challenge. It involves that impossible-to-pin-down blend of practicality and personal preference, balancing the trade-offs that make sense for you and your family. However, that search doesn't have to feel so tough when looking in Mississauga, Ontario, where the diverse neighborhoods cater to many different lifestyles, preferences, and needs. From serene lakeside communities to bustling urban hubs, Mississauga offers a wide variety of living experiences that can suit everyone from young families to early career professionals.
In this guide, we're having a look at the top 7 neighbourhoods that embody Mississauga living. Each neighbourhood on our list has its own distinct character, amenities, and attractions that set it apart. So, whether you're a history buff, an outdoor enthusiast, or a foodie, Mississauga has a neighbourhood for you.
1. Erindale
Located right in the heart of Mississauga, Erindale is a charming neighbourhood combining historic character with natural beauty. With a rich history dating back to the 19th century, Erindale has evolved from a small village to a bustling suburban enclave with a unique appeal for its residents.
Erindale Village still holds echoes of its historical roots, nestled atop meandering roads off Dundas Street. The village's heritage structures, including a church and community hall, give visitors a glimpse into the past, while remnants of an old hydro dam can be found in Erindale Park across from the village. But the centerpiece of Erindale's natural beauty lies in the Credit River, gracefully winding through the neighbourhood.
Erindale's biggest allure lies in its abundant parkland and natural landmarks. The lush Credit Valley Golf and Country Club and the Mississauga Golf and Country Club provide a natural barrier from the nearby Queen Elizabeth Way. Additionally, parks dot the landscape, offering plenty of opportunities for outdoor activities like going for runs, picnics, and dog walks.
Erindale Park, a neighbourhood landmark, stretches over a sprawling 222 acres and stands as Mississauga's largest park. The park invites leisure and active pursuits with fully equipped picnic areas, walking trails, fishing spots, and canoeing opportunities along the Credit River. The David J. Fulham Trail traverses the park's serene landscapes, providing panoramic views of the river and the surrounding ravines. It's a haven for hikers, joggers, cyclists, and cross-country skiers alike.
Moving onto Erindale's housing landscape, the neighbourhood boasts a blend of architectural styles, showcasing its evolution over time.
The historic village hosts several homes with wonderful heritage designs, sitting alongside ranch-style bungalows, split-level houses, and unique custom infill homes. Just to the north, the Credit Woodlands enclave features affordable bungalows and split-level dwellings on generous lots. Then, nearby Huron Park boasts larger detached homes that are perfect for suburban living.
Finally, if you're looking for a touch of culture in Erindale, the historic Robinson-Adamson House, known as "The Grange," houses Heritage Mississauga. This center offers heritage and art exhibits, guided tours, and community events, serving as a cultural hub for the neighbourhood.
Local Attractions
Credit River

Credit Valley Golf and Country Club

Mississauga Golf and Country Club

Erindale Park

David J. Fulham Trail

Robinson-Adamson House
Recently Listed in Erindale
View Homes in Erindale
See detailed information & photos.
View Homes for Sale
---
2. Port Credit
Situated at the intersection of history and modernity, Port Credit blends the two in a charming mishmash. Its centuries-old legacy, thriving waterfront, vibrant shopping village, and community spirit make Port Credit a genuinely unique and sought-after neighbourhood.
The roots of Port Credit stretch far back to the Mississauga First Nations. By 1720, the French had established a trading post, and by 1834, the Port Credit Harbour Company transformed the area into a bustling port and shipping hub. While the era of industry has passed, Port Credit's historical charm remains.
Port Credit's allure is inextricably linked to its shimmering waterfront. Located right alongside Lake Ontario, the neighbourhood has undergone a remarkable waterfront revitalization over time, attracting an array of recent real estate developments. With its prime location, it has attracted diverse subdistricts like Cranberry Cove, Credit Drive, and Indian Village, adding distinct flavors to the pot.
Now, a bit more about the famous waterfront. The Port Credit waterfront hosts a bustling selection of over 400 shops, boutiques, and services, providing an exceptional shopping experience. The countless variety of dining and entertainment venues elevate the area's liveliness. In addition, the Go station nearby offers easy access to Toronto, so the neighbourhood effortlessly blends city convenience with suburban comfort.
Port Credit's residential landscape embraces new urbanism principles, fostering walkability, mixed-use developments, and connectivity. The charming blend of townhomes and condominiums along the waterfront caters to diverse families and lifestyles. The heritage pockets showcase Tudor and Arts and Crafts-inspired homes, while traditional brick bungalows remain cherished as starter homes.
Home to the Port Credit Memorial Park, you can find the Port Credit Library and ice arena while taking a serene stroll. Then, Marina Park invites boaters and fishing enthusiasts, while the Credit River offers kayaking, canoeing, and paddle boating avenues. Finally, the Port Credit Yacht Club offers a hub for those embracing aquatic adventures.
Port Credit's artistic roots are visible right below your feet, literally. The Mississauga Music Walk of Fame immortalizes musical legends through star-studded walkways, while the painted crosswalks at Lakeshore Road East and Highway #10 pay homage to the neighbourhood's musical heritage. You may even still hear the names of inductees like Oscar Peterson, Gil Moore, Ronnie Hawkins, and Krisztina Szabo echoing through the streets.
Local Attractions
Port Credit Waterfront

Port Credit Memorial Park

Marina Park

Port Credit Yacht Club

Mississauga Music Walk of Fame
Recently Listed in Port Credit
View Homes in Port Credit
See detailed information & photos.
View Homes for Sale
---
3. Meadowvale
If we were to sit down for a cup of coffee and chat about Mississauga's hidden gems, I'd have to start with Meadowvale – a neighbourhood that's often overlooked but holds a world of charm and potential. Let's delve into why Meadowvale deserves a closer look.
In the overall map of Mississauga neighbourhoods, Meadowvale has only sometimes been highlighted, as more famous communities like Streetsville often overshadow it. But that's precisely why it's so intriguing. Meadowvale is like that undiscovered museum corner – a quiet secret waiting to be unveiled.
This once lesser-known corner of the city has undergone a renaissance and is now bustling with renewed vigor. The original homeowners are passing the torch to young families, infusing the neighbourhood with new life. Over the past five years, we've seen a wave of changes: homes receiving facelifts, kitchens gutted and revamped, and the neighbourhood evolving into something more dynamic.
Meadowvale blends high-density living with apartment rentals and condo townhomes, all meticulously maintained and exuding fresh energy. Modern glass balconies and well-tended gardens characterize the landscape, reflecting the pride and dedication of the residents.
Meadowvale's appeal lies in its ample space, endless trails, and its two hidden lakes – a true treasure trove for outdoor enthusiasts. The new Meadowvale Community Centre stands as a focal point for this evolving community. Nestled by the shores of Lake Aquitaine, you can try a refreshing fitness circuit around the lake, while biking trails connect you to Lake Wabukayne further south. You may even feel like you're tucked away on a lakeside retreat, but thankfully the modern planning and amenities provide everything you need.
For those seeking newer constructions, Meadowvale's neighbouring area, Lisgar, might pique your interest. While technically a separate neighbourhood, it shares amenities, parks, and recreation with Meadowvale. The Union Park at Aquitaine and Tenth Line is an urban oasis, perfect for kids of all ages, offering a blend of skateboarding ramps, basketball courts, splash pads, and playgrounds.
Local Attractions
Meadowvale Community Centre

Lake Aquitaine

Lake Mabukayne

Union Park
Recently Listed in Meadowvale
View Homes in Meadowvale
See detailed information & photos.
View Homes for Sale
---
4. Clarkson
Welcome to Clarkson, the oldest neighbourhood that continues to be the city's beating heart. As you wander through Clarkson, the echoes of bygone eras become vivid through two historic museums – Benares Historic House and Bradley Museum. Benares offers a guided tour through a Georgian home, where 165 years of history come to life. You can then continue your journey at Bradley Museum. Here, four heritage structures, including a restored 19th-century log cabin, weave a narrative of Indigenous peoples and early settlers.
Nearby, Rattray Marsh unfurls its natural splendor, providing a serene retreat where local wildlife takes center stage. Stroll along the boardwalk while watching for herons, deer, and other wildlife. Then, there is Jack Darling Memorial Park, which offers a waterfront playground for all seasons. The spray pad and beach beckon visitors young and old in the summer, while picnic areas, a playground, and a dog park invite you to stay year-round.
As you explore the village, your wanderings may lead you to the Harbor Gallery, which proudly showcases both modern and contemporary art. Here, enthusiasts of all ages find their passion kindled by curated exhibits spanning 4,700 square feet. A little further and traveling through time, The Barn offers an immersive experience as you browse through antiques and reproductions. Housed in a nearly 200-year-old building, this shop is a treasure trove that transports you to another era. Finally, there is a little hidden treasure for comic lovers and collectors, as Altered States Comics stands tall as a cornerstone of the village.
Local Attractions
Benares Historic House

Bradley Museum

Rattray Marsh

Jack Darling Memorial Park

Solstice Restaurant & Wine Bar

Momiji
Recently Listed in Clarkson
View Homes in Clarkson
See detailed information & photos.
View Homes for Sale
---
5. Lorne Park
Welcome to Lorne Park, where the tree-lined streets weave together elegance and comfort. The prestigious neighbourhood in Mississauga is often dubbed the "move-up" haven. You can stroll along its captivating lanes, where million-dollar homes, custom builds, and charming cottage-style residences combine to create an atmosphere of opulence and warmth.
The area shares its lifestyle with neighbouring Port Credit, where the lakeshore beckons with its array of restaurants, shops, and scenic promenades. As you explore the neighbourhood's captivating parks and streets, you can't help but feel the embrace of its prestige and charm. Lorne Park has an air of exclusivity that's both prestigious and down-to-earth. Its tree-lined streets offer a welcoming embrace, inviting families to discover its attractive blend of tranquility and grandeur.
Found in south Mississauga, Lorne Park stretches west of Clarkson and east of Port Credit, with the QEW separating it from the neighbouring Erindale. Although its borders intermingle with Clarkson, Lorne Park has its own distinct character. Lorne Park mirrors Mississauga's dynamic makeup, featuring a blend of long-time residents and mature professionals in its growing community. The charm of older homes passed down through generations intertwines with the aspirations of those crafting their dream abodes.
If school quality is your priority, you've chosen a great spot. Lorne Park holds the crown for the best school zone in Mississauga. Lorne Park stands out from elementary to high school with its top-ranking institutions. The neighbourhood's schools, including Lorne Park PS, Whiteoaks PS, and Tecumseh PS, speak volumes of its commitment to education excellence.
Finally, navigating Lorne Park strikes a nice balance between accessibility and tranquility. While the QEW lies close, most homes are artfully secluded. The Lakeshore grants easy access, and neighbouring Port Credit enhances the leisure quotient with its vibrant offerings. Parks and trails dot the landscape, inviting both kids and adults to savor the outdoors.
Local Attractions
Bradley Museum

Lorne Park Community Centre

Tu Casa

Lily's Pizza and Pasta

Cuda's Tap and Grill
Recently Listed in Lorne Park
View Homes in Lorne Park
See detailed information & photos.
View Homes for Sale
---
6. Lakeview
Steeped in a rich history, Lakeview has evolved from First Nations Mississaugas' territory first to farmland, then to a wartime industrial hub, and now to a revitalized urban community. This dynamic corner of Mississauga is where the shores of Lake Ontario meet a vibrant community.
Lakeview in the 1950s had some residential development, but the decommissioning of the Ontario Power Generating plant in 2005 marked its pivotal moment. Today, Lakeview is on the cusp of a renaissance, shedding its past to embrace a dynamic future.
The area shares its eastern border with Toronto. Along Lakeshore Road, subtle signage marks the entry to both Lakeview and Mississauga, a nod to the neighbourhood's understated charm. Once dominated by a power plant, the lakeshore is now a canvas of possibilities, as residents and officials collaborate to reimagine and revitalize Lakeview's potential as a waterfront haven.
The waterfront comes alive with Lakefront Promenade, a scenic route leading to Lakefront Waterfront Park and Marina, offering stunning views of Lake Ontario and providing the perfect backdrop for leisurely strolls and water-bound adventures. Adjacent to Lakeview lies Lakeview Golf Course, a scenic expanse that challenges golfers of all skill levels with its intricate greens and captivating fairways.
Lakeview's richly diverse housing canvas showcases bungalows, split-levels, and two-storey subdivision homes. Generous lot sizes, ample parking, and serene backyards define this neighbourhood, where neat sidewalks weave through tree-lined streets, creating a serene ambiance.
Lakeview caters to active lifestyles, featuring Lakeview Golf Course and the Carmen Corbasson Community Centre. This community hub hosts skating, hockey, and indoor recreation, complemented by the adjacent Mississauga Seniors Centre. Nature enthusiasts can explore Cawthra Park, a wooded haven with a wood chip walking trail. Lakefront Promenade Park invites families with its children's playgrounds, beach volleyball courts, splash pads, and picturesque boardwalk.
Finally, you can find Cawthra Park, which is not only a traditional park but also a nurturing ground for the arts. Home to Peel's Regional Arts Program (RAP), it welcomes aspiring musicians, vocalists, dancers, and visual artists through its doors. The Specialist High-Skills Major in Arts & Culture at Cawthra prepares students for artistic careers, fostering a highly creative environment.
Local Attractions
Lakeview Golf Course

Lakefront Promenade

Lakefront Waterfront Park and Marina

Carmen Corbasson Community Centre

Cawthra Park
Recently Listed in Lakeview
View Homes in Lakeview
See detailed information & photos.
View Homes for Sale
---
7. Central Erin Mills
Central Erin Mills, located in north Central Mississauga, offers a harmonious blend of suburban comfort and urban convenience. The central location embraces its status as a mature neighbourhood, characterized by traditional 2-storey detached homes.
It's a "move-up" destination for those looking for well-established residences. However, the landscape also has some modern touches emerging as brand-new and mature condo buildings offer a touch of city living in the quiet suburban setting. Semi-detached homes exist but are rare. While these homes might require interior updates, they offer spacious lots and interiors compared to newer developments.
The core of Central Erin Mills's lies in the Erin Mills Town Centre, recently renovated to serve as a shopping and social hub. Just south of this hub is the Credit Valley Hospital, a vital healthcare institution. The neighbourhood aims to become a realistic alternative to Square One, Mississauga's most prominent shopping center, with other areas like Port Credit and Lakeview also capitalizing on Mississauga's growing popularity.
Finally, Central Erin Mills enjoys convenient transportation options. Situated less than 10 minutes from the Streetsville GO Train and Hwy 401, and connected by Highway 403, residents can easily access Mississauga, Oakville, and beyond.
Local Attractions
Erin Mills Town Centre

Credit Valley Hospital
Recently Listed in Central Erin Mills
View Homes in Erin Mills
See detailed information & photos.
View Homes for Sale
---
Questions about Mississauga?