Moving to Waterloo? The Ultimate Guide to Living in Waterloo, Ontario
Posted by Kurtis Forster on Tuesday, November 22, 2022 at 7:42:37 AM
By Kurtis Forster / November 22, 2022
Comment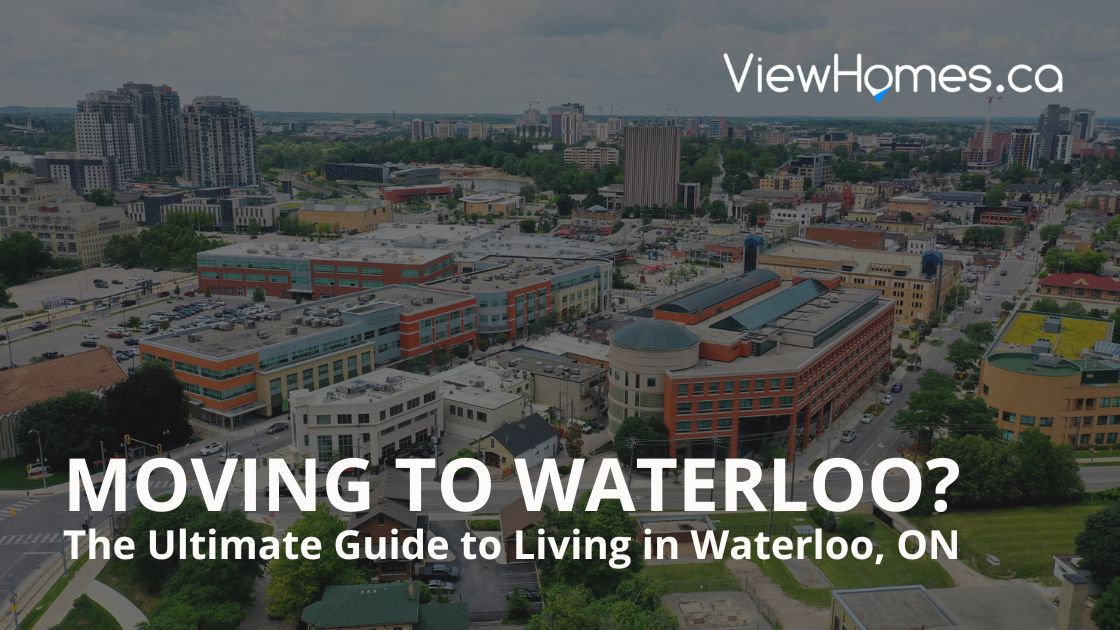 If you are in the market for a home in a growing city of tech industry development and fantastic education opportunities, then consider taking a closer look at Waterloo, Ontario. Waterloo is full of wonderful events, exciting attractions and a strong innovative spirit that explain its recent rise in popularity among house hunters in southern Ontario. Waterloo is considered to be a mid-sized city with a population of over 100,000 people. Whether you are thinking about moving to Waterloo or are already in the middle of a move, this guide aims to help you get everything you need to know about living in Waterloo, Ontario.
About Waterloo, Ontario - Where is Waterloo, Ontario?
Waterloo is a southern Ontario City in the Regional Municipality of Waterloo. As of the 2016 census, Waterloo had a total population of 104,986 people. It is located about 30km southwest of Guelph, 70km northwest of Hamilton and 110km southwest of the Toronto core. Residents of Waterloo commuting to another city in Ontario have access to the 401 Highway that runs to the south of the city and connects it with London to the west and the Greater Toronto and Hamilton Area to the east. The Grand River forms the eastern boundary of the City of Waterloo.
The City of Waterloo is considered to be a part of the Tri-Cities which ties together Cambridge, Kitchener and Waterloo. Kitchener shares its northern border with Waterloo's southern border. While the two cities are closely connected, they remain politically independent cities. Many refer to the larger collective area as Kitchener-Waterloo. The combined population of Kitchener and Waterloo is 338,208 which accounts for well over half of the total Waterloo Region population of 535,154 people.
History of Waterloo, Ontario
The Waterloo Region is a significant area for the Haudenosaunee, Anishinaabe and Neutral People. The first group of settlers arrived in the area in the early 1800s. This settlement was the first grist mill established on Laurel Creek by the Erb family who were Mennonites from Pennsylvania. Over the years, the settlement would grow around that mill and spread across the area. The Village of Waterloo was first incorporated in 1857 and its growth would see it earn status as a town in 1876 and a city in 1948.
In more recent years, the area formerly known as the County of Waterloo was restructured into the Regional Municipality of Waterloo in 1973. This changed some cities and townships in the Waterloo Region and resulted in the creation of the city of Cambridge. This was also the official beginning of the Tri-Cities designation between Cambridge, Kitchener and Waterloo.
Waterloo, Ontario Real Estate
Waterloo is in the same position as many mid-sized southern Ontario cities. It is centrally located with access to important highways plus plenty of its own thriving industry to attract talent. Over the last few years, the real estate market in southern Ontario has been heating up and Waterloo is a popular place to call home. This increased interest in housing in Kitchener-Waterloo has created a demand that the housing inventory just can't match, so finding the perfect home in Waterloo can be competitive.
When real estate statistics are collected, the figures from Kitchener and Waterloo are combined for the purpose of publishing figures of the area. By the end of 2020, the average price for a property in Kitchener-Waterloo was about $612,000. The most expensive type of property in the city is the detached home which had an average sale price of $719,000 by the end of 2020. Apartment-style condos were the most affordable type of property in the city at $391,000. Townhouses and semi-detached homes were in the middle with an average of $468,000. Since these figures are only averages, there is room for properties listed both above and below these figures, so watching new listings closely is the best way to get ahead in an increasingly competitive market.
Between 2020 and the beginning of 2021, real estate in Waterloo has seen record-breaking stats month after month. The number of homes sold as well as the average price of a home has been quickly climbing over the last year. Throughout an overall strong year, there are still seasons that are more popular than others when it comes to buying and selling on the real estate market. In the Kitchener-Waterloo area, June, July and August proved to be the most popular months of the year for market activity. Nice weather during the summer months contributes to an overall increased interest in house hunting, plus more time to get ready to move and a window of opportunity for families with children on their summer break from school.
What's Your Waterloo Home Worth?
Find your home or condo's value in today's market, for FREE!
Find Out Now
Living in Waterloo, Ontario
Waterloo, Ontario is a growing southwestern Ontario city that is a key balance of convenience, industry and education opportunities that make it a strong contender against other cities in the Greater Toronto and Hamilton area.
Getting around Waterloo is one of its best conveniences. Whether you are relying on a personal vehicle or public transit, there are several convenient options for traversing Waterloo and the rest of the Waterloo Region as well. For drivers, the Conestoga Parkway is a clear advantage as the main road connecting Waterloo to Kitchener, Cambridge and the 401. By driving from the core of Waterloo, Hamilton is about 50 to 55 minutes away. Mississauga is a little over an hour's drive away from Waterloo which can open up further employment opportunities as well as access to the large international travel hub, Toronto Pearson Airport. The core of Toronto itself is about an hour-and-a-half away from Waterloo.
Public transportation is another way to get around the City of Waterloo and the Waterloo Region. Grand River Transit operates several bus routes across Cambridge, Kitchener and Waterloo. Grand River Transit also operates the ION light rail rapid transit, a quick and direct train route between Fairway Station in southeastern Kitchener and Conestoga Station in northeastern Waterloo. In between the two ends of the route, there are several stops convenient to downtown Kitchener, Uptown Waterloo and the universities. The ION light rail makes a total of 19 stops along its route. A planned second phase of the ION project will see a rail route connecting Waterloo and Cambridge as well.
Even though there are excellent possibilities for commuters, a wide range of possible industries make working in Waterloo appealing as well. Historically, the insurance industry has thrived in Waterloo and to this day, insurance companies are some of the city's biggest employers. The University of Waterloo and Wilfrid Laurier University are two other major employers in the city. Waterloo is also gaining a reputation as a tech city with several big names in information technology like BlackBerry and Honeywell Aerospace. On that note, computer technology and environmental management are two of the fastest growing sectors in Waterloo.
Public education in Waterloo is handled by four main boards. The largest board is the Waterloo Region District School Board which has over 20 elementary schools and three secondary schools in Waterloo. The Waterloo Catholic District School Board is the second largest board with seven elementary schools and one secondary school in Waterloo. There are additional schools in Kitchener that extend their boundaries to residents of Waterloo as well. Students in Waterloo also have access to the French-language boards: the Conseil scolaire Viamonde and the Conseil scolaire catholique MonAvenir. The Conseil scolaire Viamonde operates one elementary school and one secondary school in the Kitchener-Waterloo area. The Conseil scolaire catholique MonAvenir operates one elementary school in Waterloo and one secondary school servicing the Waterloo Region from Cambridge.
Waterloo has quite the reputation for its post-secondary institutions. Not only are they among the city's biggest employers, they are both well-regarded Ontario universities. The University of Waterloo is ranked as one of the most innovative universities in Canada according to Maclean's yearly reputation rankings. They are internationally known for their computer science and co-op learning programming. Wilfrid Laurier University is the smaller of the two universities in Waterloo. They provide student-focused experience that combines experiential learning, career development opportunities and so many for students to customize their degree.
Another option is Conestoga College which has a campus in Waterloo as well as one in Kitchener and another in Cambridge. The Waterloo campus offers programs in hospitality and culinary arts, English language Studies and academic upgrading. The nearby Kitchener campus offers even more program options for students willing to live in Waterloo and make the short commute into Kitchener.
Things to do in Waterloo, Ontario
Whether you're looking for a weekend outing or an exciting seasonal event, Waterloo and the nearby area has something fun to see and do. Waterloo has plenty of parks and trails to explore across the seasons. Waterloo's rich history and heritage also make tours of the local museums a must-see part of living in the city, too. Between Waterloo and Kitchener, there are plenty of local businesses for shopping and dining as well as big festivals and events to participate in.
With parks and trails throughout the city to visit, Waterloo's natural beauty is just as important as its heritage and current industry. Many residents appreciate the work that goes into maintaining the large and central Waterloo Park as well as all of the city's many trail systems. The entrance to Waterloo Park is located on Young Street West with parking available for vehicles and bike racks for cyclists. Waterloo Park offers sports courts, places for picnics, trails and gardens and important pieces of heritage like the Erb Mill and Waterloo's first school house. The Eby Farmstead is one of the park's most popular attractions which allows visitors to see farm animals like chickens, goats and potbelly pigs as well as llamas and peacocks. If you are looking to find more trails in the Waterloo area, then heading west to try the West-Side Trails is a great way to see some wildlife without leaving the city. These densely tree-lined trails are the perfect place to spot birds and other animals that call this rich region home. The network of West Side Trails total about 12 km of loops for hiking and walking in all seasons.
Visiting a museum is a popular attraction for curious families or new residents looking to learn a little bit about the history behind the city of Waterloo. For history buffs, the City of Waterloo Museum in Conestoga Mall is one of the best ways to connect with the city's past. In addition to physical exhibits and extensive collections, the City of Waterloo Museum offers a digital walking tour as well as special presentations and events hosted throughout the year. The University of Waterloo's Earth Sciences Museum is a collection curated for science enthusiasts of all ages. They have exhibits on rocks and minerals, dinosaurs, ice age mammals, a replica silver mine and fossils of various animals and plants.
While technically not a part of Waterloo, the attractions found in Kitchener are just as accessible to their Waterloo neighbours. The closest attractions in Kitchener are those downtown like the Kitchener Market where visitors can explore a variety of vendors and shop for local produce and artisan goods. On Saturdays, the Kitchener Market is also home to a weekly farmers' market. Kitchener's festivals and events are another great perk of being so close to the city. In the summer, there is a free Canada Day celebration with music and fireworks held in Downtown Kitchener. In the fall, the city becomes a hub of celebration for its German roots and everyone gathers together to celebrate Oktoberfest. In the wintertime, the famous Christkindl Market is one of the best ways to gear up for the holidays in this German Christmas market in Downtown Kitchener.
Waterloo, Ontario is a growing mid-sized city with so many attractive features for visitors and home buyers alike. If something about the city caught your eye and you'd like to learn more, consider checking out some of the other blog posts in the Waterloo series: