Moving to Stratford? The Ultimate guide to living in Stratford Ontario
Posted by ViewHomes.ca Team on Tuesday, November 22, 2022 at 6:00:10 PM
By ViewHomes.ca Team / November 22, 2022
Comment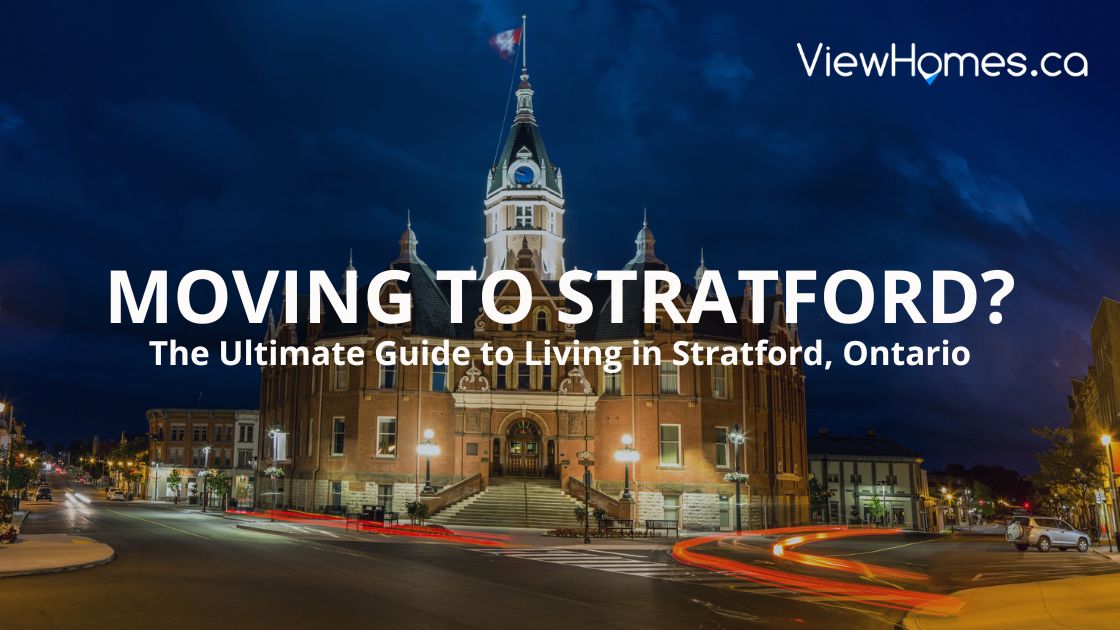 Why are so many people moving to Stratford, Ontario? For numerous reasons, as you will soon discover. Some move to Stratford from larger centers for the peace and slower pace that this small city affords. Many move to Stratford because of all that it has to offer—literally everything you need and want at your fingertips, thanks to its diversity of stores, dining options, and convenience. Retirees are moving to town because of all the above. And the younger generation are geared to moving here because it is Justin Bieber's hometown. Whatever your reason for moving, Stratford meets all your needs and desires on every possible level.
About Stratford – Where is Stratford, Ontario?
So where is Stratford, Ontario? Stratford is the seat of Perth County in the heart of Southwestern Ontario, located about 40 km west of Kitchener Waterloo and 50 km northeast of London. With a population of just over 31,000 as of 2016, Stratford offers a world of opportunity for its relatively small size. As a city with a small town feel, Stratford is rapidly growing with new development areas. Picturesque neighbourhoods surround the Avon River making the parkland seem more expansive with the large lots and mature shade trees and foliage. Stratford offers the best of both worlds as it is so close to everything and yet away from it all.
History of Stratford Ontario
Settled in 1932, 'Stratford-upon-Avon' was named after its sister city of the same name, in Warwickshire, England, a market town that was the birthplace of William Shakespeare. Known simply as Stratford, most of its original settlers took up farming, which is still evident to this day with the surrounding area rich in agriculture, dairy, and hog farming. Incorporated as a town in 1859 with the introduction of the railway, this pretty little town started growing when it became home to a major locomotive repair yard. By the 1920's furniture manufacturing was a booming business with one-sixth of all Canadian made furniture being shipped from Stratford's manufacturing warehouses.

All the world is a stage, but for Stratford, it's a theatre! When the railway repair yards moved from town in the early 50's, a local journalist had an idea that would spark the greatest ever venture for the city and eventually give it world recognition. With the help of an artistic director from Britain and other input from several Canadians and Americans in the world of the arts, Tom Patterson was the driving force in establishing The Stratford Shakespearean Festival Theatre. In 1953 the Festival opened its doors for the first time with Alec Guinness in the lead of Richard III. It has since featured countless actors and actresses of renown such as Christopher Plummer, William Shatner, Martha Henry, William Hutt, Peter Ustinov, James Mason, and Megan Follows, among a host of others. The main theatre seats over 1,800 with no one further than 65 feet from the stage. In 1956 the Avon Theatre became part of Stratford's Festival. Then, in 1971, the Tom Patterson Theatre was added. And yet again in 2002, the Studio Theatre completed the Festival's venues. Attracting hundreds of thousands of theatre goers every year, mainly from Canada, the United States, and Britain, the Festival Theatre's main thrust is Shakespearean plays, but also includes on the playbill a variety of tragedies, musicals, as well as contemporary works.

In 1918 a pair of mute swans were gifted to the city and introduced to the Avon River. Today a couple dozen swans grace the River – an attraction all in itself. It is no wonder the swan has become the symbol of the city. Every April the annual Swan Parade is held where crowds gather to see all the swans march from their winter shelter to the river with all kinds of fan fare. The Avon River is another pride and joy of Stratford. With paddleboats, kayaks, and canoes available to rent, trails circling the river and beyond, picnic tables, benches and playgrounds everywhere, many people spend their day relaxing riverside rather than heading to the beach. Anywhere you go in Stratford, it exudes a laid back air of being on vacation.

Stratford has been a vacation destination for many thanks to its many entertainment venues, its dining diversity, its array of unique shops, and its vast picturesque green spaces. It is no wonder that so many who visit, wind up moving to Stratford, Ontario!
What's Your Stratford Home Worth?
Find your home or condo's value in today's market, for FREE!
Find Out Now
Real Estate in Stratford, Ontario
From heritage neighbourhoods with large expansive lots, to newer subdivisions with all the modern amenities, to condos and townhouses, to the surrounding countryside with sprawling acreage, Stratford delivers to everyone's satisfaction. Currently, as of January 2021, single family home values average at $510,695, and condo prices average about $370,000 to $490,000. Apartment style condos range in average of $350,000 to $440,000. Small neighbourhoods tucked out of sight offer the perfect place to raise a family or retire. Just on the outskirts of the east end of town, is a small oasis of a neighbourhood that lines Forest Road which so many people find to be the scenic 'ideal.' While off in the west end of the city is a newer subdivision backing on to the woodsy TJ Dolan Natural Area and the Avondale Cemetery, fusing the neighbourhood with nature and serenity. Stratford is summarized as a petite city with small town charm and lots of heart!
Living In Stratford, Ontario
With all the amenities and opportunities one could want right at their doorstep, living in Stratford, Ontario is comfortable and secure. Why buck the traffic of a big city when you can have it all in a small one? And it's not just your ordinary town – Stratford is a world leader as a SmartCity. With fibre broadband network throughout the entire city and free WiFi hubs on literally every street corner, Stratford is continually breaking boundaries and is on the cutting edge in the world if IT.

Located at the juncture of Highway 7 and Highway 8, Stratford is a short drive from both Kitchener Waterloo (33min, 40km) and London (42min, 50km). Downtown Toronto is 1 hour and 40 min, 148Km away, which is why so many Torontonians are moving to Stratford, Ontario for the slower paced life and community. There is easy access to the 401 via expressways – just 39 min away. Fifteen minutes up the road is Canada's Baseball Hall of Fame and Canada's largest freshwater swimming pool in the scenic little town of St Marys, also known as the 'Stonetown.' It all adds up to make Stratford the perfect place to settle to be close to everything, and yet away from the hustle and bustle of big city life. Thanks to Stratford's rich railway history, you don't even need to drive to the city – four passenger trains depart each day from town: two eastward bound to Toronto's Union Station, one west to Sarnia, and the fourth to London. For about-town travel needs, Stratford Transit runs buses through the whole circuit of the city with additional routes and service for school times, making everything easily and readily accessible.

Stratford has fourteen elementary schools making virtually every neighbourhood within walking distance for your young ones. There are three secondary schools within the city as well as several post secondary education options. The University of Waterloo has a satellite campus in downtown Stratford offering programs in Media and IT, Interactive Design and Business with undergrad and graduate programs. Conestoga College's city campus offers Institute of Technology and Advanced Learning, continuing education courses, and career focused programs. The Stratford Festival hosts post secondary courses in theatre studies and the arts through these nearby institutions: University of Windsor, University of Western Ontario, Brock University, and University of Waterloo. Stratford is also home to the distinguished Stratford Chefs School, prominently featured in 'Chef School' on The Food Network Canada.

Stratford's main industries are numerous and diverse for a small city. Hailing from its roots as an agricultural center, Stratford still serves the surrounding agri-industry of mixed farming, dairy, and hogs. It is no secret that Stratford is a center of the arts, and tourism and hospitality are a major industry for this town. With four performing arts theatres, a plethora of dining options, and over 90 hotels, inns and suites, this industry is booming! Stratford is also home to RBC's $300 million Data Center, the Starwood Call Center, Digital Tech, and a surplus of manufacturing industries such as Cooper Standard, C.R. Plastic Products, DYNA-MIG, and VicWest, just to name a few. It is never difficult to find employment in this city, making living in Stratford even more ideal.
With so much to offer, moving to Stratford Ontario just makes sense. Thanks to being a tourist town, the atmosphere perpetually feels like you're on vacation. There is a laid back sense and less-stress approach to living here. No wonder so many are moving to Stratford!