Moving to Kitchener? The Ultimate Guide to Living in Kitchener, Ontario
Posted by ViewHomes.ca Team on Wednesday, November 30, 2022 at 7:41:09 AM
By ViewHomes.ca Team / November 30, 2022
Comment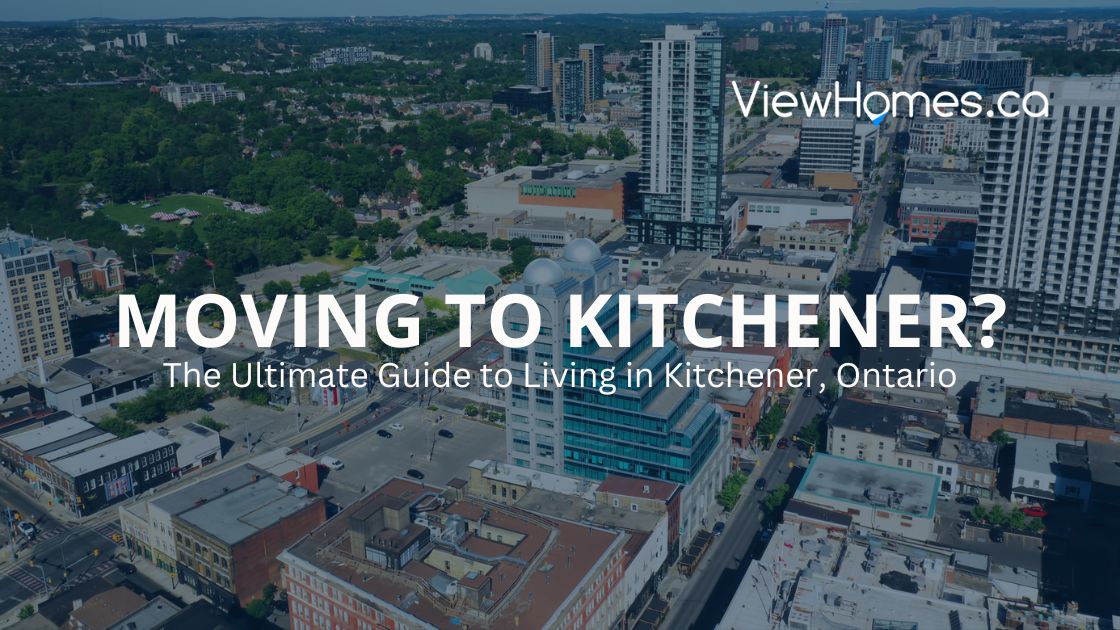 If you are looking for a mid-sized southwestern Ontario city with beauty and potential in spades, then Kitchener, Ontario should jump right up to the top of the list. This beautiful city of over 200,000 people is a hub of modern industry, education and innovation while keeping firm ties to its strong German history. If you are looking for more information on what it's like to move to and live in Kitchener, then this is the guide for you!
About Kitchener - Where is Kitchener, Ontario?
Kitchener is one of the three southwestern Ontario cities that makes up the Regional Municipality of Waterloo. Out of the municipality's 523,894 people, Kitchener accounts for the most of that with a population of 233,222 according to the 2016 census. In relation to the other Tri-Cities, Kitchener is located south of Waterloo and west of Cambridge. Kitchener is also about 65 kilometres northwest of Hamilton and about 100 kilometres southwest of Toronto.
One major natural feature of Kitchener is the Grand River, which is located east between Kitchener and nearby Cambridge. Kitchener's central southwestern location results in a humid climate of warm summers and cold winters. Because Kitchener is far enough away from the Ontario Great Lakes, the city does not experience lake effect snow.
The 401 Highway is the nearest major highway to Kitchener. It connects residents with the Greater Toronto and Hamilton area which makes both weekend trips and daily commutes viable options for working outside of the city.
History of Kitchener, Ontario
Until 1916, Kitchener was known as Berlin, Ontario. The city's original name reflected the German heritage carried by many of the city's earliest settlers. Waterloo Township was formed in the early 1800s. By 1853, Berlin was named the Waterloo County seat.
Transportation connections had a huge impact on Kitchener's early development. The arrival of the Grand Trunk Railway and then access to the 401 Highway in the 1960s promoted Kitchener's growth and increasing popularity.
The Regional Municipality of Waterloo was formed in 1973 when Kitchener, Waterloo, Cambridge and several other nearby communities were combined. Since these Tri-Cities are so close and well-connected, Kitchener, Waterloo and Cambridge share many of the same lovely features and attractions.
Real Estate in Kitchener, Ontario
Southwestern Ontario has experienced a rising real estate market for the last few years. Of those, centrally-located cities that are closer to Toronto and Hamilton have been surging higher at a much faster pace. Kitchener is one of those mid-sized cities that is growing quickly in popularity and population, so their rising real estate statistics reflect that growth.
In 2020, Kitchener was a city on the rise. By the end of the year, the city had experienced an increase in homes for sale, homes sold and the average sale price of a variety of home styles. The only figure to decrease was the average number of days a property stayed on the market! Overall, the average home price in the Kitchener-Waterloo area was about $612,000. This figure balances the higher average price of a detached home at about $719,000 with the lowest average price of an apartment-style condo at about $391,000. Options in the middle included semi-detached homes with an average sale price of $520,000 and townhouses with an average sale price of $468,000.
What's Your Home Worth?
Find your home or condo's value in today's market, for FREE!
Find Out Now
Living in Kitchener, Ontario
Residents of Kitchener enjoy a well-connected and innovative city with diverse education opportunities and an exciting spread of industries. While Kitchener's German heritage is a big part of the city's identity, much of its modern fame comes from its post-secondary education institutions, booming industries and stellar location.
Kitchener is centrally located in southwestern Ontario with several main routes to take advantage of. ON-8 extends southwest out of Kitchener and connects the city with smaller Waterloo Region towns as well as Stratford about 40 minutes away. By driving southeast into Cambridge and following Brant Road south along the Grand River, the City of Brantford is closer to a 50 minute drive away. Guelph is another neighbouring city, located about 25 minutes away to the northeast along Victoria Street North. The 401 Highway is also located a few minutes southeast of Kitchener. This important Ontario highway connects Kitchener with Woodstock in the southwest and the Greater Toronto Area to the northeast.
Public transportation can be a great alternative to commuting across Kitchener, Waterloo and Cambridge. The Grand River Transit operates both bus routes and a light rail rapid transit. The ION light rail is a speedy and efficient way of shuttling residents and visiting students alike between Kitchener and Waterloo. Kitchener's nearest airport is the Region of Waterloo International Airport east of the city and across the Grand River. For a more expanded flight list, residents of Kitchener are about an hour away from the Toronto Pearson International Airport.
Education in Kitchener is handled by four different school boards. The Waterloo Region District School Board and the Waterloo Catholic District School Board are the two biggest boards in the region. Between them, they operate more than 50 elementary schools and 9 high school campuses in Kitchener. The Conseil scolaire Viamonde and the Conseil scolaire catholique MonAvenir are both French-language school boards that service southwestern Ontario with both elementary and secondary school options available to residents of Kitchener.
Industry and innovation in Kitchener have been large parts of the city's development over the years. The city is known for its insurance and manufacturing sectors with tech and digital media as another local, competitive industry. Kitchener is also a hub of industry-specific training with several Conestoga College campuses throughout the Waterloo Municipality as well as the University of Waterloo and Wilfrid Laurier University.
Things to do in Kitchener, Ontario
Whether you call Kitchener "home" or are visiting the area, one of the best ways to enjoy this beautiful southwestern Ontario city is to experience its natural beauty. A good place to start is the Stanley Park Conservation area located east of the Conestoga Parkway. This park offers pleasant, wooded trails suited for walking or biking. For birdwatchers, this site is an opportunity to see winter finches. Another popular park is Kitchener's largest natural site: the Huron Natural Area. It is located in the south end of the city and features a provincially-significant wetland, forested trails of varying difficulties and views of the Strasburg Creek that make a beautiful backdrop for photographs. This park is a favourite of families that enjoy stroller-friendly trails and a child-friendly play space.
Outdoor enthusiasts can also enjoy the nearby Chicopee Ski & Summer Resort. During the winter season, Chicopee opens to the public with several courses and a freestyle park to enjoy on either skis or snowboards. This family-friendly site offers lessons for skiers and boarders of all ages and abilities - some more advanced lessons even focus on jumps and tricks. During the summer season, Chicopee offers space for cycling, disc golf, beach volleyball and tennis as well as a selection of summer camps.
Bingemans Grand Experiences hosts a number of Kitchener's special seasonal attractions including haunted walks, camping grounds and Oktoberfest celebrations. In the warmer months, Bingemans Big Splash - the area's biggest water park - opens its gates for a splashing summer season. In addition to wave pools and water slides, there are other on-site attractions like mini-golf, bowling and an indoor play area to enjoy.
Heritage tourism can be an interesting way to spend a free weekend in Kitchener. The combination of the Ken Seiling Waterloo Regional Museum and the Doon Heritage Village provides hours entertainment for curious guests of all ages. The museum features a war memorial, the waterloo region hall of fame and various traveling exhibits while the Doon Heritage Village serves as a massive, 60-acre outdoor exhibit. The Doon Heritage Village takes guests back to the early 1900s to experience living history and period activities.
Kitchener's Germanic heritage is out on proud display during the Oktoberfest celebration - one of the largest of its kind in Canada! This annual festival takes place between the end of September and the first few weeks of October. Oktoberfest is a celebration of German culture, tradition and, of course, food!
It's no surprise that Kitchener is such a popular city. Whether you are interested in studying, working or just visiting Kitchener, there is a lot to appreciate in this city 233,222 strong. Living in Kitchener means access to the convenience of the light rail, excellent local school options and the opportunity to experience the rich, everyday history around the city.