London & St. Thomas Ontario Real Estate Housing Market | May 2023
Posted by Kurtis Forster on Friday, June 23, 2023 at 8:30 AM
By Kurtis Forster / June 23, 2023
Comment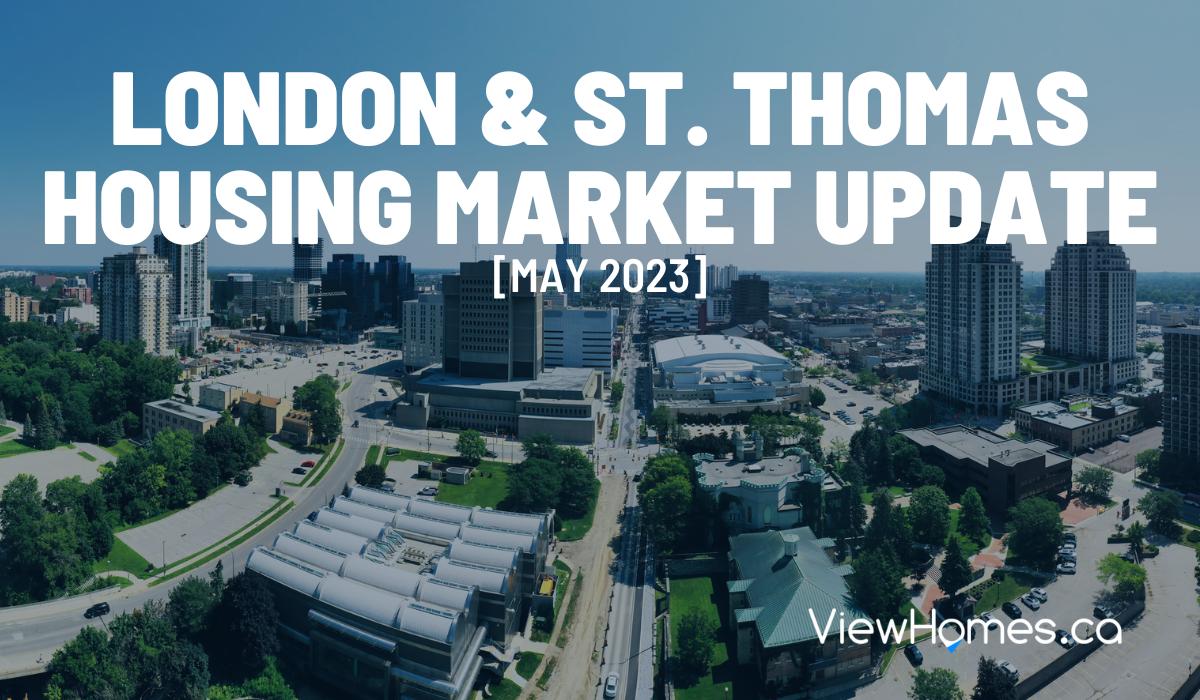 The real estate market in the London-St. Thomas area finds itself slightly off-balance as a surge in sales combats a continuing deficit in stock.
The London and St. Thomas Association of REALTORS® (LSTAR) reports that May 2023 saw a 1.3% boost in home sales from the previous month and a 10% decrease compared to May 2022, driven chiefly by London, Middlesex, and St. Thomas. The surge in sales coincides with a considerable drop in listings, down by 23.9% year-over-year, causing tension in the market. London's housing market conditions have continually favoured sellers, with the sales-to-new-listings ratio (SNLR) exceeding 60% since February.
Average Price Last 4 Months
May 2023 - $682,561
April 2023 - $664,149
March 2023 - $653,611
February 2023 - $621,912
Despite a substantial 32% rise in new listings from the previous month, numbers are still significantly below the average for this season, exacerbating the supply-demand discrepancy. The result is a more competitive market, with months of inventory declining from 1.8 in May 2022 to 1.7 this year. The strain on listings is mirrored in home prices.

Turning our attention to the unadjusted MLS® HPI Benchmark Price across the LSTAR market region at $619,800 in May, a modest 1% price increase over April. This is despite being 11.9% lower than May 2022.
3 Most recent MLS® listings in London.
View Homes in London
See detailed information & photos.
View Homes for Sale
This increasing price and dwindling stock pattern is likely a direct result of the Bank of Canada's policy rate hikes in 2022. While these strategies were effective in curbing inflation and decelerating the housing market's remarkable growth, they have also led to the current state of low supply and high demand.
We can see this at work in the average home price of the London-St. Thomas region, which was $682,561 in May. This represents a slight 0.5% decrease from April but a significant 10% decrease year-over-year.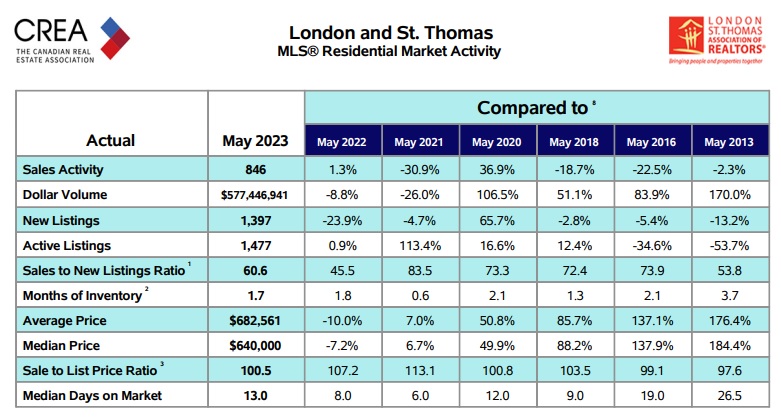 There are also some regional differences to consider. While London remains the priciest market, the average home price in St. Thomas for May 2023 increased by 0.9% compared to April but decreased by 5.6% year-over-year. In contrast, Middlesex has seen a more significant fluctuation in sales and average prices, given its smaller market size.
Different property types witnessed varying price changes, underscoring the unique dynamics at work within each submarket. For example, detached homes recorded an average selling price of $708,251 in May 2023, a decrease of 1% from April. In contrast, condo apartments saw a month-on-month price increase of 6.5%.
Despite the recent surge in sales, the market remains restrained by a lack of inventory. New listings in London dropped by 23.9% year-over-year in May 2023, contributing to active listings count of just 1,012.
3 Most recent Condo listings in London.
View Condos in London
See detailed information & photos.
View Condos for Sale
London's housing market had surfaced as one of the fastest-growing markets in Canada, drawing many first-time homebuyers and newcomers as a more affordable alternative to Ontario's pricier regions. However, recent policy rate increases, and higher mortgage rates have induced a decrease in home prices.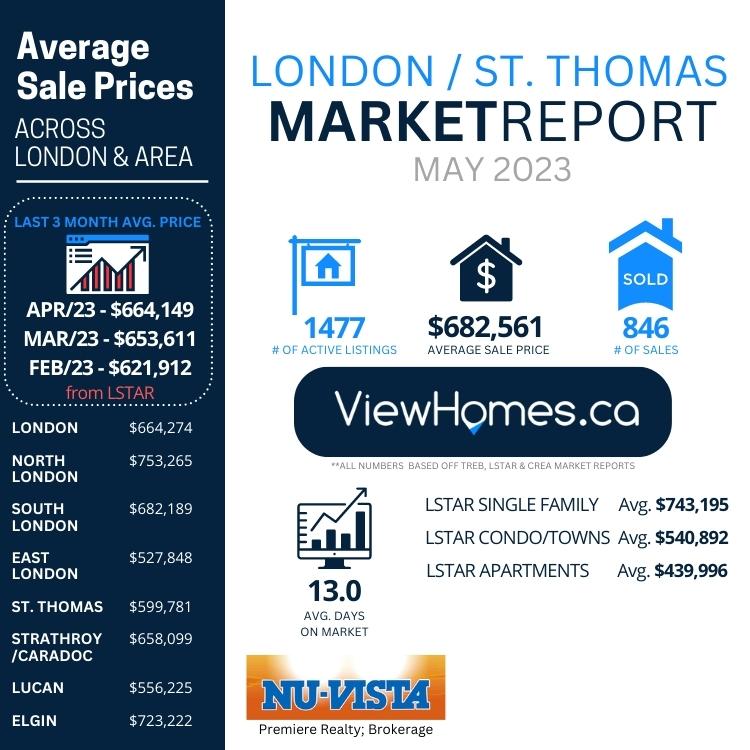 3 Most recent listings in St. Thomas.
View Homes in St. Thomas
See detailed information & photos.
View Homes for Sale
Do you have questions about the Housing Market in London & St. Thomas?