Planning a Move? Complete Guide to Niagara Falls Ontario [2020 Edition]
Posted by Kurtis Forster on Friday, February 14, 2020 at 7:04 AM
By Kurtis Forster / February 14, 2020
Comment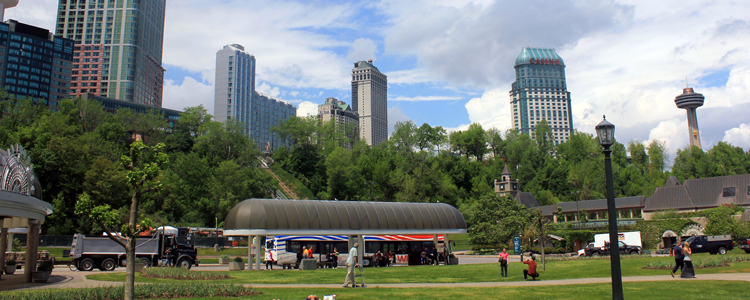 It may be known for being the Honeymoon Capital, however, Niagara Falls, Ontario is so much more than that to the residents of the city. Beyond the power and beauty of the Falls along with the attractions and entertainment, the city boasts a rich history that connects the past to the present. A blend of historic homages and modern amenities are combined to create a city that is known around the world.
Jump To: Population | Location | Real Estate | History | Things to Do | Restaurants
Population of Niagara Falls
Niagara Falls, Ontario is located along the western bank of the Niagara River in the Golden Horseshoe region of Southern Ontario. According to the 2016 National Census, the population of Niagara Falls is 88,071. Niagara Falls' population falls within the average when compared to neighbouring cities. Nearby St. Catherines, Ontario sees a higher population with approximately 133,000 residents, whereas Welland is lower with roughly 52,000. As far as its name sharing city across the border, Niagara Falls, New York, the Canadian city has significantly more residents, however it also is about 150 square kilometers larger.
Where is Niagara Falls, Ontario?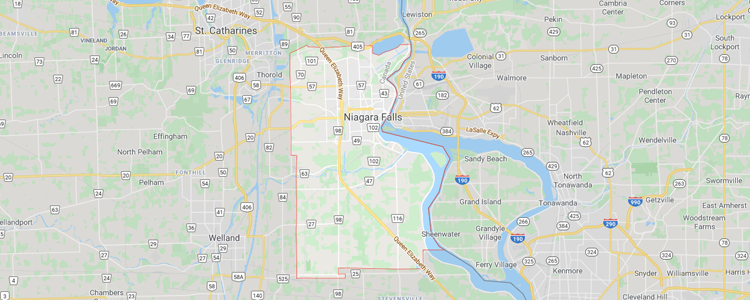 The city of Niagara Falls, Ontario lies directly along the border between the Province of Ontario and the State of New York. Situated between Lake Ontario to the north and Lake Erie to the south, Niagara Falls is close to a number of larger cities as well as scenic, lakefront towns that border both Great Lakes.
Nearby cities such as St. Catherines, Welland and Niagara Falls, New York are all within 25 kilometers away. Toronto, Ontario is located north, across Lake Ontario, and takes approximately an hour and a half to reach. Other notable cities such as Hamilton, is just under an hour from the Falls and London, Ontario is 2 hours.
Connecting to these cities can be done through different means of travel. Greyhound bus services or ViaRail both offer options from surrounding cities to Niagara Falls routinely. Other options include the GO Transit running between Burlington and Niagara Falls or Megabus which starts in Toronto and passes through the city en route to New York City. Public transportation within the city of Niagara Falls is operated by Niagara Transit and offers routes throughout the downtown area and surrounding neighbourhoods.
The city of Niagara Falls has two school boards, the District School Board of Niagara and the Niagara Catholic District School Board. The public board manages the schools within the city of Niagara Falls along with the twelve surrounding municipalities. There are currently 97 Elementary Schools and 18 High Schools that fall within its jurisdiction. The Niagara Catholic District School Board governs the Catholic schooling options within the same region, managing 49 Elementary Schools and 8 High Schools. Along with these two boards there are a number of privately funded schooling options available.
View homes for sale in Niagara Falls >>>
Real Estate in Niagara Falls, Ontario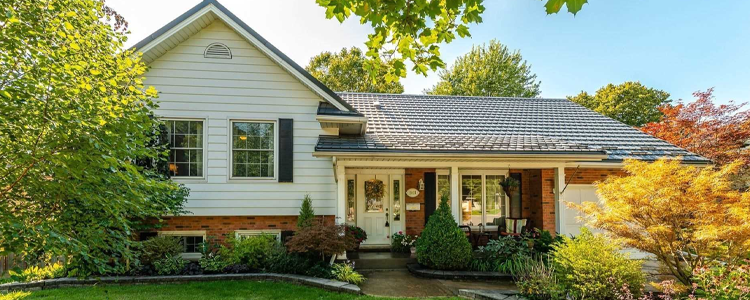 Niagara Falls has experienced a well-balanced real estate market over the last number of years, and that trend is expected to continue in the upcoming year. In 2019, the average residential sale price fell around $427,000, which was a significant increase from the previous year, seeing a 13% increase. 2020 is projected to see considerable growth as well, however closer to 6-7%, which is based on historical price appreciation. This increase would see the average home in Niagara Falls costing roughly $457,000.
Stamford
Considered a community within Niagara Falls, Stamford has become a desirable area for many moving to the city. Originally a township that amalgamated with the city of Niagara Falls in 1962, Stamford offers a mix of real estate options for those interested in the area. Condos, townhomes, multi-family and single family residential real estate are all available. Homes for sale in Stamford are generally accompanied by a higher than average price tag as its eastern location in the city allows for commuters from neighbouring cities to have quicker access to work. Homes for sale in Stamford can be found covering a wide range of pricing, starting as low as $300,000 and climbing to the multi-million dollar mark.
Residents of Stamford enjoy access to number of parks and recreation facilities as well as necessary amenities and stores. Set away from the hustle and bustle of the tourist area of Niagara Falls allows for residents to enjoy a quieter and calmer residential neighbourhood.
View all homes for sale in Stamford>>>
Chippawa
Originally founded as a Village in 1850, the community of Chippawa became part of the city of Niagara Falls in 1970. The area boasts stunning waterfront properties and a strong sense of community. Located along the Niagara River, approximately 2km upstream from the Falls, Chippawa has become a popular residential area for those seeking housing in the city. Once the home a famous director James Cameron and Canadian heroine Laura Secord, Chippawa offers a mixture of real estate ranging from amenity rich condominiums to large, waterfront homes. Prices for homes in Chippawa can be found starting in the mid to high $200,000's and see a significant price increase as one moves closer to the waterfront. Homes along the river's edge are generally priced beyond the million dollar mark.
View all homes for sale in Chippawa >>>
Willoughby
Located in the southern portion of Niagara Falls, Willoughby is a community that offers a choice of luxury real estate. Close to golf courses, waterfront and upscale amenities, Willoughby was originally a separate township that merged with the city of Niagara Falls in 1970. Large, stately properties with ample lots make up a large portion of the real estate in Willoughby. Real estate prices for the area range and heavily depend on size, location and proximity to the water's edge. Real estate can be found between mid to high $400,000's and quickly reach the multi-million dollar range.
Those residing in Willoughby enjoy access to a number of golf courses, parks, conservation areas and green space. Set away from the tourist areas of Niagara Falls, Willoughby offers scenic surroundings and tranquility.
View homes for sale in Niagara Falls >>>
History of Niagara Falls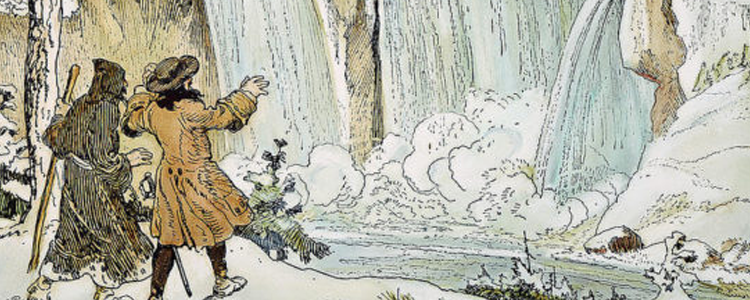 Niagara Falls is steeped in history. Long a part of the Iroquois Confederacy Territory, the area did not see its first glimpse of European settlement until the 17th century.
The first European visitor, to what is now known as Niagara Falls, was Louis Hennepin, a french priest and missionary. The first settlers of Township Number 2 (which was its original name) was Philip George Bender and Thomas MicMicken. Philip George Bender is the namesake of Bender Street and Bender Hill near present day Casino Niagara.
In 1791 John Graves Simcoe renamed the town to Stamford after Stamford, Lincolnshire in England. The name stayed but now only refers to the neighbourhood northwest of downtown Niagara.
The town of Clifton (namesake for the famous Clifton Hill) was incorporated in 1856. The area was finally renamed to Niagara Falls in 1881. In the year 1882 the community of Drummondville was incorporated as the Village of Niagara Falls and was often referred to as Niagara Falls South in order to differentiate from the town.
Finally, in 1904 the town of Niagara Falls and the village of Niagara Falls amalgamated to simply, Niagara Falls. Stamford was amalgamated into the area in 1962, which essentially doubled the population of the city.
During municipal restructuring in 1970, the Niagara Regional Government was created and the city of Niagara Falls absorbed the village of Chippawa, Willoughby Township and part of Crawford Township, creating the present day boundaries.
Things to do in Niagara Falls Ontario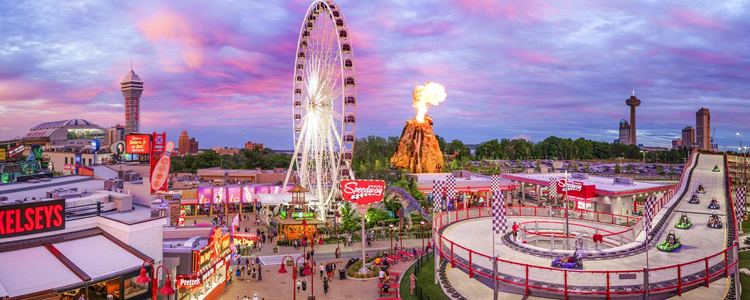 There is no shortage of things to do in Niagara Falls. The city is alive at all hours of the day and the ever popular Clifton Hill and downtown Falls area provide around the clock entertainment, dining and nightlife. Beyond taking in the sheer magnitude and glory of the Horseshoe Falls, there are a number of experiences that can be had that allow for an up close look.
Jump on board and experience the American Falls, Horseshoe Falls and Great Gorge like no other. The Voyage to the Falls Boat Tours offer breathtaking and intimate views of the falls where visitors will get a chance to take in the once in a lifetime view. Book a twilight tour or fireworks tour and enjoy seeing the Falls colourfully illuminated.
This year-round attraction provides visitors with a stunning view of the Falls from below - and behind. Descending down 125 feet through bedrock, at the base of the falls are two observation decks that allow for unique views of the massive amounts of rushing water. Along with the magnificent views, visitors will be able to learn about the history and evolution of the Falls.
What better way to take in the Falls then with an unobstructed view from high in the air. Thrilled passengers will have an experience that won't soon forget! Beyond the Falls, riders will have a chance to see the Niagara Region from an eagle's eye view.
Thrill seekers will be in all their glory on the Wildplay Mistrider Zipline! The fully guided tours have been dubbed the "flight without feathers", and provide riders will a truly unique fallsview experience. Soaring 2,200 feet and travelling at speeds up to 70 km/hour, this attraction will not disappoint! Take in the magnitude of the Falls and Great Gorge from a completely new perspective on the Wildplay Mistrider Zipline!
Beyond the Falls
Though known for the Falls, the city offers so much more to see and do for residents and visitors alike. Clifton Hill, Lundy's Lane and Falls Ave are all jammed packed with a multitude of experience and entertainment options. From Louis Tussaud's Wax Museum to Nightmare Fear Factory, there is a sea of choices for those seeking fun!
Along with an array of family friendly activities, adults can enjoy the abundant nightlife that downtown Niagara Falls boasts. From extravagant Fallsview dining to world class casinos, date nights have never been easier or more fun!
For outdoor enthusiasts, the city of Niagara Falls has plenty of parks, greenspace and golf courses to be enjoyed. In the southern area of Niagara Falls are a handful of golf courses such as Grand Niagara Golf Club, Legends on the Niagara Golf Course, Rolling Meadows Golf and Country Club, and The Links of Niagara at Willodell.
View homes for sale in Niagara Falls >>>
5 "Must-Try" Restaurants in Niagara Falls, Ontario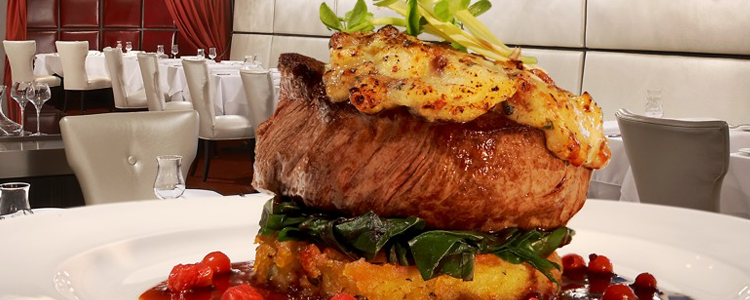 A true farm to table experience, the AG Inspired Cuisine Restaurant prides itself in offering the freshest ingredients - so much so that they grow the food themselves! Ingredients for their mouthwatering dishes are complemented by local wines from nearby Niagara-on-the-lake. Seasonal options range depending on time of year, so returning time and time again will have you constantly trying something new!
Set among a rustic chic atmosphere, Tide and Vine Oyster House serves up surf and turf along with a tasty, seafood menu. Offering a causal approach to fine dining, freshness is key! For those wishing to divulge in something besides seafood, their wide range menu and award winning wine list is sure to please.
This long time establishment has become a staple in the dining scene of Niagara Falls. The relaxed and welcoming atmosphere is second to the authentic dishes served at Napoli Ristorante Pizzeria. Napolian style pizza, fresh, handmade pasta and award winning wines has made Napoli Ristorante Pizzeria one of the most loved restaurants in the city.
When Wienkeller says local they mean it! Making their own wine and sourcing ingredients from local growers ensures that everything that is ordered is as fresh as can be! With an ever changing and evolving menu, Weinkeller offers a number of contemporary dishes and menu options that will be sure to please anyone who dines here!
Doc Magilligan's Restaurant and Irish Pub has quickly become a "go-to" spot for craft brews, great music and good company. Traditional Irish meals at the Victorian style hang out makes for the perfect night out. Fresh ingredients and extensive bar options make Doc Magilligan's Restaurant and Irish Pub an obvious choice for many!
Niagara Falls, Ontario is far more than just a honeymooner's getaway - a vibrant and historical city that is filled to the brim with activities, entertainment, dining and shopping have made it an ideal place for so many to call home!