Hamilton & Burlington Real Estate and Housing Market Updates (2022 Stats)
Posted by Kurtis Forster on Friday, March 11, 2022 at 8:17 AM
By Kurtis Forster / March 11, 2022
Comment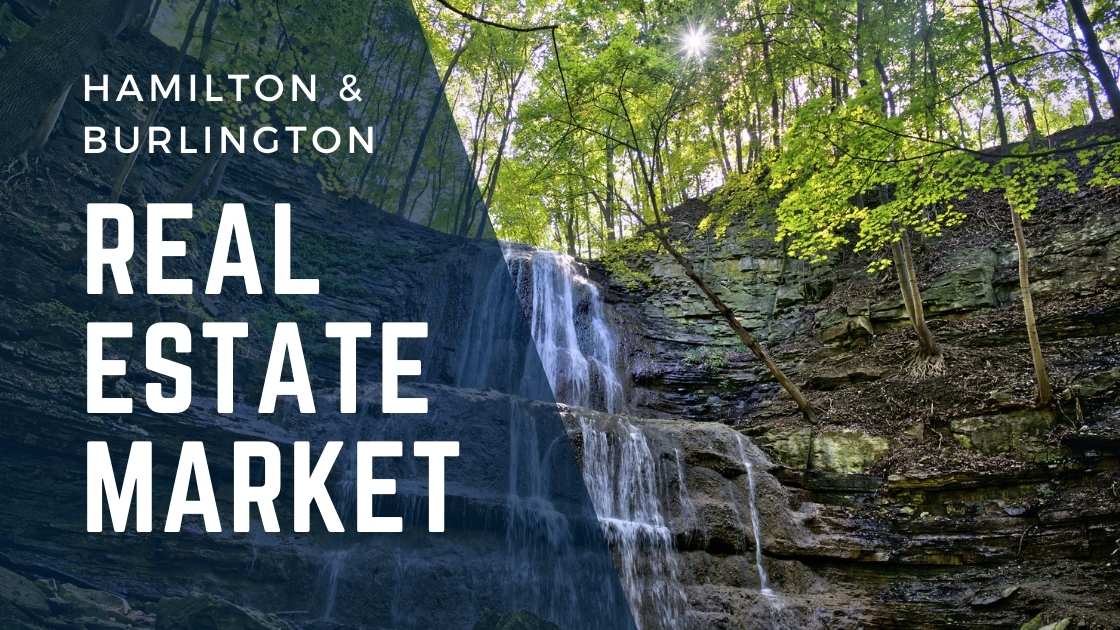 Hamilton & Burlington Housing Market 2022
The Hamilton housing market & Burlington housing market are having a tremendous surge in housing prices this year, most notably in the detached homes and condos, especially in Burlington. The story is similar across the province. It is no surprise that a city as large as Hamilton and its region have followed suit, given its proximity to Toronto and its own booming economy.
Newest Real Estate Market release | FEB 2022 snapshot!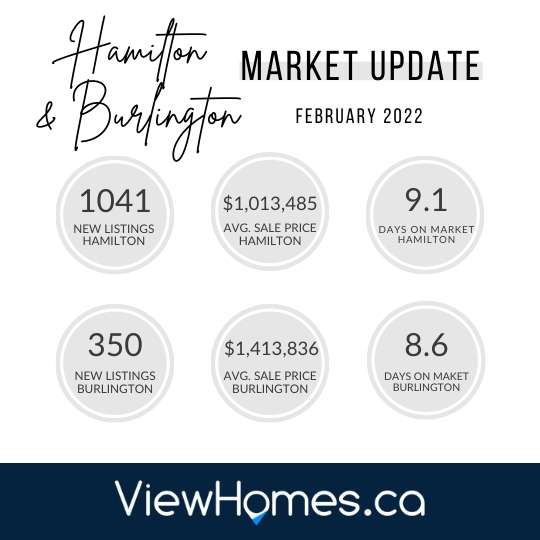 View the full report for FEBRUARY 2022
The average price across all residential properties in Hamilton & Burlington reached a record high of $1,058,756 in January 2022, tipping it over the $1M mark for the first time in history. This is a remarkable increase of 34.7% across the board from January 2021.

Sales of residential real estate in the Hamilton & Burlington region have decreased somewhat in 2022, but not enough to explain the level of price increase overall. Compared to January 2021, the number of sales across all categories of residential real estate in the region has decreased by 13.5% in January 2022. This is similar to the number of new listings, which dropped 11% within the same time frame.
Different regions in the area command slightly different price points. Hamilton proper had an average residential real estate sale price of $976,423; Burlington was $1,369,337; Niagara North was $1,045,801, and Haldimand County was $873,280.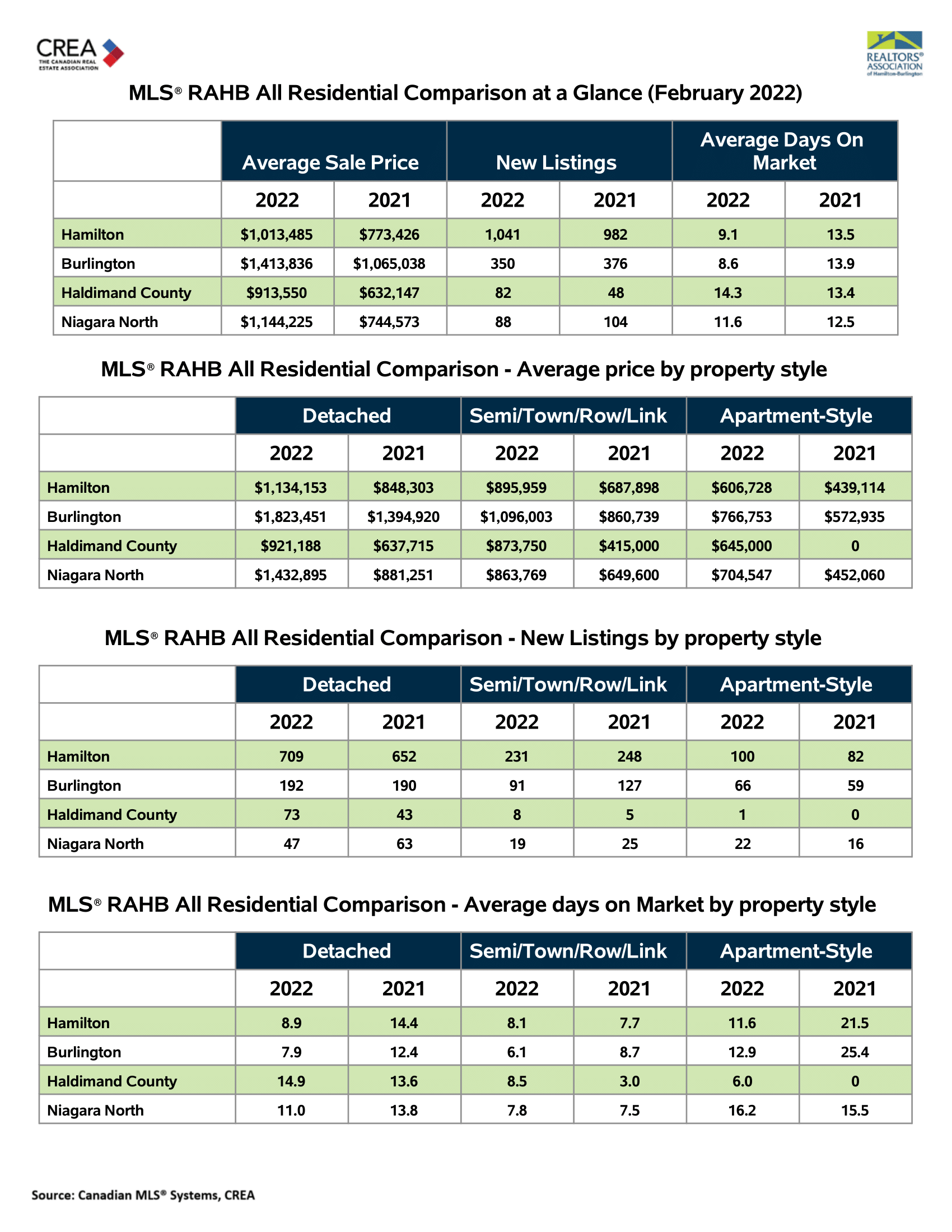 These sales numbers include townhome and condo sales alongside detached home sales in the region.
Getting more fine-grained, we can specifically look at the statistics for detached homes. For example, the average sale price of a detached home in Hamilton & Burlington has increased by 35.8% since January 2021 to the all-time high of $1,220,795 in January 2022.
The difference in prices of detached homes between the Hamilton real estate market and the Burlington real estate market is even more dramatic than the overall average for all types of residential real estate. For example, the average price of a detached home in Hamilton at $1,089,916, while Burlington's average detached home sits at an astounding $1,765,884.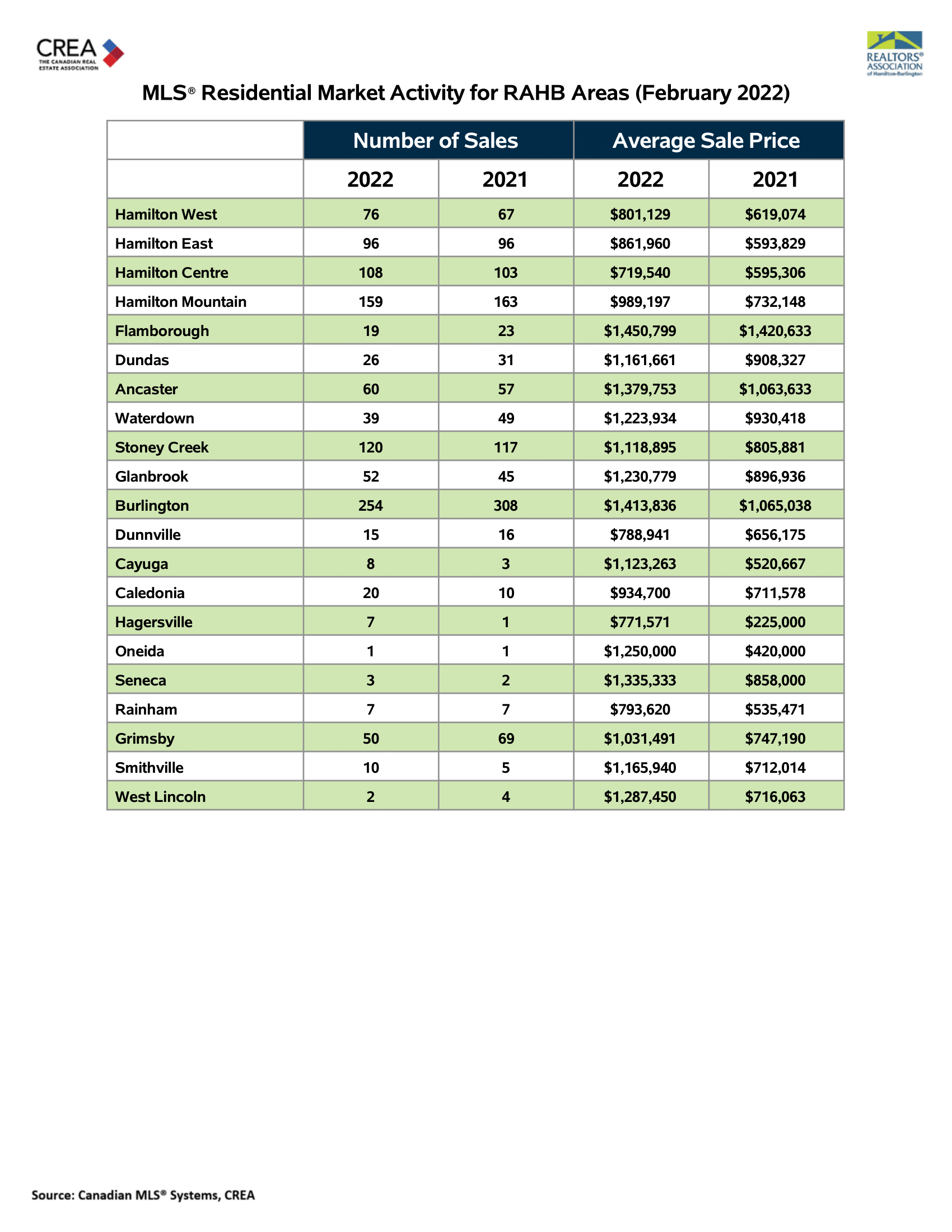 The steady and significant price increases may partly be explained by decreasing supply, with a small drop of 8.7% of new listings from January 2021 to 2022. However, with reduced supply comes increased competition for the houses that remain.
However, sales of detached homes in the region have been slowing down, with sales decreasing by 16.9% compared to January 2021. This may spell the beginning of the end of an ever-increasing market. However, the market has been so hot for so long that it's unclear what will happen going forward.
Moving forward, townhomes paint a similar picture to detached homes in the region, with the average price for a townhome in the area being $891,988, a significant increase of 34.1% compared to January 2021.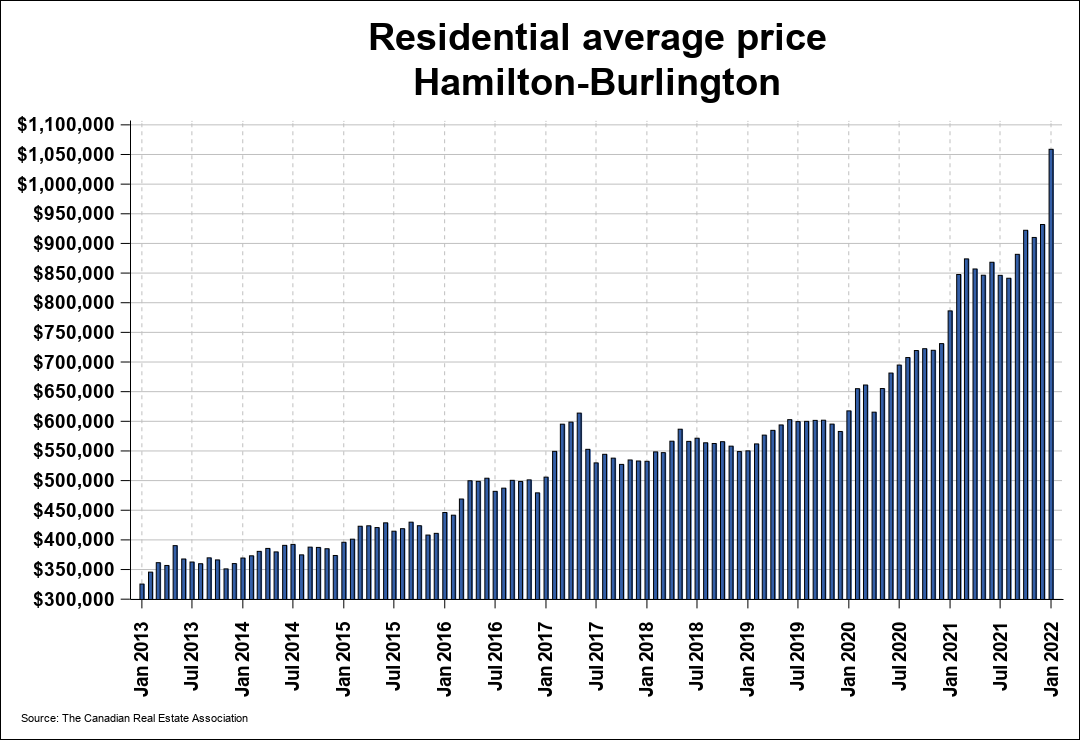 Source - REALTORS® Association of Hamilton and Burlington | CREA Statistics
The number of new listings is down 9% from January 2021 to January 2022, and sales are down 6%. These are less dramatic numbers overall but show similar trends to detached homes.
Comparing the cities separately, Hamilton's townhomes reached an average sale price of $860,992, while Burlington's came in at $1,022,625 in January 2022. This puts townhomes in the region at similar price points across the two cities. Townhomes also have the lowest inventory amongst residential property types in the area, making them relatively rare to find.
Last but not least, condos in the Hamilton-Burlington region saw an average sale price of $686,169, an astounding 44.1% increase in price compared to January 2021.
This comes at the same time as a substantial decrease in condo availability, with the number of new listings for condos decreasing 20.5% since January 2021. In addition, the sales of condos in the region have only slightly slowed, with a decrease of 6.3% in the same time frame.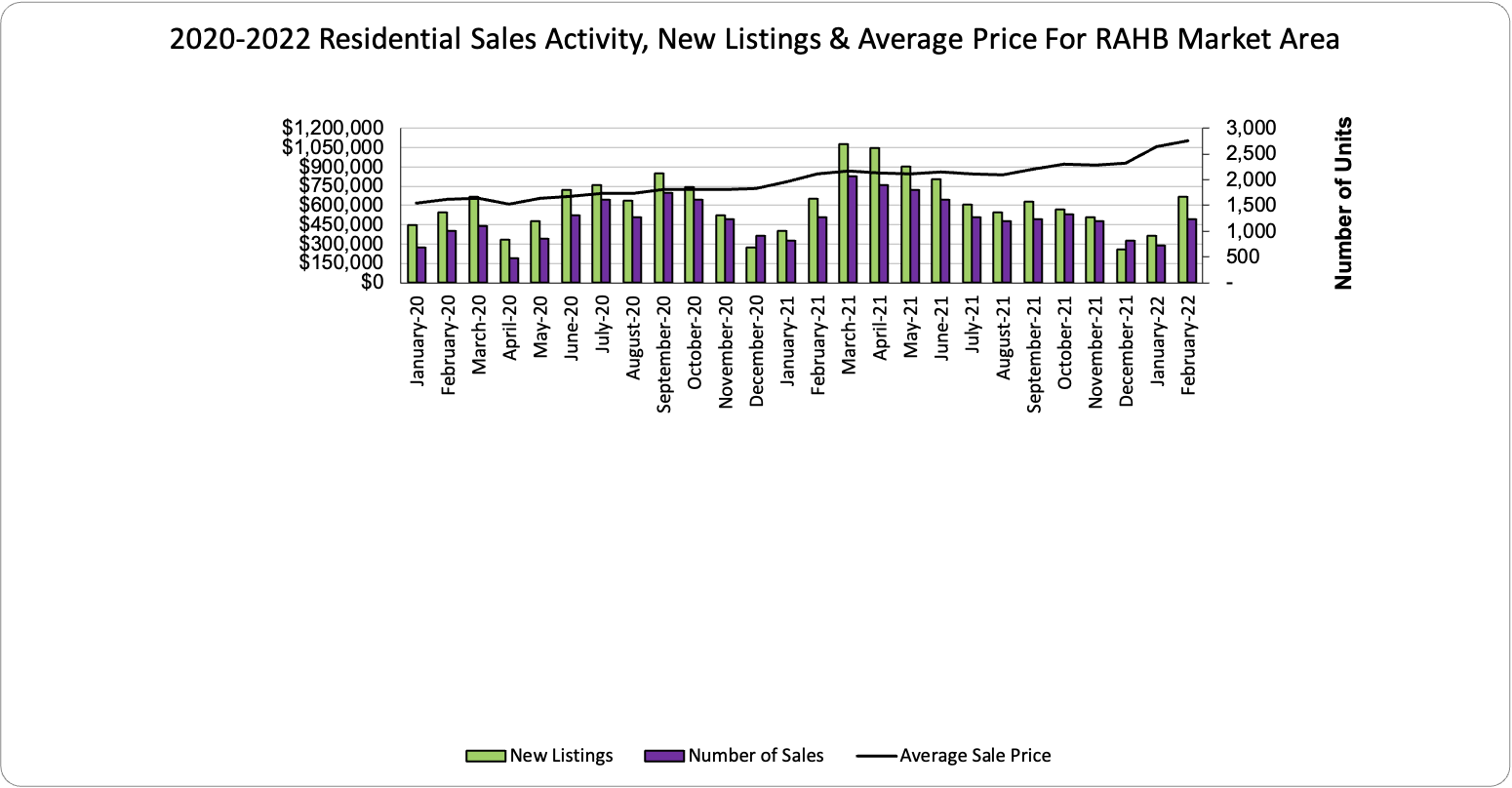 Source - SALES AND NEW LISTINGS CLIMB IN FEBRUARY | REALTORS® Association of Hamilton-Burlington (rahb.ca)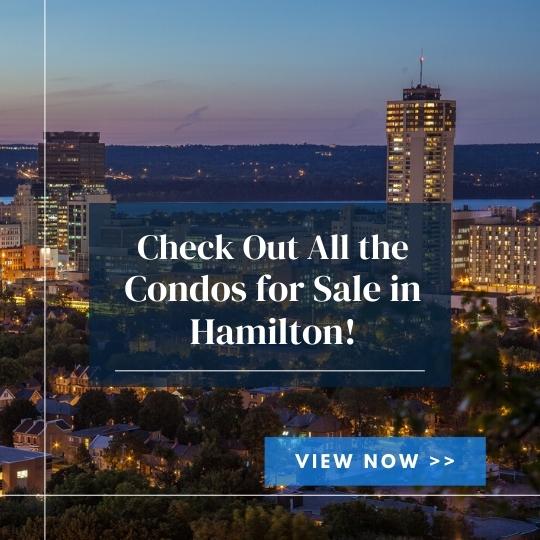 Compared with other forms of property in the area, this makes condos the most red hot commodity on the market. Although prices are increasing dramatically, the relatively low cost of condominiums in the area has driven sales for those looking for a more affordable price point.
In Hamilton proper, the average sale price of a condo was $424,357 in 2021 but has increased by 34.7% to $571,988. There is a much starker contrast in Burlington, going from $514,463 to $824,040, a monumental 60.3% increase.
Looking at the numbers, the desire for prime real estate in Burlington seems strongest, but Hamilton also has commanded steadily increasing prices. Condos and detached homes, in particular, have been skyrocketing in the region.
Overall, the Hamilton & Burlington region trend has followed that of Ontario in general, hitting its highest extremes in the condo and detached homes markets of Burlington. Inventories remain low while demand continues to drive prices up, although sales have been slowing down year over year.
As always, remember that things are in flux. It is not clear whether these trends will continue with the pandemic coming to a slow but eventual end, or whether they will change dramatically. Therefore, it's best to keep yourself grounded and talk to your real estate agent about your best options.
Full Stats from RAHB by Most Recent Month
(RAHB = REALTORS Association of Hamilton and Burlington)