How Much Does a Home Cost in London, Ontario?
Posted by Kurtis Forster on Friday, November 8, 2019 at 11:56 AM
By Kurtis Forster / November 8, 2019
Comment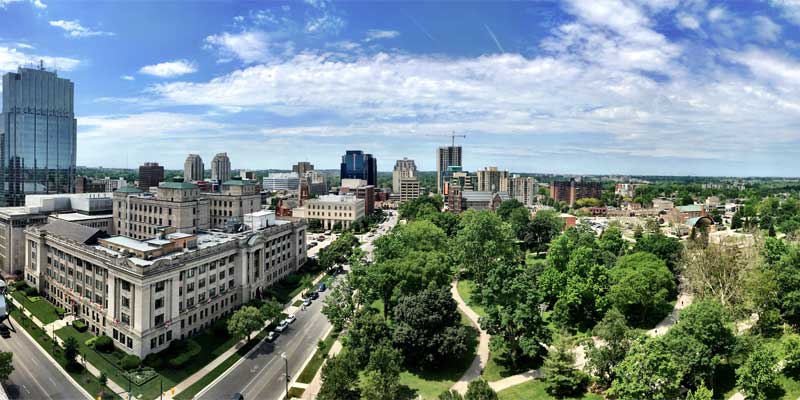 London is a city in southern Ontario, with a rich history of arts and culture. It is further a hub for festivals and music, and an essential setting for theater and literature. London's economic growth focuses on science, medical technology, research, the IT industry, manufacturing, and insurance.
Much of the medical research is supported by the University of Western Ontario, adding significant value to the economy each year.
Home to a population of just over 389,000 people, London, Ontario, is a growing city with continued growth and expansion planned in the coming years. In the last eight years, London's population has grown by nearly 40%. This year, London is also experiencing the lowest unemployment rate they have seen in 10 years, demonstrating a thriving economy.
London is growing at such a rapid rate that the housing market is having trouble keeping up. The average house price in Canada is currently around $494,000 - so how does London compare?
The housing market in London is currently regarded as a seller's market.
There were 912 new listings in July 2019. The average number of days a house is on the market for is 13.5 days, up from three days in June 2019.
The average house price in London and the St. Thomas Association of Realtors jurisdiction, which includes London, St. Thomas, Elgin County, Middlesex County, and Strathroy, was just over $404,000.
London East
In July 2019, London East saw 262 new listings, according to LSTAR. The average sale price of those listings were just over $330,000. That is a 14% increase over last July. The sales activity in London East in the previous five years has fluctuated but is overall in the green.
London East is a diverse place. From a planning district to farmland to neighborhoods full of 2 story homes with garages and ranchers, you can find what you're looking for on this side of the city. Houses in this area can range from $200,000 to over $800,000.
Argyle, in the East of London, is a growing community with a lot to offer. It's a neighborhood with convenience and is home to over 27,000 people. With many options for shopping and dining, parks and nature, Argyle is a great option for those looking for a home on the East side of London. Many of the homes in this area are from the 1950s, so prices for single-family homes is around $200,000 to $400,000. If you're looking for a more conservative neighborhood with close access to all the amenities you look for in a city, Argyle is a great option.
Old East Village is directly in the heart of London. Historical brick homes, heritage homes, bungalows with character and history are abundant in Old East Village. This community is close to parks and the Western Fair Casino, downtown, and all the amenities to lead an active lifestyle while having some fun. Houses in this area typically start in the $ 200,000's.
London North
London North saw 304 new listings in July 2019, with the average sale price being a whopping $488,000. To put that in perspective, that is over $120,000 more than the average house price in Edmonton, Alberta during July 2019 - a city with a population of over 4 million.
The London North sale price is up 10.6% over last year. Some of London's most sought after neighborhoods are in the North of the city.
The Thames River borders the community of River Bend and is considered one of the most desirable neighborhoods for home buyers. There is a lot to do in River Bend: 5 golf courses, social clubs, shopping, excellent schools, trails and pathways, wildlife, and more. River Bend offers the best of both worlds of nature and the great outdoors while being close enough to downtown and all that the city has to offer. The community has grown over 200% since 2006, and for a good reason.
Another London North community that is desirable about is Stoneybrook. While it's still a bit tucked away with only 7,000 residents, this community offers larger 1980's built homes and larger plots of land. Like River Bend, Stoneybrook offers the city amenities as well as the ability to explore nature. It's a great family area with schools and the Western University nearby. Houses in this area can range from $350,000 to over $800,000.
London South
London South is the area of London with the highest growth year over year. With 346 new listings and an average sale price of just over $430,000, the South is up 16.4% since last year. These sales are consistent in the previous three years.
Bryon is a beautiful neighborhood in the South that is home to people of all walks of life. The average income is about $70,000, and the average house is worth about $300,000. This neighborhood is excellent for first time buyers or families. There are a lot of single-family homes with large private lots, detached condos, and more.
Summerside is a newly developed area in London, which means the community is mostly made up of single-family dwellings on smaller lots. There is a lot of great outdoor space, including parks, a tennis court, and a soccer field. It's close to walking trails, schools, and the Thames River. The average property price in Summerside is still on the lower end, coming in at an average of $295,000.
Lambeth is a community that feels like a small town of its own. Thriving local businesses, charming buildings, farmhouses and bungalows, the average home in this unique neighborhood is around $375,000 to $400,000.
As London's economy continues to explode and grow, the housing market will see changes. The Ontario government is reportedly looking for ways to introduce more affordable housing for the residents of London. London is home to so many different types of communities, with so many options. From heritage homes to brand new developments and everything in between. Homebuyers in London are sure to find what they're looking for, for a price in line with the national average.