Buying a Home in Welland, Ontario | The Ultimate Guide
Posted by ViewHomes.ca Team on Saturday, March 18, 2023 at 8:14:06 AM
By ViewHomes.ca Team / March 18, 2023
Comment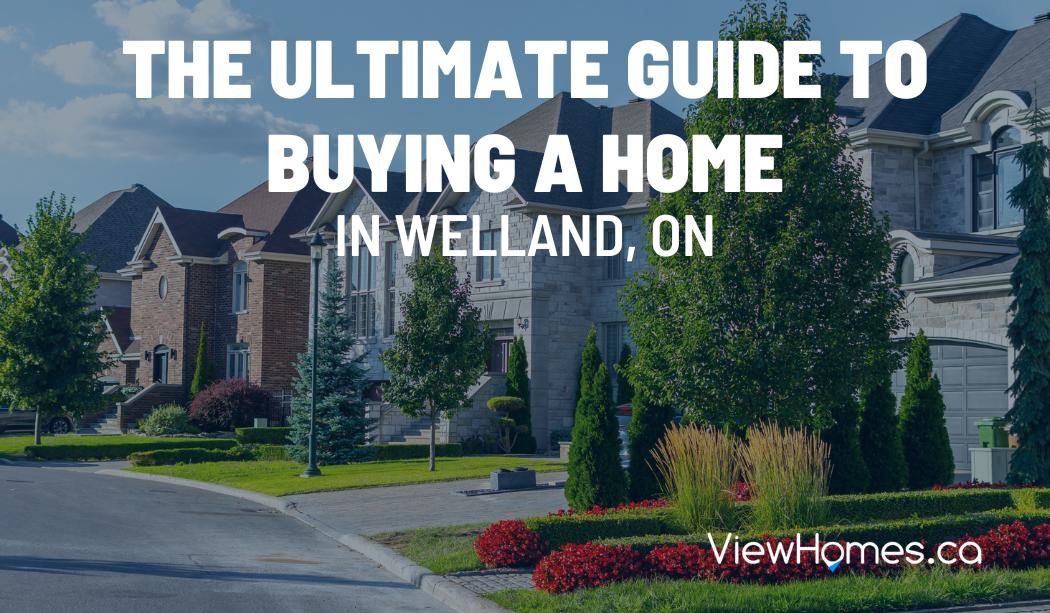 Welland, Ontario is one of the more affordable cities in the Niagara Region and a great spot for home buyers to keep an eye on as the overall real estate market in the region heats up. Whether you are looking for a property upgrade, downsize or searching for your first-ever home, house-hunting in Welland has its advantages.
View Homes for Sale in Welland >>
The Cost of Buying a House in Welland, Ontario
Naturally, the biggest question about buying a home is the price. As it happens, Welland has some of the lowest average prices in the Niagara Region and its central location appeals to residents who might need to travel to other cities for work or school. For a more accurate reflection of the average cost of a home in the region, the Niagara Association of Realtors uses a Home Price Index (HPI). HPI figures are based off of a composite benchmark that represents the average home in the region. In Niagara, this home is a 3-bedroom, 2-bathroom house with a single garage that is between 51 and 99 years old. By the end of 2020, the HPI benchmark price was $476,300 for the entire region. By comparison, the benchmark price in Welland was $381,100. Moving into early 2021, real estate statistics are still on the rise and showing no sign of slowing down, so now is a great time to try and move around or enter the housing market for the first time.
Recently Listed For Sale in Welland
On the surface, the HPI benchmark is just a guideline. There are homes in Welland that are going to be listed for below the benchmark and those that are listed above it. Knowing the average is a good starting point for choosing an area in the city and for knowing a good deal when you see one. Your second step should be getting pre-approved for a mortgage. It tells the seller that you are prepared to buy and it means that your finances are organized for your own needs as well. When it comes time to finance a property, you will want to understand how a mortgage works. A traditional mortgage requires 20 percent down, but there are many plans out there with different fee and payment structures, so shop around to find what works the best for you as a buyer. The most important thing to consider is that there are more fees and expenses involved in buying a house than just the sale price, so you can't completely drain your bank account to purchase the home. Keeping an additional two months of living expenses as an emergency fund is highly recommended.
When to buy a home in Welland, Ontario
Another key factor in buying a home is timing. Because of a lower supply of houses than there is demand, Welland, Ontario is considered a seller's market. For buyers, this can mean a very hot, competitive market where homes don't stay listed on the market for long. In Welland, the highest number of properties are listed between June and September, making this a busy time for home buyers looking to secure a great home. As a buyer, this means that there is a lot more inventory to choose from, but it also means that the competition for a house is at its fiercest. Summer is a popular time to buy for families who want to disrupt their children's school year as little as possible.
If you aren't under pressure from a strict timeline, then it might be in your best interest to wait for the market to calm. The quietest time to explore the Welland home market is during the winter months of November, December, January and February tend to have the fewest number of new listings, fewest sales and the longest average days on the market.
Know what to expect when buying a home in Welland
When you have questions about pricing, neighbourhoods, schools and other local amenities, consulting a real estate professional is the best way to get the answers. A real estate agent who knows the market also knows what to expect from the buying process in their region of expertise. They are the best connection you will make if you are trying to enter the home owning market in any city. Review the credentials of real estate professionals in the area and give your business to someone you trust.
View Homes for Sale in Welland >>
If you want to know more about Welland, Ontario, we have written a few posts about what you can expect from the city. See our Ultimate Guide to Moving to Welland for general information and the Best Neighbourhoods in Welland for specific details about the best areas to live in the city. If you are interested in how Welland schools rank, we've written about both the Best Elementary Schools in Welland and the Best High Schools in Welland.
Need Help Getting Started with your Home Search?