The Best Restaurants in Kitchener, Ontario
Posted by ViewHomes.ca Team on Sunday, March 26, 2023 at 9:33:52 AM
By ViewHomes.ca Team / March 26, 2023
Comment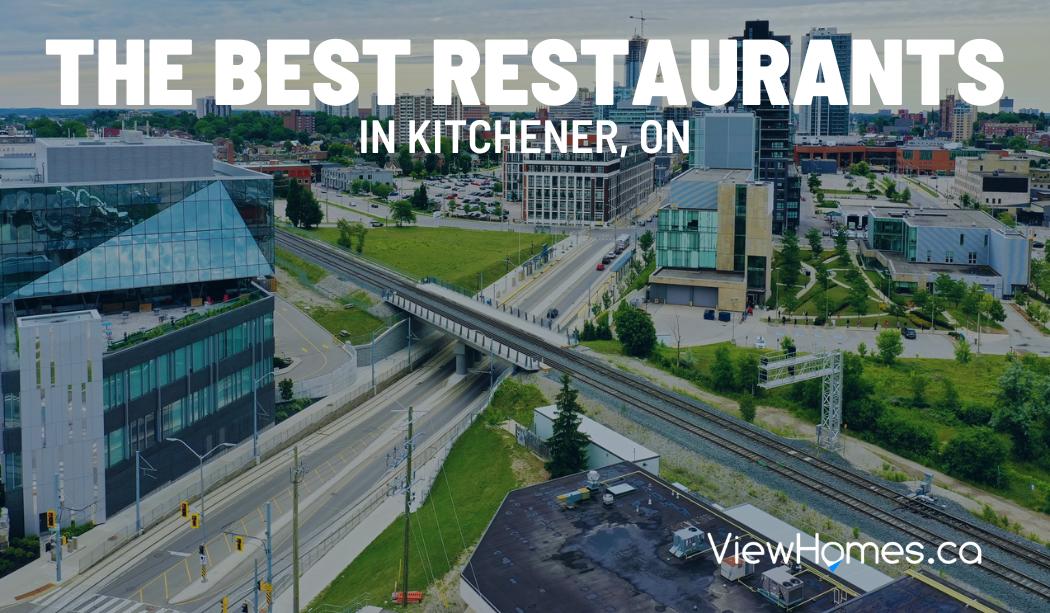 If you are looking at moving to Kitchener, Ontario, then making sure you can find a go-to cafe, bar, restaurant or takeout place is an important concern. Between Cambridge, Kitchener and Waterloo, the Tri-City area is a cluster of great spots for food-lovers. Kitchener in particular has a lot to offer residents and visitors who are out on the town seeking something new to try. With a diverse population of over 200,000 people, Kitchener has one the most varied collection of restaurants outside of the Greater Toronto Area. We've organized 20 absolutely fantastic restaurants by category to help narrow down your new favourite dining destination.
Jump to Best Restaurants by Type:

The Best Breakfast and Brunch or Lunch Restaurants in Kitchener
Eating out for breakfast or brunch is a great way to start the day on the best note possible. Between homey cafes, family restaurants and traditional diners, Kitchener has no shortage of options for breakfast food. Here are five of the best places to go for the most important meal of the day. Some of these options even let you try their breakfast menu all day long!
1. Fireside Deli & Family Restaurant
If you are looking for a breakfast, lunch, dinner or something somewhere in between, Fireside Family restaurant has a meal on their menu to hit the spot. This south Kitchener restaurant is located on Ottawa Street South with options for dining, takeout or catering. Breakfast is served until 2pm every day that Fireside is open. Their breakfast menu has egg plates, melts, omelettes, sandwiches and wraps. For guests who want to start the day with something sweet, Fireside also serves pancakes, French Toast, crepes, waffles and smoothies. Their menu includes the option to build your own custom omelette or Belgian Waffle creation.
2. Darlise Cafe
Darlise Cafe is a local cafe that serves warm pastries, all-day breakfast and lunch. This family-friendly cafe is based in downtown Kitchener along Queen Street. They serve the breakfast classics like crepes, Eggs Benedict, pancakes, omelettes and egg scrambles with a variety of flavours and toppings to choose from. Their fresh-baked muffins come in decadent flavours like Banana Split and Butter Tart and pair with a coffee or smoothie for something light or on the side of one of Darlise Cafe's many specialty meals. Specialty items like the Chicken, Brie & Cranberry Quesadilla or a chicken, mushroom and spinach Heavenly Crepe suit dining any time of day.
3. Mel's Diner
Mel's Diner has a location in Waterloo and another in Kitchener's southwest end on Westmount Road East. Their all-day breakfast menu is perfect for guests with a big appetite and a sweet tooth. With offerings like Loaded Omelettes, skillets and six ways to enjoy Eggs Benedict, it would be a challenge to save room for the sweeter choices on the menu. Between fresh off the griddle French Toast, Belgian waffles, homemade buttermilk pancakes and specialty cinnamon roll pancakes, even choosing something sweet is a tough decision. Mel's also serves up ways to combine the best or both with their combo plates, chicken and waffle sandwich or their hashbrown waffle.

The Best Dining In Restaurants in Kitchener
Whether it's the desire to try something new or a special occasion that calls for an equally special restaurant, Kitchener's fine list of restaurants has something for any craving or request. There are so many dine-in restaurants to love in Kitchener that we've only just scratched the surface with these five.
1. Lancaster Smokehouse
Lancaster Smokehouse is all about meat. This excellent eastern Kitchener Smokehouse can be found along Lancaster Street West. Lancaster takes the time to slowly smoke their meat over hickory hardwood ensuring mouthwatering goodness in every bite. This southern BBQ restaurant serves up brisket, pulled pork, whole fried chickens, wings and ribs. They pay homage to southern spices with Nashville hot chicken, a range of BBQ sauces and stews like jambalaya and gumbo. They even have a dedicated bakery called Crumb Bakehouse that makes their delicious cornbread, sandwich buns and dessert!
2. 271 West Restaurant
271 West is a sit-down Italian restaurant located on King Street West in downtown Kitchener. They are open for lunch and dinner with a separate menu for each meal. 271 West serves their spin on traditional Italian dining options like hand-made pasta dishes, craft beer pizza crust dough and an impressive list of entrées that includes signature 271 Chicken and Salmon dishes. The menu also includes a soup of the day, salads and rice stir fry dishes. Their lunch menu also offers sandwiches and wraps packed with premium ingredients like grilled chicken, grilled salmon and philly cheese steak. Finish off the perfect meal with a flour-free chocolate cake or gluten free fresh fruit cheesecake or crème brûlée.
3. Arabella Park Beer Bar
https://www.arabellaparkbar.com/
Located in Kitchener's Belmont Village, Arabella Park offers dine-in space as well as a patio to enjoy their collection of craft beer and menu of finger food and meals designed to be shareable with friends. They keep a ever-changing selection of craft beers and cider on tap and offer 32oz and 64oz Growlers as well as cans and bottles to purchase and take home. The food pairings on offer are some the best choices to match with their on-tap selections of great craft. They serve up chip truck-style fries, burgers and shareable dishes like braised beef, crispy artichokes and the group fried chicken dream: the Clucket Bucket.
4. Kinkaku Izakaya
http://www.kinkakuizakaya.ca/kin/index.html
An Izakaya is a casual Japanese bar that tends to patrons with snacks and drinks after a long day of work. Kinkaku Izakaya brings that charm to their downtown Kitchener location on King Street West. This restaurant serves all-you-can-eat Japanese food for lunch and dinner - which has an expanded menu and longer seating time. Their menu includes a variety of deep fried, tempura appetizers, sushi, teriyaki dishes and noodle dishes like udon and ramen. As for drinks, they serve cocktails, Japanese beer and an array of Sake products including jelly sake and sake bombs. Non-alcoholic drink options include juice, soda, green tea and "Real Fruit Slush" drinks made with mango, banana, strawberry, lychee or coconut.
5. Pupuseria Latinos
https://www.facebook.com/pupuserialatinos/
This small eatery on Eby Street in the eastern end of downtown Kitchener specializes in authentic Central American food. Pupuseria Latinos is a local, family owned and operated business with a welcoming atmosphere and a very friendly staff. Their signature Salvadoran pupusas (pancake-like corn flour rounds filled with delicious toppings like cheese, beans and meat) are the talk of the town. Visitors also rave about Pupseria Latinos' tamale, tacos, enchiladas and dessert items like caramelized plantain and churros. Everything on the Pupuseria Latinos menu is fresh and delicious with a homemade quality that can't be found anywhere else in Kitchener!

The Best Takeout and Delivery Restaurants in Kitchener
Skip the prep, cooking and the cleanup by ordering takeout from some of Kitchener's finest restaurants. The city's large, diverse population means that there are flavours from all over the world to enjoy. We've found five popular restaurants that combine international and local flavours with something for everyone to try and a new favourite dish just waiting to be discovered.
1. Arabesque Family Restaurant
https://www.arabesquecafekw.com/
Arabesque is a Lebanese, Middle Eastern & Mediterranean restaurant located in northeastern Kitchener along Victoria Street North. They specialize in authentic Arabic favourites like shawarma, kebabs, soups, salads and dips. Their menu is available for takeout or by an in-house delivery service that they offer for a fee based on distance from the restaurant. Reviews rave about Arabesque's shawarma, platters and hummus with extra points for their ample dip serving sizes.
2. The Crazy Canuck
With a location in Waterloo and one in Kitchener, this popular BBQ joint offers comfort food classics at maximum convenience. Their Kitchener location is on Ontario Street North in the downtown core with additional coverage thanks to food delivery apps like Skip the Dishes. The Crazy Canuck is downright famous for their poutines which come fully loaded with meal-inspired flavours like smoked meat, pizza and "Greek Tzatzik" - red onions and olives topped with tzatziki and feta cheese! Another popular menu item is their Classic Canuck Pizza: a cheesy delight topped with a trio of pulled pork, bacon and ham.
3. Red Ginger
Red Ginger combines Thai and Vietnamese cuisine in their colourful menu. The restaurant is based on Highland Road West in western Kitchener. They offer takeout as well as delivery options through Uber Eats and DoorDash. They serve a variety of delicious appetizers and meals perfect for a solo flavour adventure or sharing with friends and family. One menu highlight is their Bami Goreng, stir-fried egg noodles, chicken skewers, shrimp and vegetables coated in a spicy peanut sauce. If you are in the mood for seafood, one popular option is the "Sizzlin' Seafood" platter. This punchy dish features shrimp, calamari, crab, scallops and mussels alongside an array of vegetables in a spicy sauce.
4. Pyramid Pizza & Wings
Pyramid is Kitchener's homegrown pizza chain. The first location was established in Kitchener in 2004, but they have since opened four other locations - including two more in Kitchener! Pyramid Pizza has a shop on Lancaster Street West, Weber Street East and Westmount Road East so you can choose the best location to get your food hot and fresh. With an extensive menu that includes dozens of topping choices, sides and wings, Pyramid Pizza & Wings brings the best kinds of takeout together in one spot. Their wings come with a choice of sauce between BBQ, Medium Spicy, Hot, Honey Garlic, Sweet Thai and Spicy Thai available in order sizes from one to five pounds of wings. Pyramid is also the king of combos with specials that combine different sizes of pizza with drinks and wings.
5. Crafty Ramen
Crafty Ramen is the creative endeavour of founders Miki and Jared. It began in Guelph, but good news for Kitchener residents: they've opened a location on King Street in the downtown core of the city. This restaurant blends the experience of a Japanese ramen shop and the inspiration of flavours from local ingredients. They serve appetizers and snacks like hand-folded gyoza (fried dumplings) and karaage (fried chicken). The main event has got to be the ramen which comes in several varieties using Craft Ramen's signature pork, chicken or veggie broth as a base. Most flavours of ramen also come with a vegan variant that replaces the broth and toppings. In addition to traditional takeout, customers can order Crafty Ramen Kits which include all of the ingredients and instructions to prepare the dishes at home.

The Best Coffee, Snacks and Treats Restaurants in Kitchener
There is a special magic in finding your favourite cafe or bar in a new city. Thanks to the food-lovers' paradise that is Downtown Kitchener, there are so many wonderful local places to try. Whether you're on a quest for the best atmosphere, coffee or pastries in the city, we've got five places that each bring something unique to the table.
1. Kitchener Market
https://www.kitchenermarket.ca/en/index.aspx
Leading the coffee, snacks and sweets section is one location with the best of all three: Kitchener Market. Located on King Street in the heart of Downtown Kitchener, the Market offers a diverse selection of local businesses under one roof. Kitchener Market is great for groceries, meals and local artisan goods. The Market's Food Hall is the best way to sit and enjoy the exciting flavours that the market offers including several excellent restaurants like Naranj Blossom and Caribbean Kitchen. Grab a coffee from Serrinia Café and a pastry from one of many fantastic bakeries to enjoy while you stroll between market vendors. On Saturday, Kitchener Market is home to a farmers' market with local produce, dairy, meat and community events.
2. Cafe Pyrus
Cafe Pyrus is a vegan cafe located in Downtown Kitchener. Their brand new location can be found along King Street where it meets Water Street while their Cafe Pyrus Outpost can be found along the Spurline Trail on Roger Street, Waterloo. This local favourite warms the Downtown core with coffee, tea, specialty beverages and freshly baked sweets and savoury pastries. Cafe Pyrus serves up vegan salads, sandwiches, quesadilla and breakfasts alongside an extensive drink menu of freshly roasted coffee, espresso and specialty beverages made with dairy-free alternatives. Sweeter options include cookies, cupcakes, muffins, buns and scones all vegan made fresh from scratch!
3. Ambrosia Corner Bakery
This Kitchener bakery is the perfect solution if you are craving something sweet. Located on Frederick Street in the northeastern end of the city, Ambrosia Corner Bakery offers baked goods made with only the best and freshest ingredients. Keep an eye on their social media for pre-orders and announcements because their cakes, cookies, pastries and other delicious treats change regularly as fresh ingredients become available and seasonal specials roll around. Whether you are looking for a treat on-the-go, a special dessert for evening plans or a beautiful gift basket, Ambrosia Corner Bakery is the delicious answer!
4. Golden Hearth Bakery
Golden Hearth Bakery offers Kitchener freshly baked breads and pastries from their Downtown Kitchener location on King Street East. They specialize in sourdough - bread made to rise naturally from a fermented mix. On top of a large selection of toppings and flavours like multigrain, dark rye and raisin walnut, Golden Hearth also makes croissants, cookies and other tasty snacks. Some popular croissants include almond, cinnamon raisin swirl, fruit danish and double chocolate hazelnut. Outside of sourdough, their bread menu includes baguettes, brioche, focaccia and a sweet croissant-style pastry loaf with dried cherries, almond cream and pistachios.
5. Sugar Run
If you are looking for a stylish cocktail bar then you might need to look a little harder to find Downtown Kitchener's hidden treasure: Sugar Run. This speakeasy inspired bar is trending because of a combination of its retro sense of style, fantastic drink menu and some genius marketing. A speakeasy - or secret bar - was a product of the 1920s prohibition era when the production and sale of alcohol was banned. In true speakeasy fashion, Sugar Run's location is a bit of a mystery… Fortunately, their Instagram holds clues to their location [URL: https://www.instagram.com/p/B09mIx4Ad0H/ ] and the password for entry [URL: https://www.instagram.com/p/BzdQ8rGlraf/ ]. While their colourful cocktail menu is a definite highlight, visitors to Sugar Run can partake in dips and snacks on the side.
There is a must-try restaurant in just about every corner of Kitchener, Ontario. Between the Kitchener Market, popular Downtown Dining or a fantastic takeout place that can deliver across the entire city, you are sure to quickly find a local favourite.