The Best Restaurants in Cambridge, Ontario
Posted by ViewHomes.ca Team on Sunday, March 19, 2023 at 8:59:40 AM
By ViewHomes.ca Team / March 19, 2023
Comment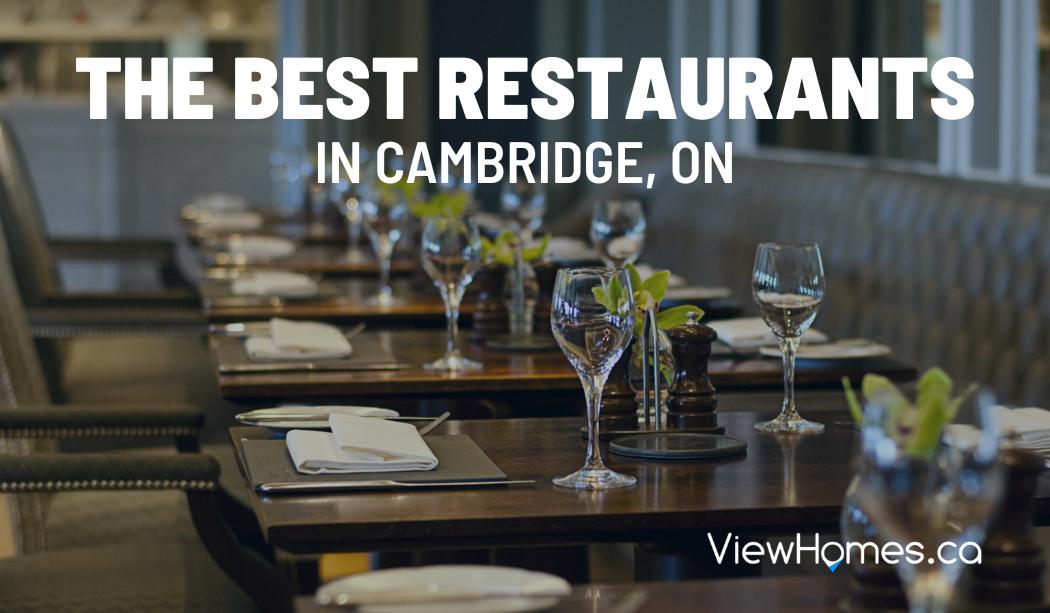 Cambridge, Ontario has a central location if you are looking for somewhere to eat. With Kitchener-Waterloo, Guelph and Brantford each within a 30 minute drive, there are a lot of possibilities for nearby restaurants. Fortunately, you don't even need to go that far because Cambridge has more than enough options for eating in or eating out locally, any time of day.
Jump to Best Restaurants by Type:

The Best Breakfast, Brunch or Lunch Restaurants in Cambridge, Ontario
Get your day off to a good start with some of the most popular breakfast places in Cambridge. Many of these options also have lunch menus and some are even open right through to dinner time!
Fifty's Grill & Deli Restaurant
http://www.fiftysgrillanddeli.com/
Fifty's is a classic diner located along Hespeler Road, just east of the Preston area and south of the 401. They serve breakfast, lunch and dinner, but nothing can beat a traditional diner breakfast! Some standout platters include the All Canadian Breakfast: eggs, toast and your choice of Montreal smoked meat or peameal bacon and the Hat Trick: 3 eggs, 3 bacon slices, 3 ham slices and 3 sausages. They also serve omelettes, melts, breakfast burritos, sandwiches and eggs benedict. Sweeter menu options include pancakes, French toast, crepes, Belgian waffles, smoothies and milkshakes.
Tony's Family Diner
All-day breakfast? That's right! Not only does this southern Cambridge diner offer a fantastic selection for breakfast, it is also available all day long. Located along Franklin Boulevard, Tony's breakfast menu offers impressive breakfast plates like the Triple Combo: 3 eggs, 3 strips of bacon, 3 Ham slices and 3 Sausages or the Steak and Eggs: 3 eggs and a 8oz Steak. There are options for no-egg platters as well as omelette specials and eggs benedict options. Their breakfast sweets include French Toast and Pancakes - even an Ice Cap: 3 pancakes or 3 pieces of French Toast topped with a scoop of vanilla Ice Cream.
Cambridge Restaurant
http://cambridgerestaurant.ca/
Another popular choice for breakfast among Cambridge residents is Cambridge Restaurant, a long-time staple of the Preston area. Cambridge Restaurant is located on King Street on Cambridge's east end. Not only does Cambridge Restaurant have all-day breakfast, they have an all-day menu to boot. They serve big breakfast platters, breakfast melts, corn beef and onion hash, omelettes and a brown sugar cinnamon porridge topped with apples. The brunch poutine - French fries, cheese, bacon, mushrooms and eggs topped with hollandaise sauce - is a Cambridge Restaurant specialty.
Angels Diner Family Restaurant - Cambridge
http://www.angelscambridge.com/index.html#about
This southern Ontario chain of diners is another great choice for breakfast-hunters in Cambridge. Angels serves breakfast, lunch and dinner - but it's their breakfast options that make it the choice of Cambridge families. They serve the traditional breakfast offerings like omelettes, eggs benedict, skillets and eggs prepared with all manner of sides. For diners with a sweet-tooth, Angels has selections of fresh-fruit crepes, loaded pancakes, French toast and topped Belgian waffles.

The Best Dining In Restaurants in Cambridge, Ontario
When you're dining in at a restaurant, the best options combine atmosphere, service and food for an overall special experience. Choosing any one of the following restaurants in Cambridge will certainly make the meal one to remember! These are some of the post popular spots in Cambridge, so reservations are recommended.
Cambridge Mill
Cambridge Mill gets its name from the fact that this restaurant and venue is located within Dickson Mill - a historic mill built in the 1800s. This fixture of downtown Cambridge features large patio seating that overlooks a stunning view of the Grand River. Their menu offers crafted plates for lunch and dinner that can be paired with signature sides and cocktails. Their main course steak and salmon plates are particularly popular among visitors, though their menu does change periodically to offer the freshest ingredients.
Blackshop Restaurant
Blackshop restaurant and wine bar is another fine-dining locale setting for a special night out. Blackshop is located on Hespeler Road, just south of the 401. In addition to a colourful lunch and dinner menu, Blackshop also has a feature menu which changes seasonally. Visitors praise Blackshop's indoor and outdoor atmosphere, service, artistic plating and - of course - the food! On Sundays, there is a special brunch menu at the start of the day and a Prime Rib Sunday Dinner in the evening.
QBBQ Public House
QBBQ is a haven for meat-lovers and fans of southern-style BBQ meals. QBBQ is located in central Cambridge where Beverly Street meets Dundas Street North. Their signature smokehouse selection includes wings, pork ribs, meatloaf, ham hock, pulled pork, pulled chicken and brisket smoked for hours to lock in flavour. Other classics mastered by QBBQ include burgers, southern buttermilk fried chicken and grilled steak. For families looking to eat together, QBBQ offers BBQ platters for sharing and trying a range of smoked meats.
Amici Restaurant
https://www.amicirestaurant.ca/
Amici brings the flavours and atmosphere of Italy to Cambridge. Located on Glamis Street, Amici serves salads and flatbreads with fresh toppings and traditional flair. For main courses, their pasta and pizza menus offer a huge selection including the option to create your own combinations. Their secondi options include a variety of chicken and veal dishes. For desert, guests can order tiramisu and cheesecake in the double chocolate and Grand Marnier varieties.
Elixir Bistro
Elixir Bistro is another taste of stylish fine dining in downtown Cambridge. This Main Street bistro specializes in French-inspired dishes like sautéed escargot, duck confit, beef a la bourguignon and coq au vin. Since their dishes are prepared fresh, their menu and specials can change daily. Alongside the meals, Elixir Bistro has an extensive wine menu with options from all over the world available by the bottle or by the glass.

The Best Takeout and Delivery in Cambridge, Ontario
A perfect choice for nights when you don't want the hassle of dinner chores. Between a restaurant's own delivery service; third-party companies like SkiptheDishes, DoorDash and UberEats and driving out to pick dinner up yourself, the entire city of Cambridge is open to a huge variety of flavours from around the world.
Burger Factory
Burger Factory is an Ontario franchise that serves fast food classics like burgers, fries and funnel cakes. Their Cambridge location is in the north of Cambridge along Hespeler Road. Their burger menu includes the classic hamburger and cheeseburger alongside signature creations like a cheddar cheese stuffed patty, The Machine - a 10oz double patty burger and The Compressor - a 15oz triple patty burger. The 8" funnel cake can come with ice cream, strawberries and chocolate as additional toppings.
Di Patty Shop
https://www.facebook.com/dipattyshop/
Di Patty Shop is the destination for Jamaican takeout in Cambridge. They are located in the northern Cambridge area of Hespeler along Queen Street West. They serve traditional Jamaican dishes like spicy beef patties, delicious (and spicy!) jerk chicken and both a chicken curry and a goat curry meal. You can visit them in person or order a meal from SkipTheDishes, DoorDash or UberEats.
Saffron Indian Restaurant & Bar
https://www.saffronkitchen.ca/
Saffron is an Indian restaurant with both dine-in and takeout options available. Dining in is possible at their Hespeler Road location in north-central Cambridge, but if you're short on time, they boast an excellent 9.7 rating average on SkipTheDishes, too! Saffron offers a large menu with both vegetarian and non-vegetarian curries, biryani, a breadth of bread and a huge variety of Tandoor-cooked dishes. The best way to try Saffron's Tandoor (a charcoal-fired clay oven) selection is the Assorted Tandoori Platter which features a sampling from across the menu.
Burrito Boyz
https://www.burritoboyz.ca/cambridge
Burrito Boyz is an Ontario Mexican food chain that services much of southwestern Ontario and the GTA. Their Cambridge location is in north-central Cambridge along Hespeler Road. You can order in store or online for delivery with DoorDash or SkipTheDishes. They serve nachos, tacos, quesadillas and a special lineup of burritos. When it comes to a burrito, it's the inside that counts and Burrito Boyz offers the option to fill it with chicken, steak, pulled pork, calamari, sweet potato, ground soy, beans, shrimp, haddock or halibut in addition to tons of fresh topping options.
Nagano Sushi
Nagano Sushi is another restaurant in Cambridge that has the option of dining in at their Pinebush Road location or ordering takeout from their website. Nagano Sushi serves a mix of Japanese and Korean food for lunch and dinner. Their hot entrees include options like Udon soup, donburi rice bowls, various tempura offerings, bibimbap and a spicy bulgogi dinner. They also serve over 75 varieties of sushi and have the option of assembling a meal into a charming bento box.

The Best Desserts, Cafes and Snacks Restaurants in Cambridge, Ontario
For residents of Cambridge looking for a great local bakery, coffee roaster or brewery, this list has just a few of the great options Cambridge has for each category. These places are great if you are looking to find your morning coffee, a place to hang out after work or a go-to spot for baked goods.
Four Fathers Brewing
https://fourfathersbrewing.ca/
Four Fathers is not only a local brewing company responsible for delicious craft beer, they are also a popular taproom in Hespeler Village. Alongside whichever specialty they have on tap, Four Fathers serves wings, nachos and hummus sets for pairing. If you follow their website, they also deliver select brews to Cambridge, Kitchener, Waterloo and Guelph throughout the year. Among the selection are kegs, single cans and package deals that pair the beer with popcorn and cookie dough!
Grand Café
Grand Café is a local coffee place with history and spirit. Their downtown Cambridge (Galt) location is based out of a historic building in the charming scene. They serve fair-trade, organic coffee and other beverages like espresso, tea, tea lattes, apple cider and hot chocolate. They also keep their storefront stocked with a rotating daily selection of baked goods which may include scones, cookies, cakes, loaves, tarts, squares and donuts as well as some gluten-free options.
Monigram Coffee Roasters
Monigram Coffee Roasters is another option for people looking for a great cup of coffee at the heart of downtown Cambridge. They serve a large array of coffee and espresso beverages as well as specialty pour over, French press, Chemex and Aeropress options. Besides caffeine, they also serve a few breakfast items like poached eggs, eggs benedict and waffles. They also serve sandwiches and wraps which can both be ordered as a salad instead. Naturally, their beverages also pair well with the desserts in their case like biscotti, croissants, muffins and other pastry favourites.
Tiny Cakes
If you are looking for something sweet then the go-to place in Cambridge is Tiny Cakes - a local bakery where everything looks beautiful and tastes even better. This bakery has a cozy storefront in downtown Cambridge and also takes online orders through their website. They bake bread, cookies, cupcakes and other dessert pastries including tarts, bars and brownies. They have 12 flavours of classic cupcakes and over 45 flavours of featured cupcakes that are seasonally available. Some feature flavours include Blueberry lemonade, caramel macchiato, cookie dough cheesecake, The Twix and Tiramisu.
Azores Cambridge Bakery
Another bakery is Azores, the Portuguese bakery located on Elgin Street North in central Cambridge. Azores does it all, they bake bread and sweets, takeout meals and they deliver! Their impressive bakery selection features European buns and loaves like Portuguese Dinner Rolls, Ciabatta buns, French loaves and Vienna sticks. For something sweeter, Azores also sells Portuguese sweet buns and tasty European pastries like Portuguese custard tarts, cannolis, macaroons, brownies and assorted cake slices just to name a few.