The Best Restaurants in Barrie, Ontario
Posted by ViewHomes.ca Team on Saturday, March 25, 2023 at 9:29:49 AM
By ViewHomes.ca Team / March 25, 2023
Comment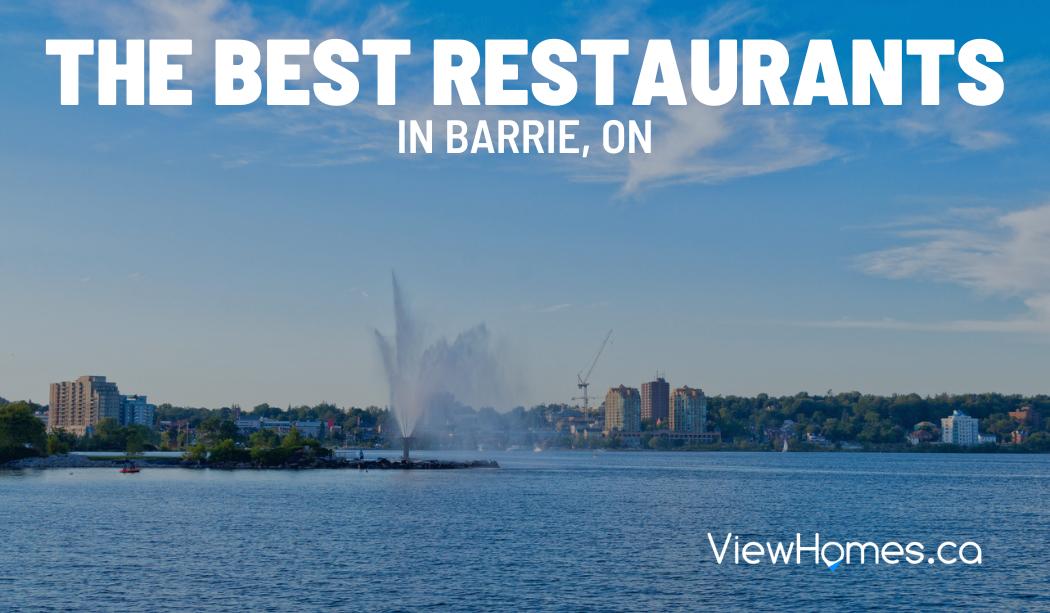 Barrie is a mid-sized city with breweries, classic cafés and highly rated restaurants around nearly every corner. With so many delicious options, there is a top-notch dining experience for every meal of the day and then some! Here are 20 of some of the best restaurants in Barrie, Ontario.
Jump to the Category of interest below:

The Best Breakfast, Brunch or Lunch Restaurants in Barrie
Whether it's a special occasion or an important part of your morning routine, finding a good restaurant for breakfast or brunch is like finding a hidden gem. Make one of your first decisions of the day a great one with some of the best breakfast places in Barrie.
1. Lazy Tulip Café
Lazy Tulip Café is a downtown Barrie restaurant that has won over Barrie with their breakfast, lunch and brunch service. This charming café is located on Maple Avenue. Their in-house sandwiches, wraps, salads and quinoa bowls define the all-day Lazy Tulip menu and they can be a great way to start the day too. Brunch at the Lazy Tulip runs from opening until 1pm and offers breakfast plates, breakfast sandwiches, wraps and scrambled tofu. Their signature Tulip Hash combines turkey bacon, caramelized onions, veggies and free range eggs. Lazy Tulip's drink menu includes coffee, espresso-based drinks (with optional flavour shots), tea and tea lattes and seasonal beverages like chai spiced apple cider and Mexican hot chocolate.
2. Gibby G's
Gibby G's serves their breakfast from 8am to 2:30pm every day of the week making it perfect for early risers and brunch-seekers alike. Located on Yonge Street, Gibby G's is popular with Barrie residents for their massive breakfast menu and family-friendly atmosphere. Their breakfast menu includes egg combos, omelettes and breakfast sandwiches. Gibby G's also has a kids menu serving smaller portion versions of the regular menu. For guests who prefer something sweet for breakfast, their menu also offers pancakes, Belgian waffles, French Toast and "to die for" house-made cinnamon buns.
3. Dunlop Street Diner
https://dunlopstreetdiner.ca/menu
Dunlop Street Diner is a relatively new addition to the downtown area of Barrie. The diner opened in 2017 after renovating a historic Dunlop Street building into a vintage diner experience. This diner offers both a breakfast and a lunch menu, serving classics with a modern flair. The breakfast menu includes a variety of skillet dishes, omelettes and a delectable list of creative Eggs Benedict combinations. Eggs Benedict flavours include a smoked pork belly variation, a grilled cheese topped with hollandaise sauce, a gluten-free portobello mushroom and, of course, the classic spread on an English muffin. Visitors after 10am can also enjoy the Dunlop Street Diner's lunch menu in addition to the breakfast options.
4. Jack's Pancake Factory
https://www.jackspancakefactory.com/
Jack's Pancake Factory delivers all-day breakfast in the truest sense. From 8am to 8 pm, everything on Jack's breakfast menu is on the table. Located on Mapleview Drive in southwest Barrie, Jack's serves all the classics from breakfast platters, combos, generously stuffed omelettes, Eggs Benedict, skillets and breakfast poutine. The highlight of the menu has got to be the Pancakes which lists 14 mouthwatering ways to enjoy Jack's pancakes. With flavours like strawberry cheesecake, cinnamon apple strudel and Oreo Cookies and Cream, each served with butter, whipped cream and syrup. Other ways to satisfy the craving for something sweet include French toast and waffles both served with a variety of toppings.
5.Stacked Pancake & Breakfast House
https://www.stackedpancakehouse.ca/
Stacked is an Ontario chain of pancake houses with two locations in Barrie: one on Cundles Road in north Barrie and another on Essa Road in southwest Barrie. True to their name, Stacked Pancake & Breakfast House specializes in creating the best looking and tasting stacks of breakfast food around. Even their breakfast sandwiches are stacked with sweet goodness: maple bacon, eggs and cheese served between two waffles. Their pancake flavours include decadent creations like the swirled cinnamon Cinnabun Cakes, the Peanut Butter Cream and strawberry whipped cream and the Banana Rocky Road served with Nutella.

The Best Dining In Restaurants in Barrie
Looking for an afternoon or evening out? Barrie offers plenty of places to enjoy in-restaurant atmosphere, great food and fantastic service. Here are some of the most popular restaurants in Barrie to sit down and enjoy a high-quality meal.
1. Donaleigh's Irish Public House
Donaleigh's is an iconic Irish pub located on Dunlop Street in Barrie's downtown core. Patrons enjoy a warm and welcoming interior alongside traditional pub food and live music. Donaleigh's offers an extensive drink menu as well as a main menu and a late night menu. The main menu features classic Irish fare like beer battered haddock, lamb stew and shepherd's pie while their late night menu includes group plates, snacks and burgers. Donaleigh's was voted the best pub in the 2020 Barrie Advance Readers' Choice Awards.
2. Big Bone BBQ & Wicked Wings
https://bigbonebbq.ca/big-bone-bbq-barrie/
Barrie's Big Bone BBQ is the go-to place in the city for delicious southern-style BBQ. This chain has made a name for itself with award-winning Rib-fest recipes and has locations across Ontario. Residents of Barrie can find Big Bone BBQ on Minet's Point Road, south of the Kempenfelt Bay. There are options for dine in and takeout customers, so visitors can enjoy ribs, wings, golden fries, loaded sandwiches and pulled pork wherever they like. There is even an affordable "Piglets" menu for children 12 and under.
3. Tian Ya BBQ
https://www.facebook.com/pages/Tian%20Ya%20BBQ/1107704685915892/
Tian Ya BBQ is an all-you-can-eat Korean-style BBQ restaurant in downtown Barrie. For those unfamiliar with Korean BBQ, the dining experience involves cooking your own meat on the electric grill provided at the centre of the table. Tian Ya offers both a lunch menu and a dinner menu which is more expensive, but larger. The meat is well-marinated and flavourful with options like chicken, pork, lamb and beef to try on the grill. Visitors can also enjoy vegetables on the side as well as popular side dishes like spring rolls, dumplings and Kimchi - spicy fermented cabbage.
4. Barnstormer Brewing & Distilling Co.
https://barnstormerbrewing.com/
Barnstormer is one of the local brewing companies in Barrie. In addition to brewing fine craft beers, Barnstormer also operates a brewpub restaurant at their Yonge Street location. They serve appetizers, salads, sandwiches and specially flavoured fries to pair with their drinks. Visitors can also enjoy main course meals, combos and pizza while finishing their meal with a sticky toffee pudding, candied bacon and salted caramel cheesecake or a chocolate devil's food cake for dessert.
5. Kenzington Burger Bar
Kenzington Burger Bar is home to some of the biggest, best burgers in Barrie. With two locations in Barrie, one on Dunlop Street and another on Bryne drive, Kenzington serves up a gourmet burger experience, drinks and live music in a casual, but lively setting. Crafting burgers is Kenzington's specialty and with combos on offer like the Californian: Avocado, Monterey Jack Cheese, Bacon and Chipotle Mayonnaise; the Picnic: caramelized onions, pear and brie and the PB&J: peanut butter, jelly and bacon. Drinks include a collection of cocktails and a wide array of craft beers from a variety of different local breweries around Barrie and beyond.

The Best Takeout and Delivery Restaurants in Barrie
Picking up takeout on your way home or ordering from a delivery service are two stress-free and dish-free ways to tackle lunch or dinner. Many of these restaurants have a dine in and a takeout menu, but sometimes it's just nice to have the option to eat at home or on the go. Here are some of the most popular choices in Barrie for takeout.
1. PIE: Wood Fired Pizza Joint
Pizza is a takeout staple and the art of pizza-making doesn't get better than Barrie's own PIE restaurant. Located along Victoria Street in downtown Barrie's waterfront, PIE offers an in-house experience, takeout options, third-party delivery or a frozen pizza delivery or subscription to enjoy PIE at your convenience. Their pizza menu includes over 20 different pizza options with the choice to build your own, too. These pies can be as classic as a Pepperoni Pie with tomato sauce, mozzarella, pepperoni and basil or as adventurous as the Buffaloha Pie with BBQ sauce, mozzarella, bacon, pineapple, hot peppers, red onion and spicy aioli. Every pizza from PIE is hand-stretched and baked to perfection in a wood fire oven. There is even a Nutella and banana pie to try for dessert!
2. Sakana House
Sakana House is the Barrie Advance Readers' Choice Award winner for best Japanese restaurant in Barrie. This hybrid Japanese and Chinese restaurant offers dine in all-you-can-eat lunches and dinners as well as a large takeout menu with over 100 different options. Sakana House is Barrie's best restaurant for sushi of all styles and flavours, combos and bento boxes. Sakana House prepares many kinds of rolls including eel, shrimp, salmon, tuna, crab and fruits and vegetables like avocado, mango and tempura yam. If seafood isn't your style, then Sakana House also has a selection of hot wok prepared dishes like fried rice, fried udon and a variety of chicken, shrimp and beef dishes.
3. Thai Bamboo Restaurant
https://www.thaibamboorestaurant.ca/
Thai Bamboo Restaurant is located on King Street in southwest Barrie. They offer a takeout menu as well as dine in options for both lunch and dinner. They are a popular choice for takeout because of their variety of fresh, authentic Thai food and generous portions. Popular dishes include both red and green curry, traditional peanut sauce and cashew nut, a basil sauce or a garlic sauce stir fry dish packed with vegetables. Both soft rice paper spring rolls and crispy fried spring rolls as appetizers pair nicely with just about anything on the menu. The Thai Bamboo menu also includes options for traditional desserts like fried chocolate bananas and sweet rice with banana and red bean.
4. AvocoBar
AvocoBar serves up feel-good fast food from their location along Cundles Road in northern Barrie. They serve up salads, wraps and soups as well as smoothies and other beverages available for delivery or takeout. Their salads and wraps are fully loaded with flavourful toppings and creative combinations and are complimented with the perfect pairing of dressing. AvocoBar also offers their diverse ingredients for customers to design their own salad or wrap out of any 4 toppings and a dressing. Even their smoothies are packed with quality ingredients like the Chocolate Almond smoothies which is a blend of banana, peanuts, chocolate almond milk, cocoa and either spinach or kale.
5. Jey's Burritos
Jey's Burritos has been one of the best places for a burrito in Barrie since they first opened their doors in 2017. Jey's serves more than just burritos - though they are the crowd favourite! Their menu includes nachos, quesadillas and tacos alongside their signature burritos. Burritos can be filled with chicken, fish, ground beef, ground chorizo sausage, mixed yams, pulled pork, shrimp, steak or a vegetarian option. On top of so much choice, Jey's also keeps a well-stocked selection of fresh and authentic topping choices to customize any meal just the way you like it.

The Best Desserts, Cafes and Snacks Restaurants in Barrie, Ontario
For fresh bread for a special dinner, a sweet dessert to be the talk of parties, or a relaxing bite to eat in between activities on a busy day, Barrie has no shortage of wonderful cafés and bakeries to suit your needs.
1. Fox's Bakery and Deli
Fox's Bakery and Deli has a little bit of everything between their bakery, deli and to-go options. The Fox family has been baking in Barrie since their original Buns Master Bakery franchise location opened in 1978. Now located on Victoria Street in downtown Barrie, their talented staff is responsible for some of the best breads, buns, and other pastries in Barrie. Their deli offers a wide variety of meats, cheese and even some sausages and burgers for grilling. With the option for takeout, Fox's Bakery and Deli provides a quick sandwich made from your favourite combination of bread, meat and cheese. On the sweeter side of things, Fox's Bakery makes cakes, cinnamon buns, muffins and cookies among many other delicious treats, too!
2. The Sweet Oven
If you are a fan of butter tarts then you need to try Barrie's award winning The Sweet Oven bakery, which has worn the butter tart crown since 2012. They have a location in Orillia and Toronto as well, but in Barrie, their popular store front is located along Park Place Boulevard in southern Barrie. The Sweet Oven specializes in butter tarts. Their creations come in so many flavours that that store inventory goes through a daily rotation. Classic flavours like plain butter tarts and pecan are available every day of the week, but more adventurous combinations like Chai, Mint Oreo and Raspberry are only available on certain days. In addition to the tarts, another feature of The Sweet Oven is cheesecakes which also come in a variety of delicious flavours.
3. Bohemia
https://www.bohemiabarrie.com/
Finding a good café for morning coffee, afternoon breaks or a light meal is an importing part of getting used to a city. It's fortunate that downtown Barrie has this wonderful café at Dunlop Street to serve up some of the city's favourite beverages. Bohemia has been a part of Barrie since 2004. They serve coffee classics like espresso, cappuccino and plain and flavoured lattes as well as tea. Their quiet and friendly dine in atmosphere is paired with a menu of sandwiches, soups, smoothies and sweets made from scratch with local produce.
4. Mmm Donuts Café and Bakery
Mmm Donuts is a 100% plant-based bakery and café located on Bayview Drive in south-central Barrie. This bakery makes delicious donuts, sandwiches and beverages all without the use of any animal products. These donuts come in a range of prices: Standard, Classic, Fancy and Gourmet which also indicates just how decadent the donut. Some classics include chocolate or strawberry dip while a gourmet donut might like something like a pumpkin pie-filled or Peppermint mocha-filled donut around the holidays. On the café side, Mmm Donuts serves cappuccinos, lattes and coffee all made with almond and soy products in place of dairy.
5. Homestead Artisan Bakery + Café
http://www.homesteadartisanbakery.com/
This combination bakery and café rolls the best of both into one wonderful restaurant. Homestead can be visited at their downtown Barrie location on Dunlop Street East. The Homestead specialty is sourdough, a bread that doesn't need yeast to rise and take on an iconic taste and shape. On Wednesday, Thursday, Friday and Saturday, Homestead offers a daily selection of delicious sourdough flavours including 6-grain, roasted garlic and potato, caramelized onion and buttermilk cinnamon and raisin for just a sampling of the variety on their menu. Homestead's café serves crafted coffee classics like London Fog, Espresso and Americano alongside grab and go breakfast sandwiches and freshly made salads.
Living in Barrie, Ontario is a culinary delight. Every restaurant, dish or craft beverage is a chance to find your new favourite spot for breakfast, lunch, dinner or any time in between.