The Best Neighbourhoods in Welland, Ontario
Posted by ViewHomes.ca Team on Thursday, March 16, 2023 at 9:19:51 AM
By ViewHomes.ca Team / March 16, 2023
Comment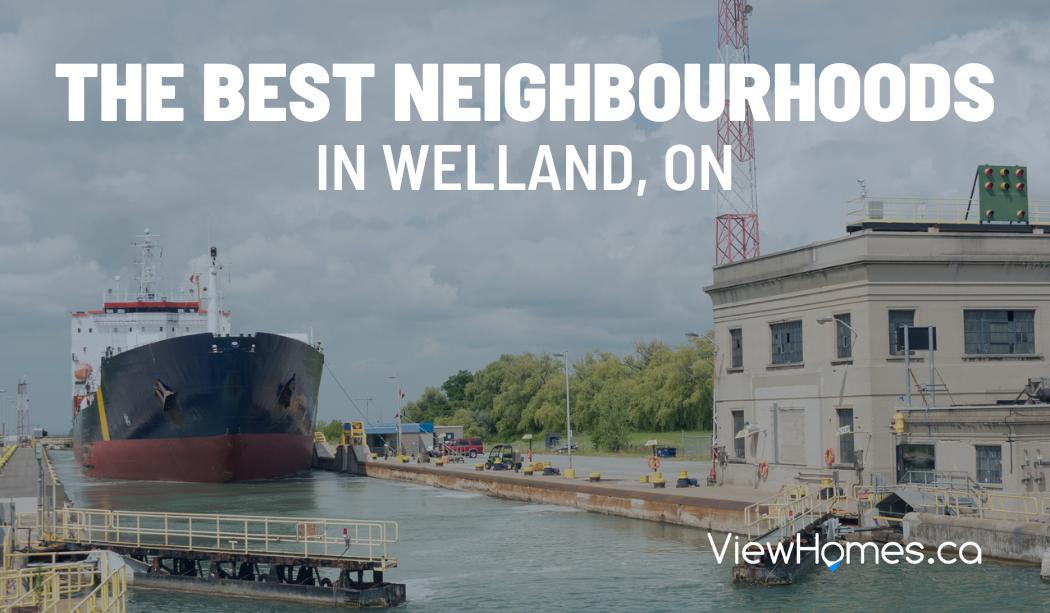 Welland, Ontario is a smaller city in the south-central area of the Niagara Region. This city is about an equal distance from Niagara Falls to the northeast, St. Catharines to the north and Port Colborne to the south, so it is a popular place to live for people who want to be in the middle of everything. Welland is best known for its beautiful waterways: The Welland River and the Welland Canal which features a stretch of recreational water that residents can rent boats and enjoy in the warmer months of the year.
When you're looking for the perfect neighbourhood in Welland, it helps to have a list with some personalized factors. Maybe you are looking for the best access to the highway, the neighbourhood nearest to stores, one to enjoy the recreational Welland Canal or the neighbourhoods with the best schools. With these factors in mind, we've created a list of neighbourhoods that is sure to appeal to some important criteria when looking for a place to live in Welland, Ontario.
Recently Listed in Welland

Best Welland Neighbourhoods for Getting Around and Commuting
Welland is a smaller city, but being able to get around is just as important as it is in one of the Niagara Region's bigger cities. Whether you are looking for the best highway access, most convenient bus route or the best walking score, the northern neighbourhoods of Niagara College and Seaway are both excellent choices.
Close to the College and Public Transit: Niagara College
Niagara College is a northern neighbourhood located around its namesake Niagara College's main campus on Niagara College Boulevard. Some of the residences closer to the campus are popular amongst students, but a lot of the neighbourhood is made up of quiet, residential streets with mature trees, varied house styles and nice, wide front yards.
This neighbourhood is ideal for employees and students of Niagara College that want to be walking distance from work and school. It is also a convenient location for students of Brock University who live in Welland and rely on the transit link between Niagara College and Brock University in St. Catharines. The Niagara College campus is also an important transit hub in the city with several bus stops servicing the area around and within the campus.
Because of a cluster of great schools in the Niagara College area, this neighbourhood is also incredibly family friendly. We'll be back to Niagara College when we talk about the best neighbourhoods for families a little later on this list.
Shopping and Highway Convenience: Seaway
The Seaway area shares its name with Seaway Mall, a major indoor shopping destination in the northeastern corner of Welland, Ontario. In this neighbourhood, it is easy to get around on foot, by bus or by vehicle thanks to nearby shopping centres and access to the 406-highway by Woodlawn Road.
Living close to Seaway Mall means that residents of Seaway can walk or drive to the mall and have access to not only the shops and restaurants within, but all of the commercial area around the mall as well. With a wide selection of stores inside, some highlights of Seaway Mall include a Staples, Winners and a Cineplex Odeon. North of Seaway Mall and Quaker Road, residents can reach the Welland Sports Complex, a large city-operated baseball stadium with seating capacity for up to 3000 people. There is a relatively new housing subdivision in the northern area of the neighbourhood by the stadium that is better for residents with a vehicle.
Another shopping area requires following Woodlawn Road until crossing the Welland Canal to reach SmartCentres Welland. This shopping area includes a Walmart Supercentre for everyone's shopping needs. To the east of this shopping centre is the access to the 406-highway and the most important route for those who drive out of Welland for work. Commuters to St. Catharines and Niagara Falls will find that living in the northeast of Welland cuts down on their commute times significantly. St. Catharines and Niagara Falls are between 20-30 minutes away from the core of Welland, but leaving from the Seaway area can reliably shave about 5 minutes off of the drive.

Best Welland Neighbourhoods to Enjoy the Welland Canal
The Welland Canal is a lovely natural feature of the city as well as a wonderful community resource for events, exploration and water sports. Dain City in the south end and Downtown Welland right at the heart of the city are two nice areas to enjoy the waterfront in different ways.
Best Views of the Canal: Dain City
If you are looking for a neighbourhood with an atmosphere similar to a lakeside cottage, then you need to see Dain City. This southern neighbourhood is located in the very south end of Welland in the V-shape formed by two Canals meeting. Dain City is located halfway between Welland's Downtown core to the north and the City of Port Colborne to the south. It remains quiet and somewhat isolated due to the waters of the canal, but this also means that the waterfront is just a few steps away from most Dain City houses.
Before it was a Welland suburb, Dain City was a part of the Township of Humberstone. Back then, the community was mostly rural and it remained that way even after it became a part of Welland in the 1950s. Today, Dain City is mostly residential with some local stores open along Kingsway and a long waterside path along the west end of the neighbourhood. The area around Glenwood Park is a lot more suburban-looking with tall, mature trees and larger than average properties.
There are few amenities within Dain City, but for vehicle owners, there are plenty still accessible in Welland. The core of Welland is about 10 minutes north of Dain City with several stores and restaurants along Ontario Road and King Street even closer. By traveling about 15 minutes south, residents of Dain City can also reach the beaches, restaurants and other natural attractions of Port Colborne.
Best Access to the Welland Canal: Downtown Welland
Downtown Welland is the best place to live if you appreciate waterfront views and access to the canals too. Downtown Welland has the shortest walk to Merritt Island Park, the long, narrow island right in the middle of the Welland Canal. It features long trails along the water and plenty of natural green space to experience. This popular spot in the city is great for enjoying beautiful weather, hiking, exploring and dog walking.
Living Downtown is also one of the best places in Welland to get waterfront views every day. High-rise residential buildings are rare in Welland, but views of the Welland Canal, Welland River and the illuminated Bridge 13 can be enjoyed from the commercial areas of Downtown Welland. In addition some of the best community features and popular local restaurants are located in Downtown Welland, helping it earn high marks with cyclists and residents who enjoy exploring on foot. Downtown Welland is the destination for residents that want to be close to great attractions and amenities like the main branch of the Welland Public Library, the Welland Historical Museum, the Welland Farmers' Market on Saturdays and the Civic Square Skating Rink open for public use in the winter.
It is more common to rent than to own in the Downtown Welland area. That being said, there are some commercial and residential opportunities in the area. Buildings in Downtown Welland are older on average, but it is a great location to watch for duplexes and other types of income property.

Best Welland Neighbourhoods for Families
Best Schools: Niagara College and South Pelham
The northern Welland neighbourhood of Niagara College makes a return in this section alongside its western neighbour: South Pelham. In addition to being a convenient transportation hub, the Niagara College area is also one of the most family-friendly neighbourhoods in the city with great schools and many nearby amenities. Those same amenities and several other well-ranked schools can also be found in the South Pelham area which also features beautiful parks and trail access.
Niagara College is an excellent neighbourhood to call home if you and your family are hoping to live close to the best schools in Welland. For elementary schools, the schools are not only fantastic, but they represent a lot of the variety that can be found in Welland. Living in Niagara College puts students in the boundaries of Quaker Road Public School, Alexander Kuska Catholic Elementary School and the French Language École élémentaire Nouvel Horizon. Many subdivisions are also within walking distance of these schools for even more convenience. Quaker Road Public School is tied for the highest four-year average of any District School Board of Niagara elementary school in Welland with an average ranking of 6.8 out of 10 according to the Fraser Institute's scoring system. Alexander Kuska Catholic Elementary School has the best four-year average ranking in the Niagara Catholic District School Board with a 6.4 of 10.
As for secondary and post-secondary, the Niagara College neighbourhood is in the boundaries of the two top-ranking high schools in Welland: Welland Centennial Secondary School and Notre Dame College School. In addition, living around the main Niagara College campus means that students are also close to the college and its transit link with Brock University in St. Catharines.
South Pelham is a northwestern Welland neighbourhood that is, as the name says, south of the Pelham area. South Pelham is another great choice for a family neighbourhood because it has the most recent top-ranked District School Board of Niagara elementary school: Gordon Public School. For students in or entering high school, South Pelham is still in the boundaries for Welland Centennial Secondary School and Notre Dame College School.
Community amenities are another reason why South Pelham really shines as a family neighbourhood. There is convenient grocery shopping located in the southwestern corner of South Pelham as well as several neighbourhood parks like Bridlewood Park in the centre and the large Woodlawn Park in the north. Another perk for active families is the Steve Bauer Trail running through the neighbourhood. The trail weaves between residential streets in South Pelham and connects Welland and the Fonthill area of Pelham.
After all, these are just some of the wonderful neighbourhoods that you can find in Welland, Ontario. There are many more to explore in this great Niagara Region city.
Recently Listed Condos in Welland