The Best Neighbourhoods in Stratford, Ontario
Posted by ViewHomes.ca Team on Thursday, March 16, 2023 at 2:10:05 PM
By ViewHomes.ca Team / March 16, 2023
Comment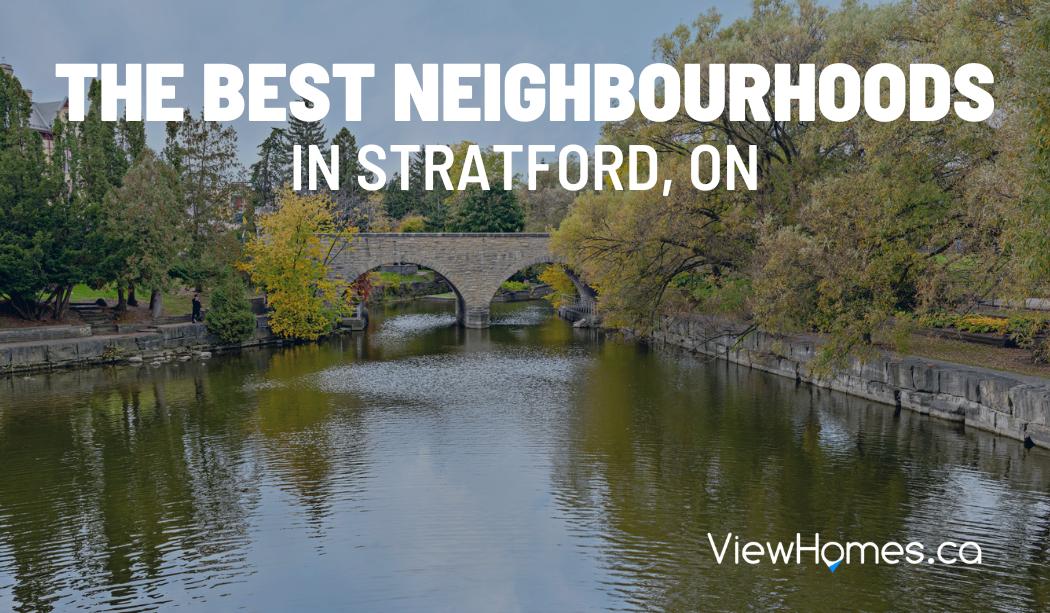 Stratford, Ontario is a close-knit community housed in a nice sized small city. With so many parks and green spaces throughout the city, Stratford feels more like a small town but also has the city life and features. It is the perfect place to have all you could need and want at your fingertips, and yet feel as if you are away from it all.
When looking to relocate to a new place, the decision of choosing which neighbourhood is most appropriate for your needs and wants is top priority. So what are the best neighbourhoods in Stratford that would be best suited for you? We intend to explore different areas of Stratford, pointing out different features and aspects, to help you make the right decision.
Stratford is dissected almost like a pie by the main highways intersecting the heart of city into four quadrants. Erie Street (Highway #7) from the south turns into Mornington Street (Highway #119) across the Avon River to the north. And Huron Street (Highway #8) from the west becomes Ontario Street (Highway #7 and 8) once it crosses the Avon River to the east. Because Stratford is such a small city, most neighbourhood areas are not defined by specific names, so we will be discussing these unnamed districts by the main street names running through the area as well as the surrounding vicinity to help you get acquainted with this suburban gem in the heart of Perth County.
View Homes for Sale in Stratford >>

The Best Stratford Neighbourhoods for Families
With a young or maturing family, you want to make sure you are moving to the best family oriented neighbourhood in Stratford, Ontario to not only blend in, but also to have like families around and be a good place for your family to grow. There are different aspects to consider, which will either be an advantage or not depending upon your particular situation. We will investigate these different aspects to help you navigate this part of the decision in moving to Stratford.
McCarthy Road Area and Coventry
In the far northwest end of Stratford, just north of the city's two public high schools, is a new subdivision between Short Street and McCarthy Road. The main roads of the subdivision are Forman Avenue and Fraser Drive. This is prime location being so close to the high schools as well as the Stratford Rotary Complex, along with city bus stops for easy access to the entire city. The subdivision is under expansion, known as Coventry, with 133 more single family homes and townhouses currently being constructed along McCarthy Road.
The closest elementary schools to this neighbourhood are St Aloysius Catholic Elementary School, Bedford Public School, and Avon Public School. With six parks in this area of the city, along with the grounds at the Stratford Rotary Complex, there is ample green space for your family to enjoy when you're not playing in your own yard.
Conveniently, two of Stratford's grocery stores are within easy walking distance, making shopping a breeze. Not to mention the year round Farmer's Market held at the Rotary Complex every Saturday for all your farm fresh shopping needs.
Because this is a new subdivision, all the modern amenities and styles are in full vogue. This also makes it a natural draw as a family oriented neighbourhood.
Romeo Street North Area: Verona Village, North Pointe Estates, and The Fields
Our next stop is in the northeast quarter of town. Along both sides of Romeo Street, north of the Stratford Country Club, lies a beautiful neighbourhood area with new and relatively new detached homes and subdivisions perfect for family oriented home buyers. The luxurious condo community of North Pointe Estates lies to the east of Romeo Street. The newly built Verona Village, a community of 42 adjoined condo townhouses, is also located here along one of the crescents. And The Fields, an area near the juncture at Vivian Line, offers affordable housing and townhouses.
Bedford Public School and Stratford Middle Years School are the elementary schools in the vicinity. With four parks in the direct locale and a short walk from the Avon River and surrounding green space, there are ample areas for the kids to play and to walk the family dog.
With a convenience store, bakery, takeout pizza, and a health store at the corner on Mornington Street, this area of town is nicely tucked away but not without some amenities. Down town and surrounding stores on Ontario Street and Huron Street are just a short drive away.
The quiet streets of this neighbourhood are a perfect place to raise your family.
John Street South Area
In the southwestern section of the city along John Street South and surrounding area, is a beautiful locale of lovely homes and lots with nice sized shade trees and colourful home gardens. This scenic area is the best of both the new and the old worlds as it is not a barren treeless landscape of a new subdivision, but still with modern home features, being one of Stratford's 'younger' neighbourhoods.
Elementary schools directly in or adjacent to this area are Stratford and District Christian School, Saint Joseph Catholic Elementary School, and Hamlet Public School. Four parks are in the vicinity, with TJ Dolan Natural Area being the largest for outdoor adventures and learning.
Stratford General Hospital is directly adjacent to this family oriented neighbourhood of curved streets and quiet crescents. Shopping is within convenient driving distance, as well as a plaza situated nearby at the corner of Queensland Road and Lorne Avenue West.
With residential solace in a quiet neck of the woods, this neighbourhood is the perfect ratio of modern comfort and lived-in serenity.
View Condos for Sale in Stratford >>

The Best Stratford Neighbourhoods for Commuters
With Stratford being so compact, you virtually cannot go wrong with settling in any part of the city if commuting is your prime requirement. However, there are areas that are closer to the main highways and the commercial areas of town. So with this in mind, we will take a look in detail at which are the best neighbourhoods in Stratford for commuters.
Devon Street Area
Devon Street, along with adjoining roads to Willow Street, encompass an area tucked behind Ontario Street's commercial center. It is a beautiful neighbourhood with mature trees, spacious yards, and solitude, yet a stone's throw away from Stratford's commercial hub and the highway. For those commuting to Kitchener Waterloo or the 401, this is the neighbourhood for you, conveniently located in the far east end of Stratford.
The Festival Marketplace mall, grocery stores, restaurants, and a myriad of other businesses are literally just a block away. One of Stratford's industrial parks is located just south of Ontario Street, making going back and forth to your job at one of the factories a very short commute. City buses service the neighbourhood with stops along the way.
The only downside is this is the only area in town without a school in it. However, schools are not very far away in adjacent neighbourhoods. Green space and nature abound with two small parks within the neighbourhood, Devon Street West Parkland behind, and Upper Queens Park at the west end.
The beauty, sophistication, and convenience make the Devon Street area the perfect place to settle down.
Dufferin Park Area
The Dufferin Park Area under the old water tower is in the south end of the city. Spanning from Dufferin Street over to Downie Street, the neighbourhood is filled with mature trees, green-thumb gardens, various aged houses, and the feeling of 'home.' Lorne Avenue East encompasses the south end of this area making travel easily accessible.
Industries and warehouse factories border the perimeter of Lorne Ave allowing factory jobs within close proximity. Highway #7 and County Road #33 are right at the doorstep making travel both handy and prompt. City bus service is readily accessible.
Stores and restaurants are a block away on Lorne Ave at the corner of Erie Street (Hwy#7) to the west, and Downie Street to the east. With three parks in the neighbourhood as well as the Dufferin Arena, there is always something to do and enjoy right close to home.
The Dufferin Park area is the quintessential neighbourhood for singles, couples, families, and retirees to call home.

The Best Stratford Neighbourhoods for Views and Scenery
With 115 acres of formal parkland and 60 acres of natural area, Stratford's greenery and scenery dominates. Areas adjacent to the Avon River have the pleasure to enjoy the beauty from above as the landscape cascades down toward the riverbanks. Crowned the "Prettiest City in the World" by Nations in Bloom in 1997, Stratford, Ontario does not disappoint, whatever neighbourhood you choose to reside in. Having said that, we will spotlight some of Stratford's most charming districts.
Forest Road
While not technically in Stratford, Forest Road is a superbly scenic side road just outside of city limits. A little oasis sandwiched between the city and the open country, Forest Road is a prime location for those who want the convenience of the city's offerings close at hand, but out in the fresh air and laid back feel of country living within a neighbourhood. The two kilometer long road loops in from Highway #7/8 before it joins on again a little further east.
This one-road community offers large lots with older and new homes, mature trees, sloping landscapes, a stream trickling through, as well as McCarthy Lake in the southwest area of the neighbourhood. The rustic and quaint Forest Road Motel sits overlooking McCarthy Lake offering trails, boating, and even a mute swan or two to enjoy along the water's edge. This truly is a dream come true for those looking to get away from it all!
Groceries, restaurants and shopping are right at the beginning of Forest Road to the west, with Festival Marketplace and the east end commercial hub of Stratford at your fingertips. The Avon Trail meanders right through Forest Road and runs straight through to the Avon River and beyond—perfect to hike to the river for the day.
Sitting adjacent to the highway, yet indented back far enough to be away from traffic noise, Forest Road is a perfect spot to settle for convenient commuting. Once you've experienced Forest Road first hand, it will be easy to see why some people consider this a little slice of paradise.
Avon River South Area
In the northeast quadrant, the neighbourhood of Cobourg Street and Water Street between Waterloo Street and the Festival Theatre, overlooks the south banks of the Avon River in all its beauty and splendour. With various sized lots, older and modernized homes, and mature trees and gardens, this neighbourhood of quintessential charm is sure to please! Sloping streets create a tiered view of the River and surrounding parklands. The most pleasant walk around the river for daily exercise or just a short meander in the evening is practically at your doorstep. The neighbourhood exudes charm at its finest with its quiet streets steeped in tranquility.
Schools are close at hand, with three elementary schools, Romeo Public School, Jeanne Sauve Catholic School, and Stratford Middle Years School just a few blocks away; the Nancy Campbell Academy private high school is within the neighbourhood right on Waterloo Street.
The area is also close at hand to Stratford's downtown core and all the manifold boutiques, dining, galleries, and city life it has to offer. The William Allman Memorial Arena and the newly rebuilt and lavishly upgraded Tom Patterson Theatre are just steps away at the River's edge. This neighbourhood south of the Avon is sure to win your heart for all its convenience, serenity, and scenery.

The Best Stratford Neighbourhoods for Stylish Homes
Thanks to its charm, beauty, and international draw, there are many gorgeous luxury neighbourhoods in Stratford, Ontario. Whether you're looking for a heritage home with gingerbread architecture and large spacious lots, or modern ranch style homes with a view, or contemporary million dollar estates along the Avon River, Stratford offers it all.
John Street Area
Lining John Street South, just north of the Hospital and the Avon River in the southwest quarter of the city, are exquisite heritage homes on sprawling verdant lots. Some with gingerbread embellishments and some without, these well kept old homes are a guaranteed delight. Meticulously manicured yards, a surplus of old shade trees, and the serenity of the neighbouring parkland, trails, and cemetery, make this neighbourhood highly sought after.
With Huron Street close at hand, commuting and shopping are readily accessible. The Avon Trail leading through the nearby TJ Dolan Natural Area and to the Avon River in the other direction are but a stone's throw away. Stratford General Hospital is nice and handy for any medical needs.
Avon Public School is a couple blocks over for the youngsters, and high schools are not far away.
Nothing beckons the century home lover as much as John Street South.
Avon West and Sir Adam Beck Road Area
In the southwest section along the south half of O'Loane Avenue, between Huron Street and Lorne Avenue West, sits two subdivisions that are sure to catch your eye. Modernized stylish homes of all shapes and sizes back onto countryside and forest in picturesque perfection along the cascading landscape. Avon West of Bromberg Homes is a new and expanding subdivision, offering homes and condo townhomes, jutting out into wide open countryside as Stratford's most westerly residential area.
On the opposite side of O'Loane Avenue, another contemporary subdivision projects into the TJ Dolan Natural Area, adjacent to the Avondale Cemetery. Modern homes and mansions line the streets of Sir Adam Beck Road and adjoining crescents. It is city living at its finest but completely surrounded by country and forest, and all the peace and stillness you could want. This is the picture of perfection, found in one of the finest luxury neighbourhoods in Stratford.
With schools nearby, bus transit available, and close at hand to Stratford's west end grocery stores, shops, and restaurants, as well as commuter routes in all directions, this neighbourhood is the perfect place to raise a family, settle down as a couple, or retire in comfort and style. It is no wonder why Stratford's west end is the most popular area under development.
Avon River North Area
One of the best luxury neighbourhoods in Stratford, Ontario is that along the north shore of the Avon River. Located in the northeast quarter of the city, the area of William Street and roads connecting up to Delamere Avenue is 'the' place for luxury and style. Million dollar homes sit along William Street facing the Avon River and North Shore Park land below. The ambient scene is show-stopping year round. Large spacious lots, mature trees, parkland frontage, and four season scenery at its best! Updated heritage is mixed in with ultra modern lending to the uniqueness of this neighbourhood of immaculately well kept homes of varying ages, architecture, and styles.
Bedford Public School and Stratford Middle Years School are within the immediate area, and the city's high schools are not far beyond. The down town core is just beyond the river, and Stratford's outlying commerce area is just a short drive away.
The pristine beauty of Stratford's main tourist parkland, coupled with the maintained landscape of each home on the block, it is no wonder that this locale is highly sought after by nature lovers, actors, retirees, and everyone in between!
Although small in size, this city packs a big impact. Through diversity, scenery, accessibility, and functionality, there is a perfect home waiting for you—whatever your needs and desires may be. With everything you could want at your fingertips, yet away from the hectic hustle and bustle of big city life, moving to Stratford could not be a better choice for you and your family.
Recently Listed Properties in Stratford