The Best Neighbourhoods in Milton Ontario
Posted by Kurtis Forster on Monday, July 20, 2020 at 6:31 PM
By Kurtis Forster / July 20, 2020
Comment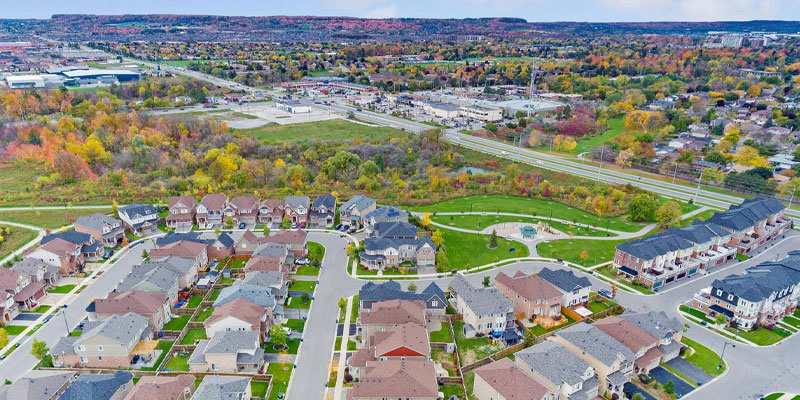 Milton, Ontario is a big town in the centre of the Regional Municipality of Halton. Like nearby Burlington and Oakville, Milton is a popular area for people looking to commute around the Greater Toronto and Hamilton Area without living at the heart of the hustle and bustle.
Milton wasn't always as popular, though. Twenty years ago, it was considered 'rural' by many in the GTA due to farmland and popular conservation areas like Rattlesnake Point and Hilton Falls. In 2001, the town had a population of just over 30,000 people. Fast-forward to the most recently collected data in 2016 and Milton was sporting a whopping 110,128 - and growing! Because of this rapid growth, much of the housing development in Milton has been done quite recently. Homes outside of the 'Old Core' of the town were built in the 2000s and 2010s, with development continuing to this day.
But what is the best neighbourhood in Milton? It definitely depends on your preferences and needs. There is a little something special for everyone in Milton, so it wouldn't be fair to pin down just one area. Instead, we've compiled a list of some key features and the neighbourhood that does the best at showing them off.
The Milton Neighbourhood with the Best Commute…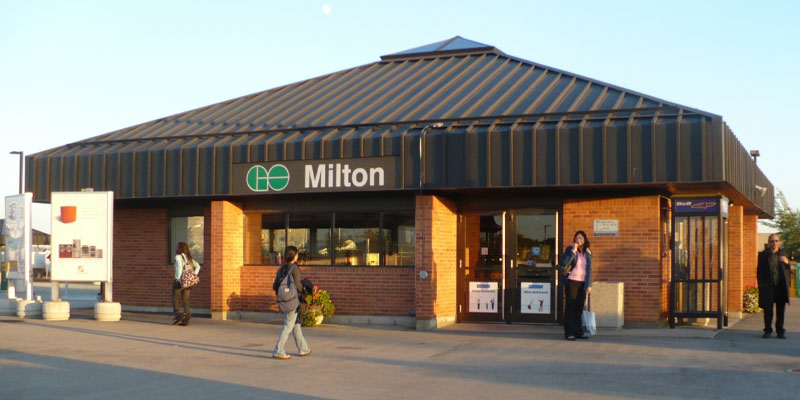 Milton has both a GO Train Station and convenient access to the 400-series highways, so commuting is a highly viable option. The best commute from Milton would not only be the shortest, but the one with the most convenient connections to either highways or Transit hubs. Wouldn't it be great if there was one neighbourhood that had the best access to both options? Well, check out Dempsey!
Dempsey really shines because it is Milton's northeastern-most neighbourhood and is the closest to Mississauga and Toronto. On top of that, it had the easiest access to the 401 highway. Beginning the commute in Dempsey is a popular choice because the drive can be less than an hour to Toronto. This alone makes Dempsey a pretty highly sought after neighbourhood. If highway proximity is your main goal, either of Dempsey's neighbours will make for acceptable runner-ups: Dorset Park or Clarke.
The GO Station is actually located in northern Timberlea, but very close to the southwestern corner of Dempsey. For GO Transit commuters, this means that the neighbourhoods of southern Dorset Park and northern Timberlea are also very close to the top spot. While the GO Station has parking available, the real boon to living close to it in Dempsey is being able to leave the car at home and walk to the GO Station! On average, a GO Train commute will take about an hour from Milton into Toronto without the hassle of tackling the highways yourself.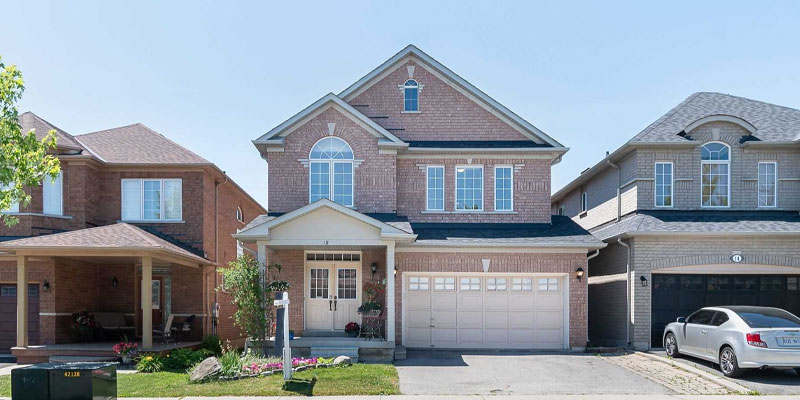 When Milton started expanding in the early 2000s, Dempsey was one of the first neighbourhoods developed. Most of the homes in the area date back to the period of original development and are between 15-20 years old. There are exceptions in newer gems, however. The average price of a property in Dempsey is around $700,000. This takes into account one-bedroom, one-bathroom apartment-style condos in the $400,000 range, detached homes near the million dollar mark, and townhouses and semi-detached properties in between.
Choosing Dempsey has other perks outside of being the best commuter experience. Convenience is a core theme in Dempsey and not just when it comes to transit; everything is really close to your house! Dining and shopping options line both Maple Avenue and Dempsey's section of Main Street, several great schools dot the neighbourhood, and there are fantastic family recreation options everywhere. Some of the amenity highlights include the Milton Leisure Centre (gymnasium for indoor sports and two pools), the FirstOntario Arts Centre and main public library building, and the central Dempsey Neighbourhood Park.
There is a lot more to Dempsey than just a good commute. While everyone can appreciate convenience, it's especially true for active families and the neighbourhood amenities make it even more appealing. If you are looking for the best commute to and from Milton, then Dempsey has that covered and so much more!
The Best View in Milton?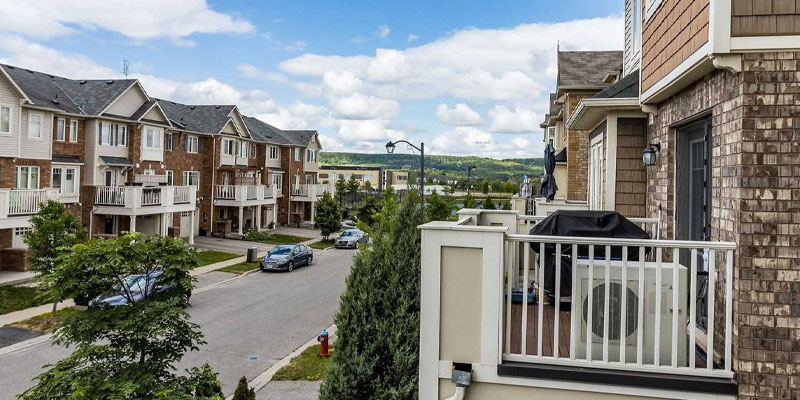 Unlike Oakville and Burlington, waterfront views are a little harder to come by in Milton. Instead, the best views in town come courtesy of the Niagara Escarpment. The Escarpment is an ecologically significant region that more or less follows southern Lake Ontario until it turns north around Milton's west side and heads into the Georgian Bay. The ridges and slopes of the escarpment are responsible for the views that Rattlesnake Point is famous for. While you can't live in Rattlesnake Point, thanks to the more recent development of western Milton, you can live pretty darn close. Two newer neighbourhoods, Scott and Harrison offer some of the best views in Milton.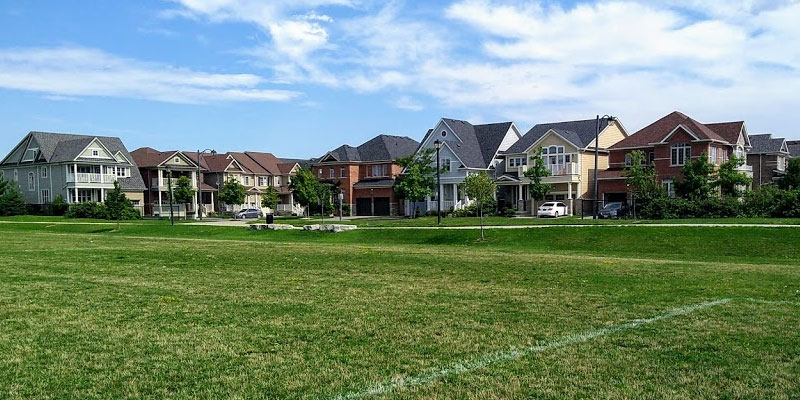 First is Scott, the northwestern new neighbourhood. Scott is west of Old Milton and Bronte Meadows and north of Harrison. West Milton saw development more recently than the eastern side, and Scott was among the new neighbourhoods built after 2007. Homes are newer here, most are between 7 and 13 years old and sell for a price in and around a million dollars. Apartment-style condos, townhouses, and semi-detached properties are available for lower prices, but the properties with clear Escarpment views are always past the million dollar point. Scott has a reputation for very attractive houses, properties, and parks. Residents enjoy the local Scott Neighbourhood Park - East, which features a splash pad to help beat the heat, and Sherwood District Park which has space for baseball, basketball, soccer, and cricket on top of a playground and climbing structure.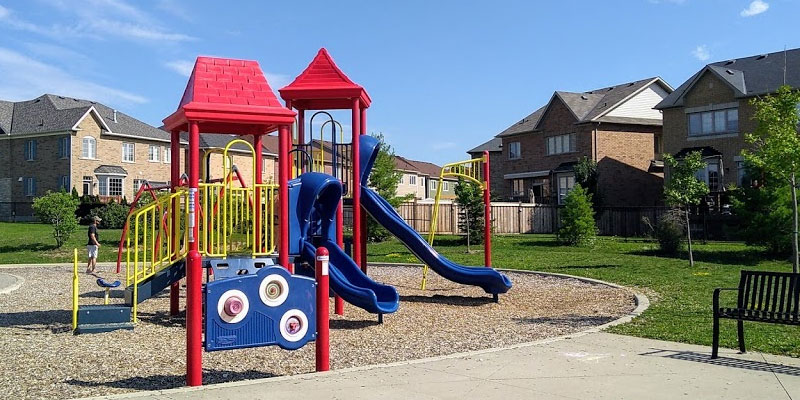 Harrison is the newer of the two neighbourhoods with development beginning in 2008. Like Scott, homes are between 7 and 12 years old and are among the newest and most modern in town. House prices and availability in Harrison are pretty similar to Scott. The homes in the west end of the neighbourhood are usually detached, have a view of the escarpment, and command the highest prices. Compared to Scott, Harrison has slightly higher housing density and offers more townhouse and semi-detached options which are considerably cheaper than the houses with a view. Harrison is a great choice for people that like being outdoors. Whether through hiking trails, parks, or cycling trails, there are so many options to explore the neighbourhood and area. Choice features include the Optimist Park and splash pad located in the centre of the neighbourhood and the Mattamy National Cycling Centre (Milton Velodrome) built for the 2015 Pan American Games which also doubles as community recreation space.
The west side of Milton makes for a slightly longer commute to Toronto, but with development on the Tremaine Road interchange with the 401, that commute is scheduled to improve. Besides, living in one of the western neighbourhoods has a unique highlight: the Niagara Escarpment. It's not just the view, Scott and Harrison have the best access to outdoor fun on the Escarpment. Running along the western edge of Milton are Hilton Falls, the Kelso Conservation Area, and Rattlesnake Point conservation area. Hilton Falls offers hiking, biking, snowshoeing, and cross-country skiing. Kelso and Rattlesnake Point offer hiking, rock climbing, and camping activities. In the winter, Glen Eden takes advantage of Kelso's natural elevation to offer downhill skiing and snowboarding, too!
While living in one of the premium homes that backs the Escarpment requires quite a hefty budget, there are plenty of more affordable properties throughout Scott and Harrison that are just a few minutes away from access to charming outdoor adventure and breathtaking views.
Milton's Best Family Neighbourhood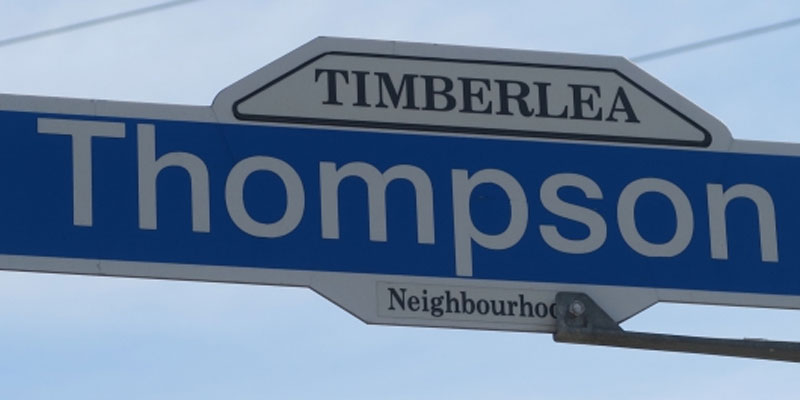 The town of Milton is a great place to raise a family. There are convenient shopping hubs, a wealth of community activities, and fantastic parks all around town. The best family neighbourhood is one that combines all of the town's great features and more family-specific criteria. For family-friendly neighbourhoods, average house size, yard space, local amenities, and school boundaries were all factored into the final decision as well.
And the winner is … Timberlea!
Timberlea is a central neighbourhood considered to be a part of Old Milton. It is so central, in fact, that Timberlea borders nearly every other neighbourhood in Milton. It is known for mature, tree-lined streets, sizable lawns, and pool-worthy backyards. Timberlea is also included in the boundary for some of the best schools in the surrounding areas and is nearby to a lot of popular downtown restaurants and shopping. Timberlea's northeastern neighbour, Dempsey was a serious contender for this category as well with its overall convenience, school reputation, and recreation options. In the end, Timberlea won out for its quiet spaciousness.
With most of Timberlea being developed in the 1970s and 80s, it is one of the older neighbourhoods in Milton. Don't discount Timberlea just because it's older, though, there are a lot of benefits to an older neighbourhood. Modern development trends indicate shrinking lot sizes and houses that are closer and closer together. By choosing an older neighbourhood, your chances of finding larger lot sizes and yards improve dramatically. Older neighbourhoods have had time to mature, resulting in quieter streets and the privacy provided by larger trees. Not to mention that older neighbourhoods are part of established school boundaries and rarely get swept up in the shuffle like newer neighbourhoods tend to.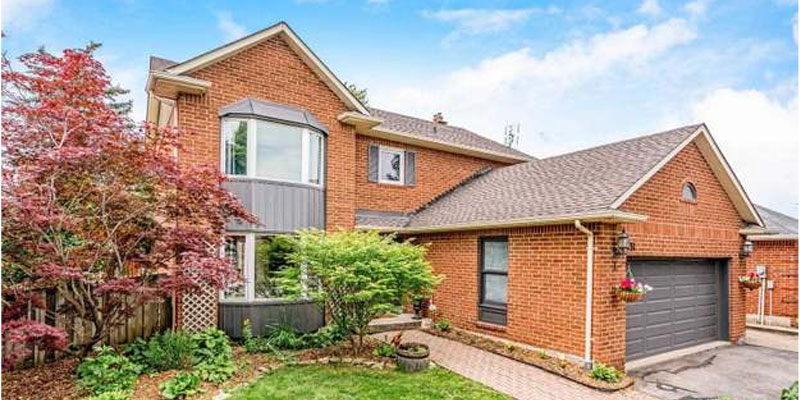 Timberlea benefits from a huge variety of housing options, too. Townhouses in the neighbourhood start around $550,000 and they average more living space than similarly priced townhouses in other neighbourhoods. Detached properties in Timberlea will range anywhere between the $700,000s and somewhere over $1,000,000 depending on lot size and upgrades. On average, most listings have 3-4 bedrooms, at least 3 bathrooms, and a garage. On larger lots, likely upgrades include a double-car garage or a pool in the backyard.
Another important consideration is the school boundary map. Fortunately, Timberlea finds itself in a bit of a sweet spot. There are two public elementary schools located in Timberlea, E.W. Foster and Sam Sherratt. Both are great options if you want to live within walking distance of your child's school. Of the two, only Sam Sherratt takes children from Kindergarten up until Grade 8. Students attend E.W. Foster until Grade 5 and then transfer to Sam Sherratt for the remaining grades before attending Craig Kielburger High School. For students in the Catholic School Board, Holy Rosary services the north half of Timberlea and Our Lady of Victory services the south. Both elementary schools take students from Kindergarten to Grade 8 and feed into the well-regarded Bishop P.F. Reding Secondary School. On top of that, Holy Rosary is also the highest scoring Milton school in the Fraser Institute rankings (based on provincial testing) and popular for its breadth of clubs and extracurriculars.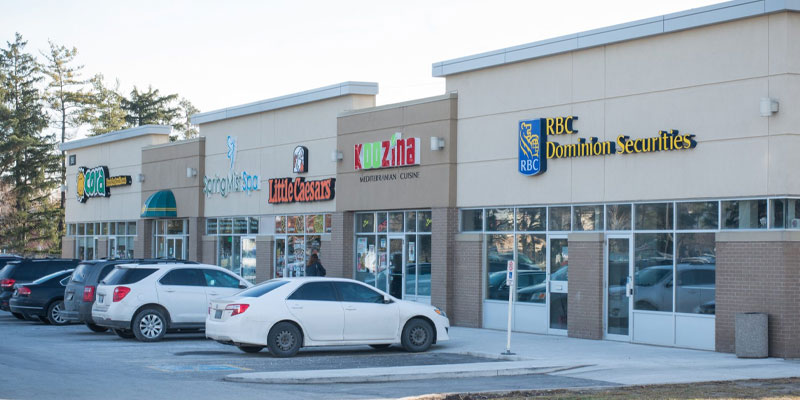 Given its spot in the heart of Milton, Timberlea also boasts one of the best neighbourhood 'foot-scores' in town. Plenty of very useful amenities are not only close to Timblerlea, but are within walking distance, too. Residents of northern Timberlea can reach Milton's GO Station on foot as well as Milton Mall and some of the shopping along Nipissing Road. Walkers feeling particularly ambitious can reach downtown Main Street in about 20 minutes. Living in southern Timberlea shortens the walk to the shops and restaurants located off of Derry Road and Ontario Street.
With some of the best schools, restaurants, and transportation options within walking distance, Timberlea really is a gem. Despite its age, Timberlea holds its own against newer neighbourhoods because of larger lot sizes and more living space - both factors that make it the perfect neighbourhood for growing families!
Milton, Ontario isn't a small town anymore. It's popularity and population are rising with good reason: Great location, beautiful scenery, and fantastic neighbourhoods are just the beginning. If you found the perfect neighbourhood for you and want to learn more about the Town of Milton, consider checking out our Guide to Milton, Ontario for details.